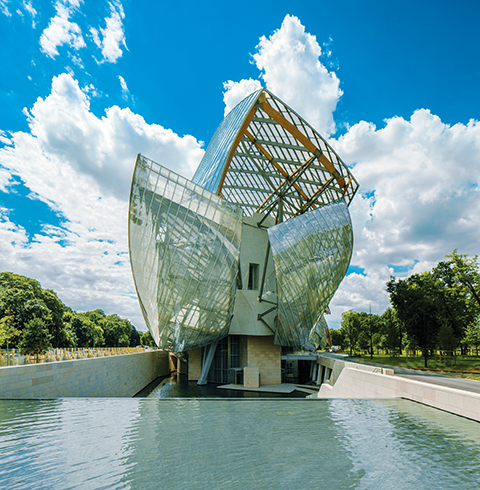 Design codes and guides
Stainless steel has been used selectively since the 1940s for bridges and other structural applications. Formal stainless steel structural design guidance first became available in 1968 when research prompted by the design of the Gateway Arch in St. Louis was published as an American Iron and Steel Institute (AISI) specification.
The current version of this standard, Structural Engineering Institute/American Society of Civil Engineering (SEI/ASCE) 8, Specification for the Design of Stainless Steel Cold-formed Structural Members, covers light-gauge austenitic and ferritic stainless steels. It was the basis for cold-formed stainless steel structural design standards in Europe, Australia, New Zealand, South Africa, and Japan.
The first large structural stainless steel non-industrial projects to use this research were the 1964 Unisphere sculpture (appearing at the World's Fair, New York City) and the following year's Gateway Arch, which were both Type 304. The 1986 restoration of the Statue of Liberty used Type 316L and UNS 32550 duplex stainless steel to replace much of the original iron support framing and is the first known large non-industrial duplex structural application. The more recent 7 World Trade Center used both Type 316L and 2205 duplex for structural applications. By far, the largest construction-related structural application for duplexes (not including industrial buildings) has been bridges.
There has been substantial international structural design research done on stainless steel since the 1960s, including design for seismic, fire, and blast wall applications. In 1993, work began to add heavier stainless steel sections to the European standards. EuroCode 3, Design of Steel Structures, Supplementary Rules for Stainless Steels, Part 1−4, includes both light and heavy austenitic and duplex stainless steel structural sections. China is adding stainless steel to their structural design codes as well. Stainless steel-framed European and Japanese buildings were built to justify code additions. In 1995, EuroCode 3 was used in the design of the Canadian National Archives (Types 304L and 316L structural framing) to avoid coating VOCs.
Until recently, there was no North American guidance on the design of heavier structural sections. American National Standards Institute/American Institute of Steel Construction (ANSI/AISC) 360, Specification for Structural Steel Buildings, only covers heavier carbon steel structural sections. In September 2013, AISC Steel Design Guide 27, Structural Stainless Steel, was issued to provide design advice for sections 3.2 mm (0.125 in.) or greater. Capitalizing on new research that will be incorporated into EuroCode 3, it includes welded plate fabrications, extruded and rolled shapes, hollow sections, tensile bars, and fasteners.
The AISC design guide includes three duplex stainless steels (e.g. UNS S32101, S32304 [2304], S32205 [2205]) and can be applied to other stainless steels within this family—such as UNS 32003, which was used for subway canopies in Washington, D.C.
Alloy selection
Stainless steel alloy specification for corrosion resistance has been discussed in greater detail in previous articles. While there are common names (e.g. 304, 316) for many stainless steels, alloy chemistry should be specified using the international Unified Numbering System (UNS) and internationally recognized specification (e.g. ASTM, EN, JIS) to avoid miscommunication.
Figure 4 provides the chemistries and Pitting Resistance Equivalent Numbers (PREn) for the austenitic and duplex stainless steels in the AISC design guide and UNS 32003. PREn is a calculation based on the alloying elements that determine the corrosion resistance of stainless steel (e.g. chromium, molybdenum, and nitrogen) to pitting corrosion. Surface finishes, welding, environmental exposures, and other factors can be as important, so PREn should not be used exclusively for specification.

Based on the assumption corrosion staining is undesirable and there will be little or no maintenance cleaning, UNS S32101, S32304, and proprietary stainless steels with similar corrosion resistance to Type 316/316L are generally suitable for low to moderate salt exposure or polluted environments where there is regular heavy rain to clean surfaces.
UNS S32205 provides substantially more corrosion resistance and is suitable for higher levels of industrial pollution and salt exposure, when rougher finishes are specified, or where natural heavy rain cleaning is less frequent. Even more corrosion-resistant stainless steels are available for saltwater immersion and other particularly aggressive environments.
This article examines various new construction and restoration projects in both the United States and from around the world to help illustrate the reasons why certain stainless steels are specified.