Duplex stainless steel revolutionizes structural design
by Katie Daniel | April 29, 2015 4:13 pm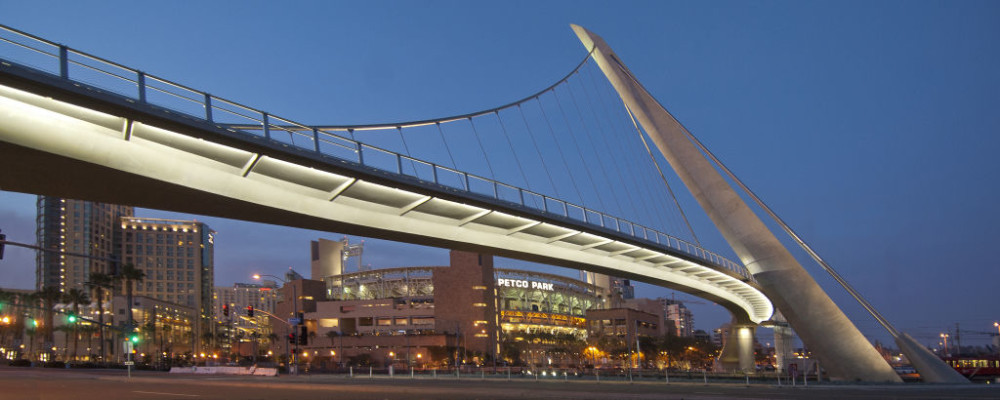 by Catherine Houska, CSI
Architectural and engineering firms are increasingly exploring stainless steel's possibilities as a structural material as new research, structural codes, and design guides become available. Most designs have used the familiar Types 304L or 316L alloys from the austenitic family of stainless steels, but for all but the lightest sections, the duplex stainless steel family presents a much greater potential for innovation. Many architects and engineers are unaware of this interesting stainless steel alloy family.
The alloys in the duplex stainless steel family combine a wide range of corrosion resistance (similar to austenitics) with significantly higher strength levels than both common carbon steels and austenitics. This can allow designers to reduce structural section sizes, which can dramatically change design, or use a more corrosion-resistant stainless steel without a significant raw material cost differential. Cutting edge lightweight pedestrian bridges have been the most common duplex stainless steel application to date, but they are also being used for glass curtain wall supports, sunscreens, railings, concrete reinforcement, sculpture, and other structural applications.
What is duplex?
It is common for architects and designers to simply specify "stainless steel," not realizing there are five distinct alloy families—austenitic, ferritic, duplex, martensitic, and precipitation hardening—and hundreds of individual alloys. The most commonly used stainless steels for building and construction are the austenitics (e.g. 304/304L, 316/316L), which combine corrosion resistance with formability. They are used for a wide range of aesthetic, practical and structural applications. Small sections can be cold-worked to increase strength levels.
Stainless steel family names are derived from their characteristic microstructures. For example, austenite gives austenitic stainless steels their name and makes them non-magnetic, very formable, and weldable. The ferrite in the microstructure of mild steel, cast iron, and ferritic stainless steels (e.g. 430, 444) makes them magnetic. Ferritic stainless steels are less formable and weldable then austenitics.
First introduced in 1930, duplex stainless steels have mainly been used for corrosive industrial applications. Their name refers to the combined austenite and ferrite microstructure. The formability and weldability of these alloys are between those of the austenitic and ferritic stainless steels. Designers familiar with precipitation hardened (PH) stainless steel bolts (e.g. 17-4 PH) know duplexes are not the strongest stainless steels, but the PH alloys are less corrosion-resistant then Type 304 and not suitable for more severe environments unless they are protected. Duplexes are the only alloy family to provide both exceptional corrosion resistance and high strength.
Figure 1 provides the relevant ASTM and American Welding Society (AWS) standards and specifications for duplex stainless steel; Figure 2 compares the mechanical properties of the stainless and carbon steels used for structural shapes. Figure 3 compares the impact toughness of austenitic, duplex, and carbon steel at different temperatures—important for safety and security applications.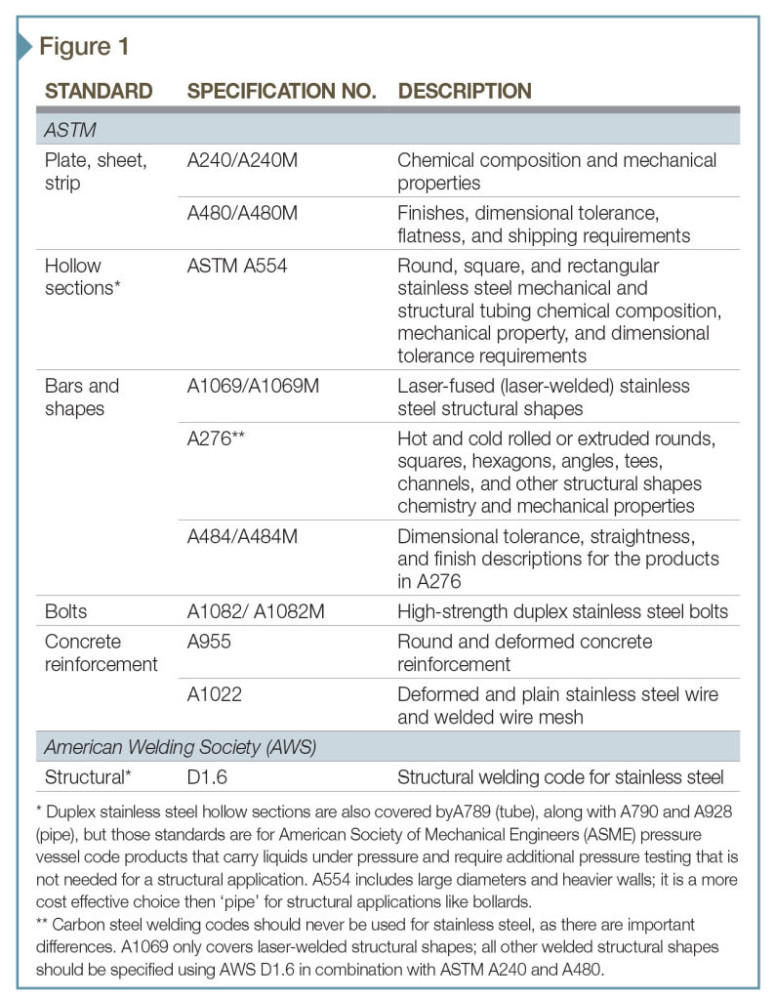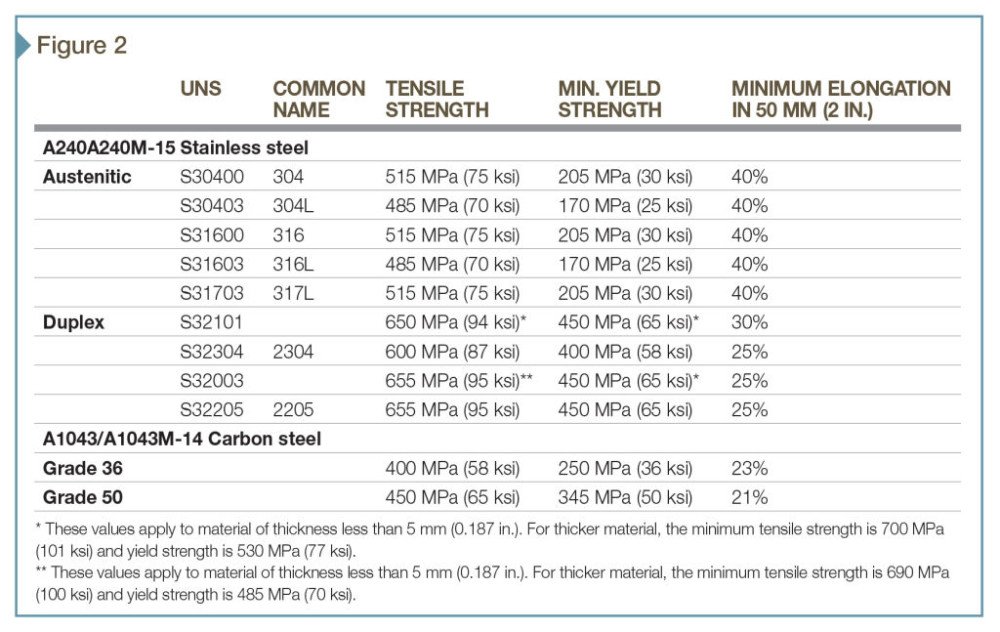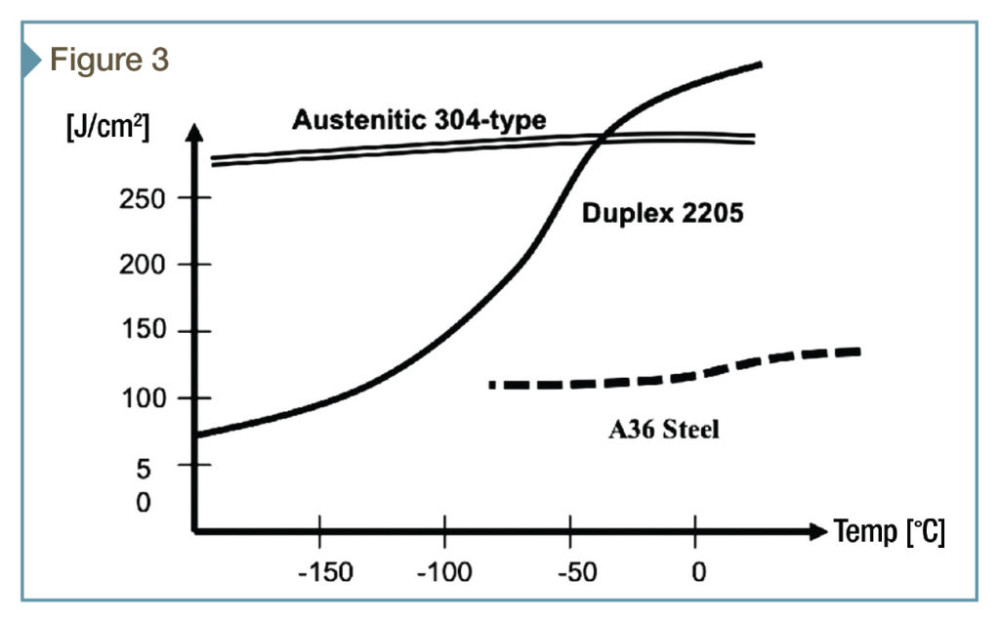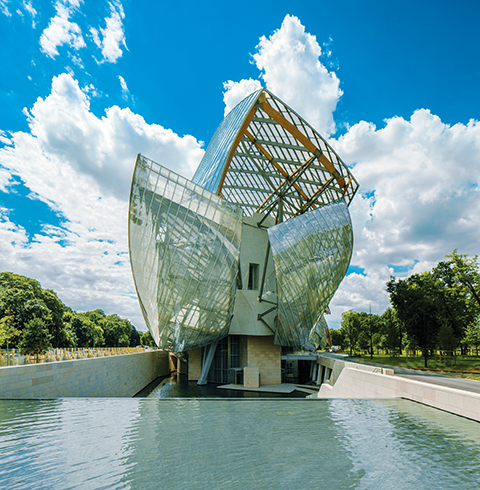 Design codes and guides
Stainless steel has been used selectively since the 1940s for bridges and other structural applications. Formal stainless steel structural design guidance first became available in 1968 when research prompted by the design of the Gateway Arch in St. Louis was published as an American Iron and Steel Institute (AISI) specification.
The current version of this standard, Structural Engineering Institute/American Society of Civil Engineering (SEI/ASCE) 8, Specification for the Design of Stainless Steel Cold-formed Structural Members, covers light-gauge austenitic and ferritic stainless steels. It was the basis for cold-formed stainless steel structural design standards in Europe, Australia, New Zealand, South Africa, and Japan.
The first large structural stainless steel non-industrial projects to use this research were the 1964 Unisphere sculpture (appearing at the World's Fair, New York City) and the following year's Gateway Arch, which were both Type 304. The 1986 restoration of the Statue of Liberty used Type 316L and UNS 32550 duplex stainless steel to replace much of the original iron support framing and is the first known large non-industrial duplex structural application. The more recent 7 World Trade Center used both Type 316L and 2205 duplex for structural applications. By far, the largest construction-related structural application for duplexes (not including industrial buildings) has been bridges.
There has been substantial international structural design research done on stainless steel since the 1960s, including design for seismic, fire, and blast wall applications. In 1993, work began to add heavier stainless steel sections to the European standards. EuroCode 3, Design of Steel Structures, Supplementary Rules for Stainless Steels, Part 1−4, includes both light and heavy austenitic and duplex stainless steel structural sections. China is adding stainless steel to their structural design codes as well. Stainless steel-framed European and Japanese buildings were built to justify code additions. In 1995, EuroCode 3 was used in the design of the Canadian National Archives (Types 304L and 316L structural framing) to avoid coating VOCs.
Until recently, there was no North American guidance on the design of heavier structural sections. American National Standards Institute/American Institute of Steel Construction (ANSI/AISC) 360, Specification for Structural Steel Buildings, only covers heavier carbon steel structural sections. In September 2013, AISC Steel Design Guide 27, Structural Stainless Steel, was issued to provide design advice for sections 3.2 mm (0.125 in.) or greater. Capitalizing on new research that will be incorporated into EuroCode 3, it includes welded plate fabrications, extruded and rolled shapes, hollow sections, tensile bars, and fasteners.
The AISC design guide includes three duplex stainless steels (e.g. UNS S32101, S32304 [2304], S32205 [2205]) and can be applied to other stainless steels within this family—such as UNS 32003, which was used for subway canopies in Washington, D.C.
Alloy selection
Stainless steel alloy specification for corrosion resistance has been discussed in greater detail in previous articles. While there are common names (e.g. 304, 316) for many stainless steels, alloy chemistry should be specified using the international Unified Numbering System (UNS) and internationally recognized specification (e.g. ASTM, EN, JIS) to avoid miscommunication.
Figure 4 provides the chemistries and Pitting Resistance Equivalent Numbers (PREn) for the austenitic and duplex stainless steels in the AISC design guide and UNS 32003. PREn is a calculation based on the alloying elements that determine the corrosion resistance of stainless steel (e.g. chromium, molybdenum, and nitrogen) to pitting corrosion. Surface finishes, welding, environmental exposures, and other factors can be as important, so PREn should not be used exclusively for specification.

Based on the assumption corrosion staining is undesirable and there will be little or no maintenance cleaning, UNS S32101, S32304, and proprietary stainless steels with similar corrosion resistance to Type 316/316L are generally suitable for low to moderate salt exposure or polluted environments where there is regular heavy rain to clean surfaces.
UNS S32205 provides substantially more corrosion resistance and is suitable for higher levels of industrial pollution and salt exposure, when rougher finishes are specified, or where natural heavy rain cleaning is less frequent. Even more corrosion-resistant stainless steels are available for saltwater immersion and other particularly aggressive environments.
This article examines various new construction and restoration projects in both the United States and from around the world to help illustrate the reasons why certain stainless steels are specified.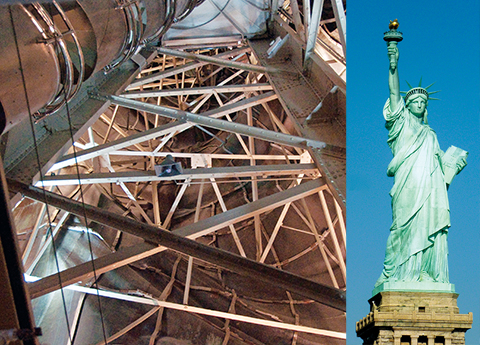 Statue of Liberty restoration
Since its installation in New York in 1886, theStatue of Liberty has become one of the most well-known sculptures in the world. However, many people are not aware galvanic corrosion caused structural deterioration, making a significant restoration necessary in 1986.
The original structure of the 46-m (151-ft) statue had a framework of puddled iron consisting of three distinct components—a central pylon, 1850 secondary framing beams, and armature bars. A double-helix staircase rises through the pylon's center. About 1500 U-shaped copper saddles connected the armature to the outer copper envelope sheets.
Designers Auguste Bartholdi and Gustave Eiffel anticipated the galvanic corrosion problem and tried to electrically isolate the materials. Unfortunately, the envelope design and subsequent modifications allowed rain containing coastal salt and acid from pollution to seep behind the copper. Condensation from temperature and humidity changes also adds the moisture necessary for corrosion.
Severe corrosion of the iron armature had occurred by 1981 and caused copper damage. Type 316L stainless steel replaced the iron armature except for a few bars in the right sole of the foot. No galvanic corrosion problem would be expected between copper and stainless steel in this type of environment and their coefficients of thermal expansion are the same. A high-strength, highly corrosion-resistant duplex stainless steel UNS S32550 secondary framework was used to support the new Type 316L armature.
Buildings
Duplex stainless steel's inherent corrosion resistance and opportunities for unique structural designs have made it a desirable material for both form and function in many buildings around the world.
Boston-area research building
The strength and corrosion resistance of duplex 2205 and Type 316L stainless steels are being used to support a unique façade in Boston. The building reflects its environment by using the light-gray New England granite found in many of the city's historic buildings. Unlike traditional heavier buildings, the airy modern design uses the stone as a secondary façade in front of a glass curtain wall. The stone will appear to come out of the landscape and gently float up the glass exterior.
The stone will sit on a Type 316 framing and shelving system, which is held off the building by large 2205 struts and cleat plates. This design takes advantage of the corrosion resistance of both stainless steels and uses the much higher strength duplex 2205 to carry the primary structural load.
The higher corrosion resistance of the 2205 is important because it will be visible to building occupants. Its location behind the stone means it will be exposed to coastal and de-icing salt, but not readily rain-washed—this means resistance to corrosion is critical. Completion is expected later this year.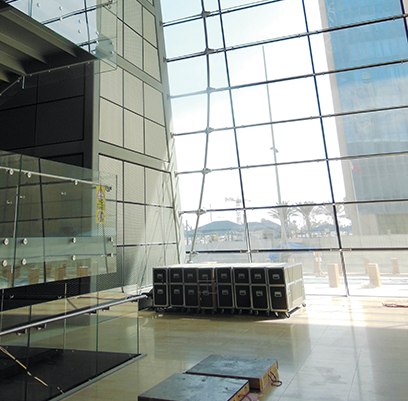 Doha Convention Center
Located in Qatar and adjoining the harbor, the Doha Convention Center is still under construction. International architectural firm Jahn's design uses cable-net-supported glass walls to create a floating roof plane. Its strong horizontal expression complements the verticality of the surrounding towers.
Due to its structural properties and corrosion resistance, duplex 2205 was used for the façade cross-bars. Most of the other façade components are Type 316/316L. Type 317L, which is more corrosion-resistant then Type 316, was employed for many of the stainless steel landscape components (e.g. dot lights, semi-recessed planters) and exterior handrails. The interior decorative metal panels are Type 316.
The high strength of duplex stainless steels makes them ideal for tension bars when designers want to minimize structural section size and maximize the view through large glass curtain walls. The first large glass curtain wall application to use the strength of 2205 duplex to minimize the size of the structural support sections was SOM's New Poly Plaza, completed in Beijing in 2007.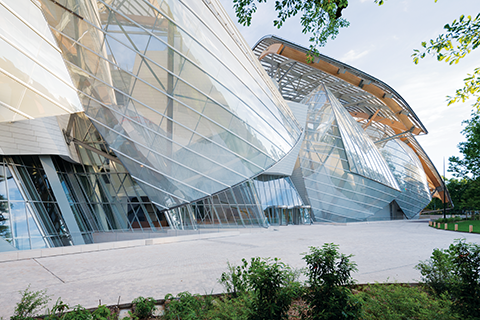 Fondation Louis Vuitton Museum
Frank Gehry's design for this new Parisian museum is reminiscent of billowing transparent sails and was influenced by the iconic 19th century Parisian glass pavilions. The building consists of three primary components—the inner-core display areas (iceberg) with its concrete exterior, a secondary exterior structure of steel beams and wooden tripods, and a tertiary structure of billowing glass sails supported by a duplex grid.
The glass sails on the secondary structure consist of painted steel columns, wooden beam 'tripods,' and a large 2205 duplex stainless steel grid that support glass sails weighing between 200 and 350 tonnes (220 and 386 tons). Three large sails serve as an umbrella for the building while nine others sweep around it creating the appearance of a 'ghost ship,' sailing above the treetops of Bois de Boulogne. To recover rainwater, 2205 gutters are used.
Duplex 2205 stainless steel plates were also inserted into the wooden beams at their connection points with the steel beams to strength the connections. Each of these connection points also used a complex 100-mm (3.9-in.) thick carbon steel/2205 duplex hybrid plate node to connect the wood and metal elements. These nodes ensure structural stability while permitting movement. About 1500 tonnes (1654 tons) of 2205 were used for this project.
Middle East cultural center
Construction will be completed this year on a cultural center near where Saudi Arabia's first oil was discovered. The geology and rock formations influenced the design's four visible rounded above-ground components—the library, keystone, tower, and auditorium.
A tower soars above the rest of the complex and is surrounded by smaller 'mountainous' forms. These shapes are clad in high-strength duplex 2205 stainless steel sunscreen façade composed of 250 km (155 mi) of 76.1-mm (3-in.) tubing. Duplex 2205 was selected because of corrosion research conducted on various stainless steels and architectural metals at a Dubai test site by stainless steel and high-performance alloy producers Outokumpu, with the assumption there will be no manual cleaning.
The project's engineering design firm had to consider the corrosiveness of the coastal environment, wind loading from sand storms, durability requirements, and the unique curving shape of the sunscreen façade. The curves of tubular screen resemble the loops of a fingerprint and also snuggly wrap around the exterior curves of each building shape. Where the sunscreen façade extends across solid walls, it is 88 percent closed—this prevents the sun from reaching the surface and heating it. As it reaches windows, the sunscreen transitions gradually to a flattened tube 12 mm (0.47 in.) in height, creating an 84 percent open area. The angle of the flattened tubes prevents sun from reaching the windows and transferring heat into the building while giving visitors a minimally obstructed view.
The world's first duplex stainless steel sunscreen was the Stockholm Congress Centre, which used Z-shaped 2205 stainless steel beams with a semi-reflective matte finish because of its corrosive harbor-side location.
Pedestrian bridges
High-profile pedestrian bridges can change the urban landscape, creating new city gateways or connections highlighting and increasing the use of new or redeveloped areas. Rather than being purely utilitarian, stainless steel pedestrian bridges are often sculptural—inviting active public interaction. They are an evolving means of expression giving the architects and engineers the opportunity to develop and test cutting-edge concepts. The inherent corrosion resistance of stainless steel and ability to eliminate coatings makes design elements and connections into artistic details.
The first stainless steel bridge to garner international attention and become a significant tourist attraction was London, England's Millennium Bridge (2001) designed by Foster and Partners, Anthony Caro, and Ove Arup and Partners using duplex 2205. Figure 5 provides a listing of some of the completed duplex stainless steel bridges and their locations.

In addition to providing the corrosion resistance necessary to offer the longevity expected of iconic bridges, their high strength and other design characteristics can make it possible to reduce structural component size, making these beautiful bridges more cost competitive. Currently, the longest duplex stainless steel pedestrian bridges in the world are The Helix in Marina Bay, Singapore (280 m [920 ft]) and the Harbor Drive Pedestrian Bridge in San Diego, California (168 m [550 ft]). Both used UNS S32205 duplex stainless steel as a primary structural material in their innovative, cutting-edge designs.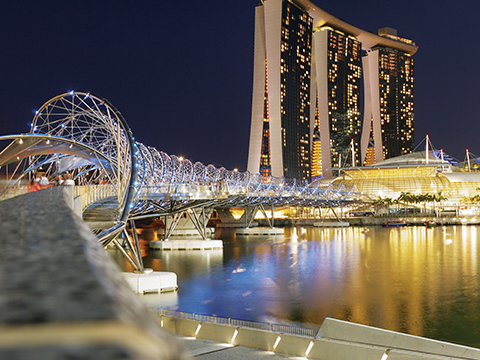 The Helix
Completed in 2010, the Helix Bridge, previously known as the Double Helix or DNA Bridge, is a new landmark linking Singapore's Marina Centre with Marina South. The world's first double-helix bridge is part of a high-profile development project and completes a 3.5-km (2.2-mi) pedestrian walkway around Marina Bay. The design consortium included architects COX Group Pte. (Australia), Architects 61 (Singapore), and the engineering firm Arup.
Two delicate helix duplex 2205 stainless steel structures surround the walkway and act as a tubular truss to resist design loads. That same material was also used for the cantilevered viewing 'pods' that extend out from the bridge and the slender concrete-filled support columns. The high strength of the duplex stainless steel pipes made much lighter sections possible for a total bridge weight of 1700 tonnes (1873 tons). It is estimated a conventional box girder bridge would have used five times as much carbon or weathering steel. When maintenance painting and other costs were considered, the 100-year design life analysis showed 2205 was a lower cost option than carbon steel.
Harbor Drive Bridge
Opening in 2011, San Diego's Harbor Drive Pedestrian Bridge is one of the longest self-anchored pedestrian bridges in the world. Designed to last at least a century, the elegantly simple lines of this horizontally curved structure mimic the look of the sailboats on the adjoining harbor.
The streamlined design is different from traditional suspension bridges, using a design that hides the main tension cables inside welded pipes. The main cable is enclosed within a 203-mm (8-in.) stainless steel pipe, and extends from the ground to the top of a single 40-m (131-ft) inclined pylon along the inside of the curve. Thirty-four suspender cables connect the inside edge of the curved deck to the main cable pipe. A second longitudinal post-tensioned cable is hidden inside the 203-mm stainless pipe above the inside railing and provides horizontal force to stabilize the bridge.
Designers chose high-strength corrosion-resistant duplex 2205 stainless steel because of the alloy's strength and the site's regular salt fog exposure and longevity requirements. The designers fully utilized the high strength of this alloy. Type 316 austenitic steel was used for the suspender cables and safety mesh. The connectors for the cable system are 2205.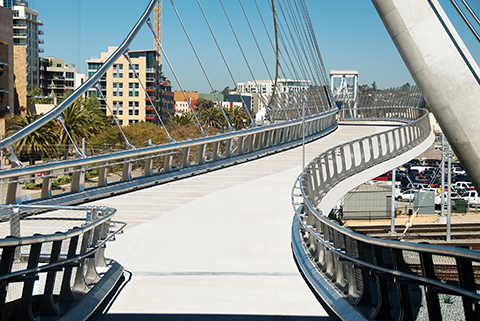 New Middle East bridge
A spectacular new pedestrian bridge project is nearing completion in the Middle East. Taking full advantage of the unique characteristics of the specified materials, it consists of two cable-stayed bridges that repeatedly curve apart and then intersect, creating a graceful series of figure eights. The design concept was a necklace being draped along the ring of the island marina. The open areas between the curving bridges are glass-floored for evening activities. Each bridge is approximately 200 m (656 ft) long and spans 90 m (295 ft) over the water from one quay to the other.
As the Middle East coast is a corrosive environment, duplex 2205 stainless steel was used for all the visible steel structural elements, including the supports for the cantilevered glass floors and concrete decks, along with canopy structures and bridge balustrade posts. The bridge pylons are also clad in duplex 2205 plate, which is structural, offers corrosion protection, and applies compression to the pylons.
Conclusion
The high strength and corrosion resistance of duplex stainless steels make them suitable choices for building/construction structural applications including bridges, railings, glass support structures, and sunscreens where strength and corrosion resistance is important. The new AISC design guidance has made it much easier for North American firms to design with structural stainless steel.
Alloy specification guidance is available from articles, industry associations, and producers. In more corrosive locations, however, the assistance of an expert in stainless steel atmospheric corrosion should be obtained to verify appropriate alloy specification.
Catherine Houska, CSI, is a senior development manager at TMR Consulting. She is a metallurgical engineering consultant specializing in architectural metal specification, restoration, and failure analysis. Houska was a member of the steering committee for American Institute of Steel Construction (AISC) Steel Design Guide 27, Structural Stainless Steel, and has authored more than 160 publications, including several features for The Construction Specifier. She can be reached via e-mail at chouska@tmr-inc.com.
Endnotes:
[Image]: http://www.constructionspecifier.com/wp-content/uploads/2015/04/San-Diego-01-Cropped-Kaplan-copy.jpg
[Image]: http://www.constructionspecifier.com/wp-content/uploads/2015/04/duplex-fig-1.jpg
[Image]: http://www.constructionspecifier.com/wp-content/uploads/2015/04/duplex-fig-2.jpg
[Image]: http://www.constructionspecifier.com/wp-content/uploads/2015/04/duplex-fiig-3.jpg
[Image]: http://www.constructionspecifier.com/wp-content/uploads/2015/04/duplex_8.-Todd-Eberle-for-Fondation-Louis-Vuitton-4501.png
[Image]: http://www.constructionspecifier.com/wp-content/uploads/2015/04/duplex-fig-4.jpg
[Image]: http://www.constructionspecifier.com/wp-content/uploads/2015/04/edit12.jpg
[Image]: http://www.constructionspecifier.com/wp-content/uploads/2015/04/duplex_DSCN1514.png
[Image]: http://www.constructionspecifier.com/wp-content/uploads/2015/04/duplex_4.-Iwan-Baan-for-Fondation-Louis-Vuitton-4502.png
[Image]: http://www.constructionspecifier.com/wp-content/uploads/2015/04/duplex-fig-5.jpg
[Image]: http://www.constructionspecifier.com/wp-content/uploads/2015/04/duplex_Helix-night1-Kinsman.png
[Image]: http://www.constructionspecifier.com/wp-content/uploads/2015/04/duplex_San-DiegoPedBridge23-Kaplan.png
Source URL: https://www.constructionspecifier.com/duplex-stainless-steel-revolutionizes-structural-design/
---