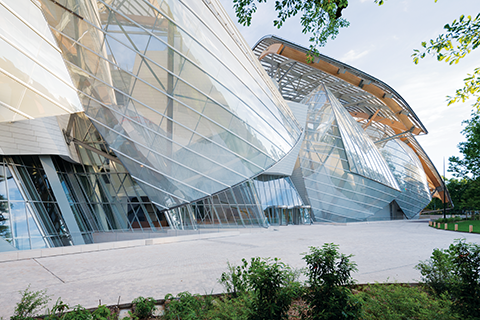 Fondation Louis Vuitton Museum
Frank Gehry's design for this new Parisian museum is reminiscent of billowing transparent sails and was influenced by the iconic 19th century Parisian glass pavilions. The building consists of three primary components—the inner-core display areas (iceberg) with its concrete exterior, a secondary exterior structure of steel beams and wooden tripods, and a tertiary structure of billowing glass sails supported by a duplex grid.
The glass sails on the secondary structure consist of painted steel columns, wooden beam 'tripods,' and a large 2205 duplex stainless steel grid that support glass sails weighing between 200 and 350 tonnes (220 and 386 tons). Three large sails serve as an umbrella for the building while nine others sweep around it creating the appearance of a 'ghost ship,' sailing above the treetops of Bois de Boulogne. To recover rainwater, 2205 gutters are used.
Duplex 2205 stainless steel plates were also inserted into the wooden beams at their connection points with the steel beams to strength the connections. Each of these connection points also used a complex 100-mm (3.9-in.) thick carbon steel/2205 duplex hybrid plate node to connect the wood and metal elements. These nodes ensure structural stability while permitting movement. About 1500 tonnes (1654 tons) of 2205 were used for this project.
Middle East cultural center
Construction will be completed this year on a cultural center near where Saudi Arabia's first oil was discovered. The geology and rock formations influenced the design's four visible rounded above-ground components—the library, keystone, tower, and auditorium.
A tower soars above the rest of the complex and is surrounded by smaller 'mountainous' forms. These shapes are clad in high-strength duplex 2205 stainless steel sunscreen façade composed of 250 km (155 mi) of 76.1-mm (3-in.) tubing. Duplex 2205 was selected because of corrosion research conducted on various stainless steels and architectural metals at a Dubai test site by stainless steel and high-performance alloy producers Outokumpu, with the assumption there will be no manual cleaning.
The project's engineering design firm had to consider the corrosiveness of the coastal environment, wind loading from sand storms, durability requirements, and the unique curving shape of the sunscreen façade. The curves of tubular screen resemble the loops of a fingerprint and also snuggly wrap around the exterior curves of each building shape. Where the sunscreen façade extends across solid walls, it is 88 percent closed—this prevents the sun from reaching the surface and heating it. As it reaches windows, the sunscreen transitions gradually to a flattened tube 12 mm (0.47 in.) in height, creating an 84 percent open area. The angle of the flattened tubes prevents sun from reaching the windows and transferring heat into the building while giving visitors a minimally obstructed view.
The world's first duplex stainless steel sunscreen was the Stockholm Congress Centre, which used Z-shaped 2205 stainless steel beams with a semi-reflective matte finish because of its corrosive harbor-side location.
Pedestrian bridges
High-profile pedestrian bridges can change the urban landscape, creating new city gateways or connections highlighting and increasing the use of new or redeveloped areas. Rather than being purely utilitarian, stainless steel pedestrian bridges are often sculptural—inviting active public interaction. They are an evolving means of expression giving the architects and engineers the opportunity to develop and test cutting-edge concepts. The inherent corrosion resistance of stainless steel and ability to eliminate coatings makes design elements and connections into artistic details.
The first stainless steel bridge to garner international attention and become a significant tourist attraction was London, England's Millennium Bridge (2001) designed by Foster and Partners, Anthony Caro, and Ove Arup and Partners using duplex 2205. Figure 5 provides a listing of some of the completed duplex stainless steel bridges and their locations.

In addition to providing the corrosion resistance necessary to offer the longevity expected of iconic bridges, their high strength and other design characteristics can make it possible to reduce structural component size, making these beautiful bridges more cost competitive. Currently, the longest duplex stainless steel pedestrian bridges in the world are The Helix in Marina Bay, Singapore (280 m [920 ft]) and the Harbor Drive Pedestrian Bridge in San Diego, California (168 m [550 ft]). Both used UNS S32205 duplex stainless steel as a primary structural material in their innovative, cutting-edge designs.