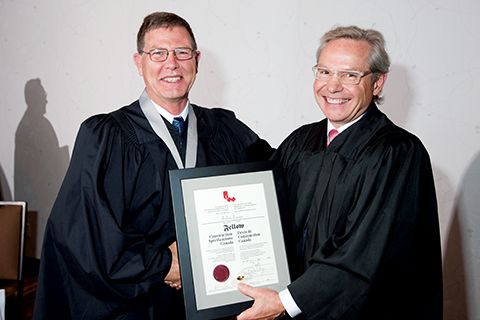 INSIDE CSI
In late May, Construction Specifications Canada (CSC) held its annual national conference in Winnipeg, Manitoba. Much like CSI's own gathering each September, this event is a chance not only to engage in networking and technical education opportunities, but also to honor members for contributions to the association and the greater design/construction community.
One of CSC's highest accolades is admission into its College of Fellows. This year, John Lape, FCSI, CCS—a member of CSC's Calgary Chapter and CSI's Portland Chapter—became only the second person to earn Fellowship in both associations. (The first was Wayne Watson, FCSC, FCSI, RSW, Life Member.)
Like his inclusion in CSI's College, Lape's induction into CSC Fellowship was no mean feat. Each year, since 1967, the Canadian group elects only one new Fellow for each thousand members. (The other new Fellow was former CSC president, Michael Garlinski.) The criteria include:
holding continuous membership of at least a decade, having made "significant and conspicuous contribution" to CSC;
fostering interest of those engaged in, or affected by, the use of any form of specification or related documentation for the construction industry;
publishing literature or related documentation for the construction industry; and
engaging in activities to improve procedures and techniques related to the construction industry.
Further, any candidate must be nominated by at least seven members from three chapters—and three of these members must themselves be members of the College of Fellows.
An architect who practices in Portland, Oregon, many have called Lape an 'ambassador' for his fostering and enhancing communications between CSC and CSI. He joined the Portland Chapter in 1986, becoming active in many roles and at various levels, but particularly focusing on continuing education. He joined CSC's Calgary contingent in 1999. Lape has attended every national conference since, regardless of location. (He was also one of the driving forces behind the 2002 CSC/CSI Northwest Region Conference held in Banff, Alberta.)
"I was, and still am, truly humbled to be a CSC Fellow. I had my business cards reprinted within weeks and I have told numerous friends and clients about it," Lape says. "Being a member has had both a professional and personal impact on me. I have met a great many members all across Canada that I am proud to call friends. In fact, when I describe a CSC conference to people in CSI, I describe it as more of a reunion where everyone looks forward to annually renewing connections."
Lape knew Watson was the only double Fellow before him and says he found being inducted into that very exclusive club "overwhelming."
"I believe in the organization and as a non-resident member I look for ways I can contribute despite the geographic dislocation," he continued. "Last year, it was on the Strategic Planning process and I'm sure there will be other areas in the future. And I will continue to be a conduit between the associations."
In CSI, Lape explained, there is a saying "FCSI" really stands for "Future Continuous Service to the Institute." In his case, he has two associations in which he plans to remain very active.