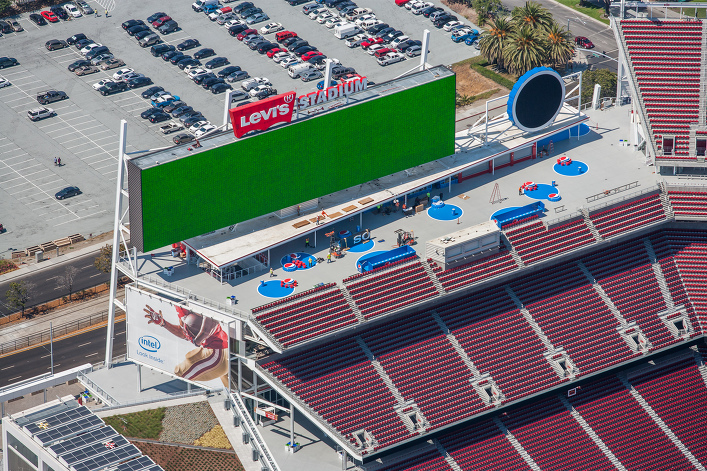 by Michael Baty
Poised to serve as one of the most efficient outdoor sports and entertainment venues, Levi's Stadium opened in Santa Clara, California, in August. Replacing the antiquated Candlestick Park, the stadium will be the new home of the San Francisco 49ers and is functionally designed for a wide range of other events including college football, soccer, motocross, and concerts.
Construction began in April 2012 for the state-of-the-art, $1.2-billion venue spanning 171,870 m2 (1.85 million sf) with seating for approximately 68,500, as well as 165 luxury suites and 8500 club seats.
Designed by HNTB Corporation (Kansas City, Missouri) and built by local firm Turner/Devcon for the Santa Clara Stadium Authority, the new stadium is designed to be light, airy, and open. The facility's white, painted steel structure will also create a unique viewing experience for occupants. With the exposed steel, special attention was given to carefully fitting all stadium systems within the alignments of the structure to keep the aesthetic streamlined.
The precast concrete supplier for the project employed 18 million kg (40 million lb) of the material. The stadium features 2000 precast panels (e.g. risers, walls), with each ranging from 6 to 12 m (20 to 40 ft) in length and weighing up to 15,875 kg (35,000 lb)—a bit heavier than an average school bus.
To achieve the Levi's Stadium "Field of Jeans" concrete aesthetic, a site-cast, precast, and architectural concrete release agent was required. A proprietary blend, comprising neutralized vegetable oils in mineral oil that contains no waxes, silicones, or carcinogens was used. It is solventless and non-toxic, and meets federal, Ozone Transport Commission (OTC) state, and California volatile organic compound (VOC) regulations.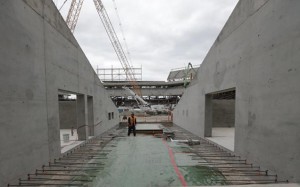 Approximately 15,141 L (4000 gal) of the release agent was used in the process to provide easy and stain-free clean stripping of all the stadium's forms and formliners from concrete. These included stadium forms for panels for the field, lower, mid, and upper levels of the stadium (single, double, and triple risers), and all vomitory wall forms—an integral part of a stadium's viewing aesthetic. The result mimicked the form surface and site amenities with a superior finish for visually stunning concrete surfaces, without bugholes.
The release agent strips clean and promotes longer form life by keeping the form clean and accommodating easier stripping. Green technology enhancements also allow for storage of higher quantities.
The product used was installed by personnel with backpack sprayers for application to the formwork, leveraging 253 mL (0.067 gal) per minute at 40 psi.
To achieve optimal results, form surfaces had to be clean and dry before spraying. An ultra-thin, 0.01-mm (0.0005-in.) thick film was applied to get a finish that promoted easier stripping, less form cleanup, and the complete elimination of discoloration, dusting, bugholes, and concrete buildup.
After spraying in a fine mist, workers simply wiped them down evenly with a damp rag with the release agent. If puddles formed, they were wiped off.
Additionally, regular use of the release agent keeps forms clean when employed on non-porous forms and formliners made of plastic (e.g. acrylonitrile butadiene styrene [ABS] and polyvinyl chloride [PVC]), elastomeric (e.g. urethane and silicone rubber), steel, high-density plywood, and medium-density plywood overlays. It will not stain or stick from heat curing, and does not interfere with adhesion of caulk, architectural coatings, paint, sealers, and curing compounds on cured concrete surfaces.
The Levi's Stadium construction project also boasted a unique green-focused philosophy with an eye toward sustainability as it incorporates photovoltaic (PV) panels, a vegetated roof, water-conserving plumbing systems, building control systems, and recycled materials. The stadium has achieved Leadership in Energy and Environmental Design (LEED) Gold certification, and has also been selected as the site for Super Bowl 50 in 2016.
The intent of regulating VOCs is to reduce the amount of ozone (O3) produced at ground level. From the U.S. Environmental Protection Agency's (EPA's) point of view, manufacturers of form release agents are responsible for meeting the VOC criteria. While the standard allowable amount of VOCs is 450 g/L (60.09 oz/gal), more stringent standards are emerging in states such as California, which requires a 250 g/L (33.38 oz/gal) standard.

Michael Baty is president of Cresset Chemical Company and has been with the company since 2000. He is a member of the National Precast Concrete Association (NPCA), National Precast/Prestressed Concrete Institute (PCI), and Precast Concrete Manufacturers' Association of Texas (PCMA). Baty attended Bowling Green State University, majoring in computer science.