by Tammy Schroeder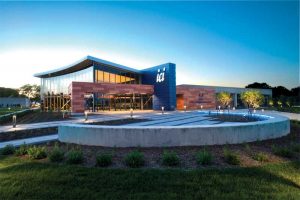 Aluminum wall cladding systems provide a modern aesthetic to commercial buildings. Specifying factory-applied, durable finishes to meet a project's climate and performance needs allows the property to maintain its intended look with minimal maintenance of its cladding.
High-performance, polyvinylidene fluoride (PVDF) resin-based coatings can be selected in nearly any conceivable color or combination. Anodized finishes provide the highest performance, but in a narrower range of hues. A better understanding of these finishes will help minimize color variation, meet performance requirements, select a finishing partner, and achieve the desired result of the installed work.
Color range and options for aluminum cladding
The range of aesthetic design choices possible with architectural coatings for aluminum is one of its key advantages. Pigments impart the majority of paints' color. White shades remain the most popular choice for architectural aluminum products. As anyone who has looked at a color deck knows, whites can vary from bright blue-white and beige yellow-white to sage green-white, rosy pink-white, and more.
For metal cladding systems, a bolder palette may be of preference for accents or full walls. Paint coatings can be matched to an organization's logo, school's colors, team's uniforms, or a company's identity standards. Specialty painted finishes, such as spattercoat, combine several color selections in patterns to resemble marble or other decorative designs. Textured coatings add a tactile element to aluminum wall cladding, such as mimicking shades of terra cotta. Metallics and micas add vibrancy to the coatings. The metal flakes within the pigment catch the light to create a shimmer or sparkle.
Anodized finishes emphasize and enhance the natural metallic look of aluminum. The inherent chemistry of the architectural anodizing process limits the range of available colors. Clear, black, bronze, and champagne tones are industry standards. At least one manufacturer also offers brushed stainless steel and copper color options for anodized aluminum wall cladding systems.
Coating composition and classification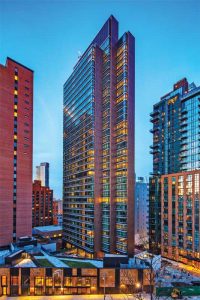 High-performance PVDF resin-based coatings contain resin, binder, and pigments. These coatings are applied in a thin layer of plastic film on top of a properly pretreated aluminum substrate to provide protection and a decorative organic coating on metal wall cladding systems.
A gallon of high-performance paint for aluminum extrusion typically would contain 10 percent pigment, 20 percent resin, and 70 percent solvent.
Pigments
Pigments are added to the paint to give it color or to enhance certain physical properties of the coating. The selection of pigments is based on physical needs, durability, gloss, color fastness, and chemical exposure. Pigments are both naturally occurring and synthetic.
Resins
These are the compounds in the paint that form the film and hold the pigment in place. The resin system incorporated into the paint is the determining factor in the specific characteristics and performance properties. In the architectural industry, two primary resin systems are involved in finishing of metals: fluoropolymer based (PVDF) and 'baked enamel' type, usually composed of acrylic or polyester resins.
Solvents
These are used to dissolve or disperse the different components used in a paint formulation, such as pigments and resins, to achieve the desired consistency for application. After paint is applied, the solvent evaporates, allowing the resin and pigment to produce a coating of paint, and to dry quickly. Reducers and additives may be added to the paint, along with the solvent. Additives are related to paint type and specification, and may be added to enhance gloss, hardness, and other characteristics. Reducers serve different purposes—using an active solvent will decrease the viscosity. Diluent solvent is employed to extend a solution, but will weaken the power of the active solvent. Thinner solvent can extend a solution, but does not impair the power of the active solvent.
Paint coatings can be classified by curing system, volatile components, function, and resin system. Curing systems include air dry, air dry/force dry, bake/cure, catalyzed, and radiation.
Volatile components are the solvents, which may be waterborne (water based and water reducible) and 100 percent solids. Function refers to the filler, surfacer, size coat, primer, tie coat, and clear coat.
The resin system determines the performance
and properties of the paint, such as acrylic, epoxy, polyester, polyurethane, vinyl, and PVDF. Some specifiers and other industry professionals mistake resin brand names (e.g. Hylar and Kynar) as generic terms for resin systems.