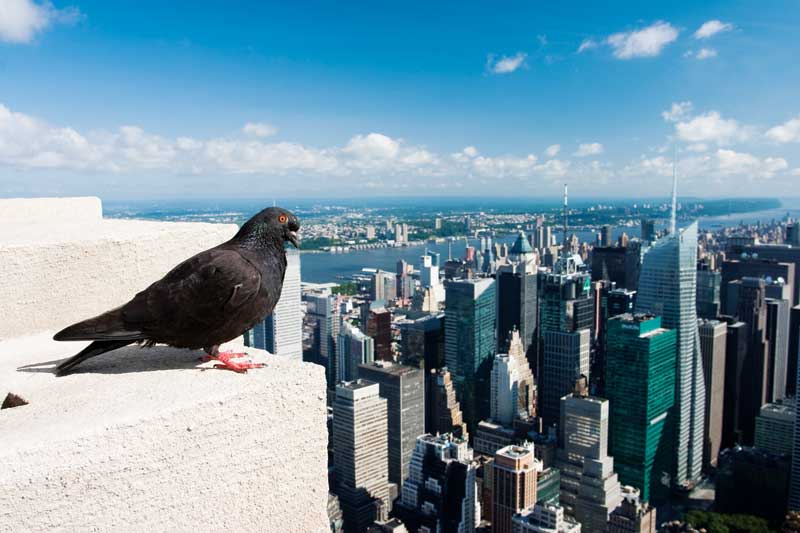 by Heath Waldorf, CDT
An informal survey conducted of architects over the last decade consistently cited bird deterrence as one of the most overlooked elements of the architectural process. With all the functionalities, aesthetic concerns, and cost items considered more significant, bird mitigation strategies are afterthoughts—at best—to most projects. The problem with this logic is if integration of bird deterrence is not considered early enough in the design process, it can limit their effectiveness and the options for aesthetic installation.
Before examining the specifiable products or systems typically used for bird control in MasterFormat Section 10 81 13−Bird Control Devices, it is important to recognize the purpose of this discussion is actually about the result sought. In addition to the preservation or enhancement of aesthetic, bird control is really about protecting the client's property, health, safety, and welfare from the negative effects caused by traditional feathered pests—pigeons, starlings, sparrows, and gulls. There are design, environmental, and operational factors that can have an impact on reducing or eliminating a bird problem, or preventing them in the first place.
Unfortunately, the marriage of the pest control industry with the architectural process has been fraught with ambiguity, lack of expertise, and uncertainty. Relative to the construction or retrofit process, making good decisions early on is critical to a project's success—however, it is essential to first determine the definition of success relative to each individual project.
Therefore, in addition to the discussion of specifiable mechanical installed systems, planning for deterrence should be addressed holistically and much earlier on in the process than is typically the case. In other words, in addition to having ledges on a building, there are numerous environmental considerations promoting the likelihood of a bird problem. These include:
evidence of a previous problem in neighboring building;
open space or parks (particularly in urban areas);
food sources in the vicinity;
knowledge of deterrent systems installed on neighboring buildings;
landscape;
garbage storage/collection; and
rooftop equipment design.
Even if the derived plan is to take a wait-and-see approach, it is best to at least prepare for incorporation of bird deterrence in the design stages such that a system can be installed in the future without sacrificing potential efficacy or risking aesthetic degradation. There comes a point where the cost of integration becomes prohibitive, if even possible at all.
What are you really specifying—devices, products, or systems?
Though manufacturers have some "devices" or "products" in the traditional sense, those are generally unspecifiable. (Figure 1 lists the most commonly encountered technologies.) Both MasterFormat and UniFormat label their sections for this subject "Bird Control Devices." To use the word "devices" is a broad oversimplification; the more suitable label would be "systems" or "assemblies." In most cases, solving or preventing bird problems is done using multiple methods. Some are simple physical barriers (e.g. spikes), others exclusionary (e.g. netting), and others behavior-modifying (e.g. electric track deterrents).

Therefore, instituting a bird deterrent system as part of a project could be more aptly compared to an HVAC system. Manufacturers make components—chillers, blowers, diverters, sensors, and thermostats—and the design, engineering, and assembly relative to the building is what makes it a finished system.
The reality is the materials provided by manufacturers are in fact only components and not products or systems as implied by much of their marketing material. The actual system is only in effect when the right components are selected, integrated, and installed to form a working solution. Rather than delving into which system is used for which function and the nuances of the various competing manufacturers' systems, this article takes a higher-level approach to the process. (For more specific information, one can check out individual manufacturers' websites or read the General Services Administration (GSA) article on historic preservation posted online at www.gsa.gov/portal/content/113310).