by Tracy Myers, AIA, RRO, LEED AP, NCARB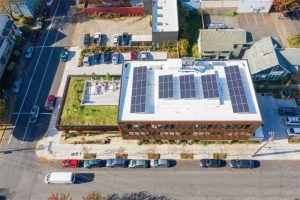 A high-performance roof system is durable, resilient, and allows a building to be occupied after a disaster event and continues performing during a loss of power. Designing beyond code minimums could help a roof stay intact with minimal damage during a storm.
A green roof could be used to mitigate the urban heat island effect. A blue roof could be used to temporarily retain water on the roof to help manage stormwater. A cool, reflective roof could improve a building's energy efficiency by reducing the amount of heat gain and associated energy demand for air-conditioning units. Utilizing skylights to provide natural light could help with post-disaster use of a building when the power grid has gone down.
Buildings benefiting from a high-performance roof include essential structures, such as hospitals and power infrastructure, for obvious reasons. Less obvious beneficiaries include grocery stores and cold-storage facilities where it is expensive to replace inventory. These outlets also are valuable to communities after a disaster. Keeping a roof intact and dry allows buildings to continue functioning as well as mitigates the risk of the loss of valuable goods.
There are several reasons for using a high-performance roof. An owner may request a roof requiring minimal maintenance. Local laws or regulations may demand design and performance requirements specific to their jurisdiction. The risk of future litigation may also be a driver for an owner or developer to request a roof designed and constructed to exceed minimum code requirements.
To design a high-performance roof, it is essential to consider building science, the fundamentals of heat, air, and moisture, as well as understand the local climate zone and the different pressures acting on the building enclosure. It is advisable to employ more conservative detailing strategies at the roof edge and attachment points as well as consider the value of a 'belt-and-suspenders' approach to the overall design. The selection of durable materials and system configurations play a role in the design of high-performance roofs.
Building science matters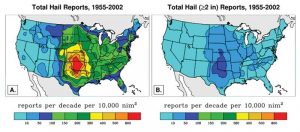 The roof is an essential component of the building enclosure. It acts as a 'barrier' or 'separator' between the exterior and interior conditions and controls the flow of mass and energy (read Roofs, Design, Application and Maintenance by Maxwell Baker, National Research Council Canada, 1980).
It is important to review the second law of thermodynamics, as it relates to buildings, to better understand how building science affects roofing design. According to the law:
moisture flows from warm to cold, more to less;
heat flows from warm to cold;
air moves from higher to lower pressures; and
gravity acts down (for more information, read Joseph Lstiburek's article on "Thermodynamics: It's Not Rocket Science," Building Science Corporation, May 15, 2009).
Another way to think about it is that moisture, heat, and air are regularly seeking balance.
The most impactful form of moisture is liquid (bulk) water, and it can move in many directions, not just down—think wind-driven rain. Next, there is capillary action, air-transported moisture follows, and, finally, vapor diffusion. The designer and builder should also consider construction-related moisture and moisture within building materials.
Several types of pressures act on the building enclosure. Wind produces positive pressure on the windward side and negative pressure on the leeward, including the roof. Negative pressures tend to be greatest at the roof because wind speed increases with height. When air pressures below the roofing system are greater than those above the roofing system, the pressure differentials can cause roofing system failures due to uplift forces.
The stack effect produces positive pressure at the roof and inward pressure at the base of the building. Mechanical ventilation creates positive pressure (air supply rate greater than exhaust) or negative pressure (air exhaust rate greater than supply). These differences in pressures contribute to air and moisture movement throughout the roof system.
The impact of wind on the roof can be significant. Corner and perimeter loads are higher than in the field. Roof edges are vulnerable and initial failures often originate there. For this reason, building codes include the American National Standards Institute/Single-ply Roofing Industry (ANSI/SPRI) ES-1, Wind Design Standard for Edge Systems Used with Low-Slope Roofing Systems, low-slope edge securement requirements. Parapets can lower edge suctions at the roof, depending on the height of the parapet. The building's configuration, classification (open, enclosed, etc.), and exposure can affect the calculation of the uplift forces acting on the roof. Wind-related pressures can lead to expensive and potentially dangerous roof failures.