Resilience and durability
Resilience and durability refer to the ability to recover from difficulties and to withstand wear, pressure, or damage. If a roof can stay intact and functional during and after a storm event, it becomes resilient in the sense the building can remain or get back into service quicker, which is beneficial to the local community.
Weather patterns are changing and, in many instances, becoming more severe. Designers need to consider not only past incidents, but anticipate future events to design a high-performance roof system.
The United States has sustained 250 weather and climate disasters since 1980, where overall damages and costs reached or exceeded $1 billion (including consumer price index [CPI] adjustment to 2019). The total cost of these 250 events had exceeded $1.7 trillion (adjusted for inflation). Also, four out of five of the most massive hurricanes in the United States have occurred in the last 15 years.
Costly hailstorms are increasing in the United States, with the average year now accumulating between $8 and $14 billion in hail-related insurance losses. In 2014, Verisk Insurance Solutions reported insurers paid claims totaling more than $54 billion from 2000 to 2013, with 70 percent of those losses occurring in the latter half of that time period. Hailstorms are not only becoming more severe and frequent, but also the entire country is subject to these storms, as represented by the warmer colors in Figure 1.
Increasing urbanization and rising temperatures contribute to urban heat island effects (i.e. urban areas experience warmer temperatures than nearby rural areas because the surfaces in urban areas typically absorb and retain more heat.) This is because many urban areas are dense with many dark, absorptive, and impervious surfaces.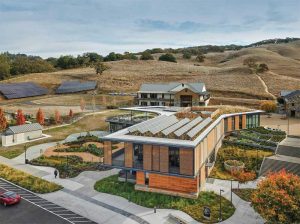 Along with climate change, many cities across the nation are dealing with aging infrastructure that is not designed to service growing populations. This has become a big issue with combined sewer systems collecting rainwater runoff, domestic sewage, and industrial wastewater. Under normal conditions, the piping transports collected wastewater to a sewage treatment plant for treatment, and then discharged to a water body. During storms, when the volume of stormwater grows, it can exceed the capacity of the treatment system, and untreated stormwater and wastewater discharge directly into nearby waterways. These combined systems can be found in over 850 municipalities.
The changing climate affects roofing in many ways by causing:
more frequent and longer-lasting storms;
hotter temperatures;
expansion of geographical areas for storms; and
population growth impact on existing urban infrastructure.
High-performance detailing and specifications
Air can carry a significant amount of moisture. Therefore, it is critical to limit the amount of air infiltrating a roof system. Installing an air barrier—and vapor retarder when  it is appropriate—and two layers of insulation with staggered joints helps mitigate the pressures acting on the roof. Locating fasteners below the insulation layers reduces thermal bridging, thereby improving the thermal performance of the roof system and increasing energy efficiency.
While the selection of individual components is a part of roof system design, it is preferred to consider the roof as a system instead of individual elements. Creation of a durable roof system design will take into consideration the characteristics of the roof covering as well as the underlying assembly.
Single-ply membranes represent more than 50 percent of the United States roofing market (read "Ice Ball Impact Resistance of Heat-Aged TPO Roofing Membranes" by Sarang Bhawalkar, Tammy Yang, and Thomas J. Taylor). Commonly used 'cool-roof' single-ply membranes include thermoplastic polyolefin (TPO), polyvinyl chloride (PVC), polyvinyl chloride ketone ethylene ester (PVC-KEE), and KEE. Each of these membranes offers the benefit of welded seams and multiple membrane thickness options. Ethylene propylene diene monomer (EPDM) is a thermoset synthetic rubber roofing membrane that also comes in white with multiple thickness options.
Understanding the location and use of the building helps inform the roof membrane selection. Some membranes, such as PVC-KEE or KEE, may be an appropriate choice for roofs subject to chemical exposures. TPO membranes are inherently flexible, while PVCs require the addition of liquid and solid plasticizers for flexibility. Migration of liquid plasticizers is one of the modes of failure for PVC membranes. As the plasticizers migrate, the membranes become more brittle and prone to damage. Specifying an inherently flexible, high-performance TPO membrane or a PVC-KEE membrane with solid plasticizers may increase the roof's longevity. Dark-colored EPDM membranes have a successful history of field performance, but as a thermoset membrane, it relies on adhesives for its seams, which can fail over time. Some manufacturers are offering single-source hybrid roofing systems incorporating a multi-layer bituminous roofing system, covered with a single-ply 'cool-roof' membrane, thereby achieving multi-ply redundancy as well as the energy savings of a reflective roof. When specifying a reinforced single-ply membrane, review the thickness over scrim, which is the thickness of the roofing membrane layer over the internal reinforcing. As a general rule, a thicker membrane layer over scrim equates to a more durable membrane.