LEED Gold certified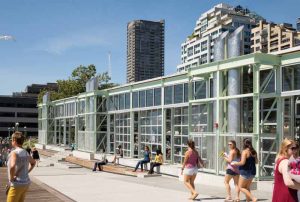 Constructed on a Brownfield site that had stood vacant for more than 40 years, the project's nonresidential structures received Leadership in Energy and Environmental Design (LEED) Gold certification based on structural designs, use of materials, and high-efficiency mechanical and electrical technologies.
A residential building housing 40 studio apartments for low-income seniors falls under the Evergreen Sustainable Development Standard (ESDS), a building performance standard required of all affordable housing projects receiving capital funds from the Housing Trust Fund (HTF). Established by the Washington Legislature in 1986 and administered by the state Department of Commerce, HTF provides funding for low-income housing construction. Since its creation, the trust fund has granted more than $1 billion in funding to develop over 50,000 units of affordable housing.
ESDS aligns the state's affordable housing investment strategies with environmentally responsible building practices (Consult the Evergreen Sustainable Development Standard (ESDS) by the Washington State Department of Commerce.).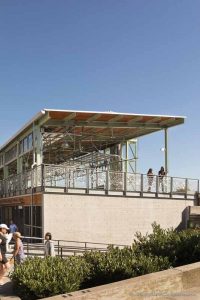 "The occupied roof pavilion reduces much of the heat island effect found in a typical building where the roof receives heat loads radiating outward," according to Doub. "The parking is 100 percent underground, so that helps mitigate heat islands and stormwater issues. In addition, the heating and cooling are provided by an existing central plant."
The architects worked closely with MEP engineers to improve the central plant, including vent stacks for carrying exhaust away from occupied areas to maintain air quality. Rising 8 m (25 ft) above neighboring structures, the stacks are positioned to avoid obstructing view corridors to the waterfront (Read "The story behind – and beneath – those big vent stacks," by Cress Wakefield, published in the Daily Journal of Commerce.).
Other sustainable features include:
more than 86 percent of construction waste was diverted from the landfill;
outdoor air ventilation exceeded the LEED minimal requirement by 30 percent;
recycled materials used for construction were $3.4 million or 35 percent of total material cost;
building materials or products extracted, harvested, recovered, or manufactured within a 800-km (500-mi) travel distance of the project site were $3.6 million or 37 percent of the total material cost;
rainwater cistern to manage surges and runoff during storm events;
34 percent reduction in indoor potable water usage and 50 percent reduction in water used for irrigation;
green cleaning program for the hardscape and maintenance operations at the market;
energy-saving LED lighting in the parking garage and throughout the new project;
infrastructure for electric car charging stations;
demand-controlled ventilation and high-efficiency fans and pumps; and
use of low-emitting paints and coatings on structural steel components.