Historic Seattle market rings up award-winning design
by nithya_caleb | January 10, 2020 12:00 am
by Caleb Parker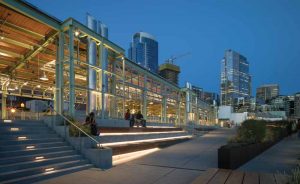 "Reclaiming a former municipal building site, Pike Place MarketFront is the first addition to Seattle's [Washington] cherished farmer's market in nearly 40 years. The final piece in a long-anticipated vision for a [4-ha] nine-acre neighborhood-turned-historic district, the project delivers nearly [3716 m2] 40,000 sf of public space and creates a new gateway from the city's downtown area to its waterfront" – American Institute of Architects[2] (AIA).
As an extension of the original Pike Place Market founded in 1907, the $74-million MarketFront project was constructed on a site previously used for surface parking. The MarketFront consists of 47 all-weather day stalls for farm and craft vendors, low-income senior housing, a pavilion and neighborhood center, an underground parking garage, and public viewing terraces overlooking Elliott Bay and Puget Sound.
Architects for the Miller Hull Partnership based the project's design on concepts gathered from neighborhood stakeholders at 200 public meetings spanning more than two years. The plan emerging out of these sessions was to marry the culture and spirit of the original market with future changes embodied in Seattle's revitalized waterfront. The waterfront is being developed on the site of an elevated highway viaduct, which is in the process of being demolished and removed (This is based on a news release from Miller Hull Partnership.).
In recognition of its work on the marketplace expansion, Miller Hull was presented with a 2019 AIA Institute Honor Award for Regional and Urban Design. The project also received the Chicago Athenaeum Museum of Architecture and Design 2018 American Architectural Award.
Citing the project's "grand public spaces framed by a contemporary lightness and transparency," an AIA award announcement observed, "Pike Place MarketFront echoes a certain Pacific Northwest toughness in its cast-in-place concrete and engineered timber base. It is capped by an open-air structural steel-framed pavilion and features large expanses of glazing, adding to the industrial undertones."
A complex site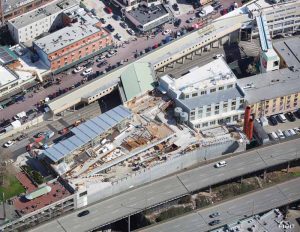 The multitude of public hearings was part of a rigorous process to gather direction on design and use from various constituencies and organizations, including vendors, residents, the Pike Place Market Preservation and Development Authority (PDA), the Market Historical Commission, and several public agencies.
Among the takeaways from those meetings was the importance of historic views to the market's stakeholders and the need for additional vendor space. Using 3D computer modeling, the design team analyzed the view corridor from existing market locations, building profiles, and mechanical, electrical, and plumbing (MEP) engineering.
"It is a very complex site," explained project manager Steve Doub, senior associate and specifier with Miller Hull. "There was no way to do the project without modeling it in 3D. It allowed us to develop renderings for all those public meetings so people could visualize what the space was going to be like and what the view corridor would be from the vendor stalls and the existing market out to the waterfront."
Located on a steep hillside, the MarketFront sits above an active train tunnel running diagonally beneath the project site. The site is bounded on the west by the waterfront, a park to the north, a building on the south-end, and the Western Avenue thoroughfare to the east.
The centerpiece of the project, Producers Hall, is integrated into the area's sloping topography and features heavy timber framing with steel bracing and brackets creating a rustic aesthetic. Building occupants include a brewery, chocolatier, biscuit shop, and space for a restaurant.
The site also accommodates a four-level parking garage cut into the hillside with capacity for 300 vehicles, in addition to spaces for 33 bicycles. The parking structure descending below Western Avenue is supported above the train tunnel by carefully positioned columns and concrete girders.
Westward views of Seattle's waterfront can be seen from a rooftop terrace and steel-framed vendor pavilion located over the main building. With glazed roll-up doors on its east and west sides, the pavilion offers maximum transparency for optimum viewing of Elliott Bay. Steel members, bracing rods, and pre-tensioned lenticular trusses provide the pavilion with structural and seismic stability for year-round use by vendors and for special gatherings and cultural events scheduled after business hours.
The MarketFront's steep slope and constricted terrain presented a special challenge for the project's contractor, Sellen Construction, as well as the landscape architect, Berger Partnership. Berger is also working with James Corner Field Operations (JCFO) on Seattle's future waterfront redevelopment.
Using natural materials and native plantings, the MarketFront's landscape features circulation ramps compliant with the Americans with Disabilities Act (ADA). The ramps will eventually connect with the revitalized waterfront. Landscape lighting is unobtrusive while providing security and wayfinding during the evening hours (Read "New open space is the next step on a path to the waterfront," by Jonathan Morley, published in the Daily Journal of Commerce.).
The interior and exterior lighting scheme throughout the MarketFront expansion was created by Dark Light Design. It is also involved with the waterfront revitalization project. MarketFront lighting fixtures lamped with energy-saving light-emitting diode (LED) technology are in keeping with luminaires found around the historic market.
"It gets dark pretty early in the Northwest during winter, so the building and grounds need to be well lit," Doub emphasized. "Lighting is always
a concern for us, especially in these public spaces. Both the lighting and landscaping were meant to weave into the larger waterfront redevelopment, which is underway."
LEED Gold certified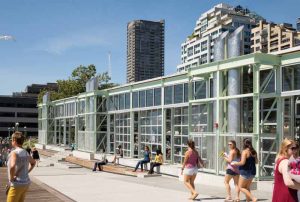 Constructed on a Brownfield site that had stood vacant for more than 40 years, the project's nonresidential structures received Leadership in Energy and Environmental Design (LEED) Gold certification based on structural designs, use of materials, and high-efficiency mechanical and electrical technologies.
A residential building housing 40 studio apartments for low-income seniors falls under the Evergreen Sustainable Development Standard (ESDS), a building performance standard required of all affordable housing projects receiving capital funds from the Housing Trust Fund (HTF). Established by the Washington Legislature in 1986 and administered by the state Department of Commerce, HTF provides funding for low-income housing construction. Since its creation, the trust fund has granted more than $1 billion in funding to develop over 50,000 units of affordable housing.
ESDS aligns the state's affordable housing investment strategies with environmentally responsible building practices (Consult the Evergreen Sustainable Development Standard (ESDS) by the Washington State Department of Commerce.).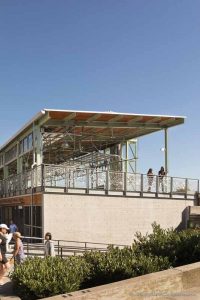 "The occupied roof pavilion reduces much of the heat island effect found in a typical building where the roof receives heat loads radiating outward," according to Doub. "The parking is 100 percent underground, so that helps mitigate heat islands and stormwater issues. In addition, the heating and cooling are provided by an existing central plant."
The architects worked closely with MEP engineers to improve the central plant, including vent stacks for carrying exhaust away from occupied areas to maintain air quality. Rising 8 m (25 ft) above neighboring structures, the stacks are positioned to avoid obstructing view corridors to the waterfront (Read "The story behind – and beneath – those big vent stacks," by Cress Wakefield, published in the Daily Journal of Commerce.).
Other sustainable features include:
more than 86 percent of construction waste was diverted from the landfill;
outdoor air ventilation exceeded the LEED minimal requirement by 30 percent;
recycled materials used for construction were $3.4 million or 35 percent of total material cost;
building materials or products extracted, harvested, recovered, or manufactured within a 800-km (500-mi) travel distance of the project site were $3.6 million or 37 percent of the total material cost;
rainwater cistern to manage surges and runoff during storm events;
34 percent reduction in indoor potable water usage and 50 percent reduction in water used for irrigation;
green cleaning program for the hardscape and maintenance operations at the market;
energy-saving LED lighting in the parking garage and throughout the new project;
infrastructure for electric car charging stations;
demand-controlled ventilation and high-efficiency fans and pumps; and
use of low-emitting paints and coatings on structural steel components.
Coating and color specifications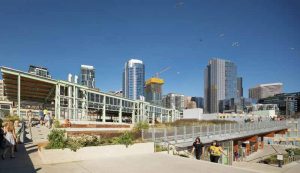 Coatings for the project's structural and architecturally exposed steel and pavilion and vent stack support steel complied with the National Architectural and Industrial Maintenance (AIM) rule, which is the U.S. Environmental Protection Agency (EPA) standard for volatile organic compound (VOC) emissions in Seattle. Each of the specified coatings conform to LEED v3, while primer coatings are also LEED v4 compliant, according to J. Gleisberg, CSI, CDT, LEED GA, a sales manager with the materials supplier.
A shop-applied coating system for the pavilion's exterior steel consisted of a waterborne acrylic primer and a low-VOC, aliphatic acrylic polyurethane finish coating with excellent color and gloss retention.
Field-applied coatings included a single-component micaceous iron oxide and zinc-filled aromatic polyurethane primer, a polyamide epoxy intermediate coat, and a polycarbamide finish coating formulated to resist ultraviolet (UV) light degradation and weathering while retaining color and gloss.
The coatings were specified for their long-term aesthetics and resistance to Seattle's moisture-laden winds blowing in from the ocean, heavy rainfall, and salty air, as well as the extended maintenance cycles in extensively used public spaces.
"Whenever we specify paint on exterior metal in the Northwest, we use the same coating system," Doub explained. "In other coastal cities like San Diego, most of the contractors want to paint over galvanized metal, but galvanizing leaves a rough texture that can telegraph through paint. Using primers, we feel we get a better finish and the performance is just as good as painting over galvanized metal."
The primary color specified for the exterior steel coatings provides an industrial feel in harmony with other natural materials found throughout the market. The mint green coating replicated a color used on
a historic cast-iron arcade and other turn-of-the-century architecture in the market.
"It was also similar to a color we found in a book by modernist architect Le Corbusier," Doub recalled. "It was a happy coincidence to find a color by this iconic modernist architect matching existing colors at the market. That helped us with our selection and gave a pop of color to the steel that needed to be painted anyway."
Wood columns on building interiors were treated with a light oil finish applied at the factory, while timbers on the exterior received an alkyd-oil clear finish pigmented for UV protection. Several different pigmented samples were applied in mockups before the desired wood tone was selected for the project.
Galvanized steel provided a natural metallic appearance to handrails positioned along ADA-compliant walkways that will eventually connect to the Overlook Walk along the waterfront.
For the design team members, the MarketFront achieved the best of both worlds represented by the architectural styles of the original market and technological innovations of a modern building.
"At the AIA regional award presentation, a local architect told me, 'Everyone has been looking at the project site for 40 years trying to imagine what would go there, but now when you see the MarketFront building it looks like it has always been there,'" Doub shared. "For us, that was a great compliment. It is not a modern structure that was just dropped in there; it is part of the market."
PRESERVING THE PAST
The popularity of Pike Place Market in Seattle, Washington, reached a high point during the 1930s when more than 600 farmers held permits to sell everything from fresh produce and flowers to lightly manufactured goods. Then, as now, the market consisted of "brick, concrete, and timber structures, marquees, open stalls and tables, cast-iron columns, suspended metal lighting fixtures, and tile floors." (Read "The Best Short History of the Pike Place Market," by Braiden Rex-Johnson on the Friends of the Market website.)

By the 1960s, neglect had left the market in a deteriorated state prompting an urban renewal plan to replace it with a parking garage, offices, and a hotel. Public resistance to that proposal evolved into a grassroots group of citizens called Friends of the Market dedicated to saving and renewing the iconic landmark.

For several years, Friends of the Market led a grassroots campaign for the historic preservation and renewal of the original architecture and values of the market for future generations.

An initiative was put on the ballot on November 2, 1971, and the people of Seattle responded by voting to make the market a historical district where uses, as well as designs, were preserved.

In 1973, the Pike Place Market Preservation and Development Authority (PDA) was mandated by Washington State to manage the historic district in the public's interest.

Over 15 years, PDA renovated or reconstructed every building within the Market Historical District with the help of federal urban-renewal funds.
Caleb Parker is an inside sales manager for Tnemec Company, where he provides coating assistance to various customers and independent sales representatives in the western region of the United States and international locations. Parker is a National Association of Corrosion Engineers (NACE) coating inspector (Level III certified) and has associations with various organizations in the industry, including the American Water Works Association (AWWA), Water Environment Federation (WEF), and Society for Protective Coatings (SSPC). He has over a decade of experience in assisting with the specification and application of high-performance coatings and linings. Parker can be reached at parker@tnemec.com[7].
Endnotes:
[Image]: https://www.constructionspecifier.com/wp-content/uploads/2020/01/LS20170726_pikeplacemarket_032.jpg
American Institute of Architects: http://www.aia.org/showcases/6073089-pike-place-marketfront
[Image]: https://www.constructionspecifier.com/wp-content/uploads/2020/01/03_MillerHull_PikePlaceMarketFront_Construction-shot-March-2017.jpg
[Image]: https://www.constructionspecifier.com/wp-content/uploads/2020/01/LS20170726_pikeplacemarket_007.jpg
[Image]: https://www.constructionspecifier.com/wp-content/uploads/2020/01/MarketFront.jpg
[Image]: https://www.constructionspecifier.com/wp-content/uploads/2020/01/LS20170726_pikeplacemarket_010v1.jpg
parker@tnemec.com: mailto:parker@tnemec.com
Source URL: https://www.constructionspecifier.com/historic-seattle-market-rings-up-award-winning-design/
---