Coating and color specifications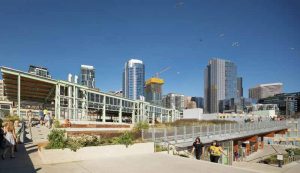 Coatings for the project's structural and architecturally exposed steel and pavilion and vent stack support steel complied with the National Architectural and Industrial Maintenance (AIM) rule, which is the U.S. Environmental Protection Agency (EPA) standard for volatile organic compound (VOC) emissions in Seattle. Each of the specified coatings conform to LEED v3, while primer coatings are also LEED v4 compliant, according to J. Gleisberg, CSI, CDT, LEED GA, a sales manager with the materials supplier.
A shop-applied coating system for the pavilion's exterior steel consisted of a waterborne acrylic primer and a low-VOC, aliphatic acrylic polyurethane finish coating with excellent color and gloss retention.
Field-applied coatings included a single-component micaceous iron oxide and zinc-filled aromatic polyurethane primer, a polyamide epoxy intermediate coat, and a polycarbamide finish coating formulated to resist ultraviolet (UV) light degradation and weathering while retaining color and gloss.
The coatings were specified for their long-term aesthetics and resistance to Seattle's moisture-laden winds blowing in from the ocean, heavy rainfall, and salty air, as well as the extended maintenance cycles in extensively used public spaces.
"Whenever we specify paint on exterior metal in the Northwest, we use the same coating system," Doub explained. "In other coastal cities like San Diego, most of the contractors want to paint over galvanized metal, but galvanizing leaves a rough texture that can telegraph through paint. Using primers, we feel we get a better finish and the performance is just as good as painting over galvanized metal."
The primary color specified for the exterior steel coatings provides an industrial feel in harmony with other natural materials found throughout the market. The mint green coating replicated a color used on
a historic cast-iron arcade and other turn-of-the-century architecture in the market.
"It was also similar to a color we found in a book by modernist architect Le Corbusier," Doub recalled. "It was a happy coincidence to find a color by this iconic modernist architect matching existing colors at the market. That helped us with our selection and gave a pop of color to the steel that needed to be painted anyway."
Wood columns on building interiors were treated with a light oil finish applied at the factory, while timbers on the exterior received an alkyd-oil clear finish pigmented for UV protection. Several different pigmented samples were applied in mockups before the desired wood tone was selected for the project.
Galvanized steel provided a natural metallic appearance to handrails positioned along ADA-compliant walkways that will eventually connect to the Overlook Walk along the waterfront.
For the design team members, the MarketFront achieved the best of both worlds represented by the architectural styles of the original market and technological innovations of a modern building.
"At the AIA regional award presentation, a local architect told me, 'Everyone has been looking at the project site for 40 years trying to imagine what would go there, but now when you see the MarketFront building it looks like it has always been there,'" Doub shared. "For us, that was a great compliment. It is not a modern structure that was just dropped in there; it is part of the market."
PRESERVING THE PAST
The popularity of Pike Place Market in Seattle, Washington, reached a high point during the 1930s when more than 600 farmers held permits to sell everything from fresh produce and flowers to lightly manufactured goods. Then, as now, the market consisted of "brick, concrete, and timber structures, marquees, open stalls and tables, cast-iron columns, suspended metal lighting fixtures, and tile floors." (Read "The Best Short History of the Pike Place Market," by Braiden Rex-Johnson on the Friends of the Market website.)

By the 1960s, neglect had left the market in a deteriorated state prompting an urban renewal plan to replace it with a parking garage, offices, and a hotel. Public resistance to that proposal evolved into a grassroots group of citizens called Friends of the Market dedicated to saving and renewing the iconic landmark.

For several years, Friends of the Market led a grassroots campaign for the historic preservation and renewal of the original architecture and values of the market for future generations.

An initiative was put on the ballot on November 2, 1971, and the people of Seattle responded by voting to make the market a historical district where uses, as well as designs, were preserved.

In 1973, the Pike Place Market Preservation and Development Authority (PDA) was mandated by Washington State to manage the historic district in the public's interest.

Over 15 years, PDA renovated or reconstructed every building within the Market Historical District with the help of federal urban-renewal funds.
Caleb Parker is an inside sales manager for Tnemec Company, where he provides coating assistance to various customers and independent sales representatives in the western region of the United States and international locations. Parker is a National Association of Corrosion Engineers (NACE) coating inspector (Level III certified) and has associations with various organizations in the industry, including the American Water Works Association (AWWA), Water Environment Federation (WEF), and Society for Protective Coatings (SSPC). He has over a decade of experience in assisting with the specification and application of high-performance coatings and linings. Parker can be reached at parker@tnemec.com.