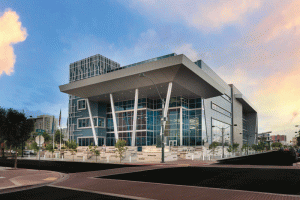 By Kevin Franz, AIA, BECxP, CxA+BE, LEED AP BD+C, CSI, CDT
Think about a new manufacturing facility in the exurbs, a high-rise apartment tower in a bustling city, or an office complex in the suburbs. The team responsible for bringing any building to life faces increased pressure to deliver on energy efficiency and design innovation. Construction professionals today must consider a wide array of variables when selecting the optimal building envelope product, such as climate in the region, how the building will be used, how it will consume energy based on all these conditions, and its appearance.
Two major factors affect thermal performance: the conductivity of the building's steel framing and steel studs, and the failure of the multi-component air barrier systems, which create air leaks through insulation. When materials make contact through steel and studs, conduction and thermal bridging occur. In traditional construction, stopping air leaks and thermal breaks requires a multi-component building envelope with additional crews for installation. Combined, these factors can reduce thermal performance by up to 50 percent. If water, air, or vapor can penetrate the control layers, it will adversely impact building performance.
Insulated metal panels (IMPs) solve these coordination and performance concerns by preventing natural forces from penetrating the walls. The ability of IMPs to drive long-term results is matched by the aesthetic options available to design a compelling building, using an all-in-one system. Considering these project variables, IMPs are the ideal choice for thermal and moisture protection without failures presented with multiple trades' involvement using single-skin panels.