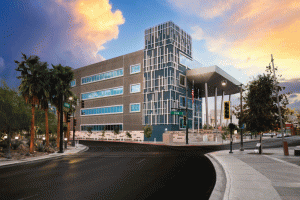 A system, not a skin
IMPs are factory manufactured as an all-in-one system, designed to deliver multiple barriers in a single product. When fastened and sealed correctly, the panel system is impermeable to the elements. IMPs feature concealed fasteners which protect joints from the elements and ensure multiple layers to stop air and moisture from entering the building.
The single-component system includes advanced panel joinery, a rigid closed-cell insulation core, and a galvanized G90 or AZ50 aluminum-zinc coated steel face and liner with a 70 percent polyvinylidene fluoride (PVDF) fluoropolymer coating. Given these components, an IMP system creates a superior wall with clear benefits, while eliminating the five-step, multi-component rainscreen of traditional exteriors.
For safety and efficiency, the IMP system delivers a strong and lightweight building envelope, which reduces the weight compared to brick, precast, or tilt-up concrete by at least 10 to 25 times per foot. The standard concrete weight of 0.093 m2 (1 sf) at 50.8 mm (2 in.) thick is 11.34 kg (25 lb); compared to an IMP of equal size, which weighs no more than 1.37 kg (3 lb), based on 24-gauge metal skin and poly-foam core. As the number of footings and structural supports decrease, costs are reduced, and safety for construction workers and building occupants is enhanced.
For thermal performance, the front and back steel skin of an IMP do not touch, providing a continuous thermal barrier. With an IMP, the steel is adhered to closed-cell polyurethane or polyisocyanurate (ISO), which does not allow conduction inside the panel and eliminates thermal bridging. IMPs are symmetrical and deliver a functional wall for all climates and seasons.
Specifying an IMP replaces all other components for installing the building envelope. Rigid insulation, batt insulation, sheathing, and weather barriers are not needed by separate trade crews on additional days of work—saving money, weather exposure, and crew time on site. A single installation of IMPs means faster wall coverage and project completion. In fact, a team of four can install 464.5 m2 (5000 sf) of panels in eight hours, based on manufacturer case studies.
Reducing thermal bowing
When evaluating construction materials, particularly those built to withstand extreme temperature changes, it is important to understand how they react to an environment. The expansion and contraction of metal when exposed to thermal stress can cause a slight bend towards the warmer side, known as thermal bowing. This bow can be visually apparent due to the restraining action of the clips and fasteners and can cause damage to the building envelope.