by Brent Trenga, LEED AP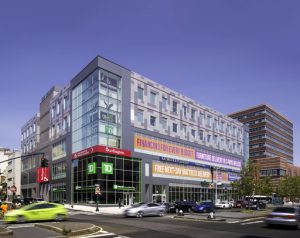 New York City's Harlem neighborhood is going through a revitalization. A key part of this process is commercial development to draw in new retailers, providing both jobs and an expanded tax base.
At the center of this neighborhood renaissance is 100 West 125th Street, a 61,570-m2 (202,000-sf) commercial project. The six-story building is home to a variety of retailers, including Whole Foods Market, American Eagle, Nordstrom Rack, Burlington Coat Factory, Raymore & Flanigan, Olive Garden, and TD Bank.
The project's architect initially wanted to employ aluminum composite metal (ACM) panels, but found costs were higher than anticipated. Therefore, the design team switched to insulated metal panels (IMPs), a single-component assembly. This eliminated many of the steps necessary with an ACM, including adding a backup wall to serve as the air/water/vapor/thermal barrier, as well as a furring system to mount the panels.
IMPs meant significant cost savings for the developer, since as mentioned, there was no need for a backup wall for the 4267-m2 (14,000-sf) metal panels—at approximately $20 per square foot, savings totaled nearly $280,000.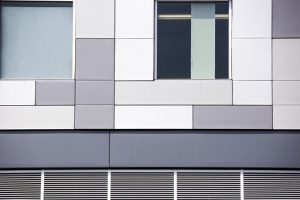 Once IMPs were installed, the contractor had a performing building envelope. Unlike ACMs, there was no need to cover up a backup wall for this structure (or any other project utilizing IMPs), which is normally done because ultraviolet (UV) radiation during installation can ruin the membrane being employed to keep moisture out of the building.
Additionally, IMPs eliminate the need to schedule multiple trades onsite, which can often lead to delays. Timing was important for this project because labor costs in New York City are higher than in any other North American city. The building also fronts 125th Street, which runs through the heart of Harlem.
Speed of build is a key consideration for any project. According to a Building Science Corporation report on exterior wall assembly performance, using IMPs cut construction time by five weeks for a large retail chain. An average store earns a weekly profit of $35,000, which means retail occupants can earn $175,000 with five weeks of sales activity instead of building.
100 West 125th Street incorporates a unique design on its upper floors, with a mosaic pattern created from the IMPs. Originally, the architect conceived a mix of vertical and horizontal panels. However, during the production drawing process, the panel manufacturer came up with a way to manipulate the reveal to give it a vertical look, while using only horizontal panels. This enabled the visual effect the architect wanted, while maintaining the easier installation of horizontal IMPs on the metal stud building.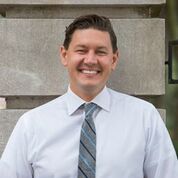 Brent Trenga, LEED AP, is building technology director for Kingspan Insulated Panels North America. His background as an architect, construction manager, developer, and project owner gives him a unique perspective on all facets of the construction industry. Trenga leads Kingspan North America's material health and transparency program, while collaborating with the company's global healthy building team. He can be reached at brent.trenga@kingspan.com.