FAILURES
Deborah Slaton, David S. Patterson, AIA, and Jeffrey N. Sutterlin, PE
The importance of selecting an appropriate weather-resistive barrier (WRB), given project-specific conditions such as substrate types and anticipated in-service environmental conditions, has been emphasized in several past Failures articles by these authors. Of equal importance to ensuring the long-term durability of the WRB is identifying any installation limitations during selection of the product(s), considering these limitations in development of the project specifications, and reviewing these limitations during the pre-construction meeting.
Typical installation limitations can include:
low or high dry-bulb temperatures for the substrate surface and/or ambient environment;
allowable moisture content in the substrate and/or ambient environment;
exposure to bulk water immediately following application of the product (specifically for fluid-applied products that require drying time);
protection of exposed substrates adjacent to and above the installed product;
acceptable surface profiles and conditions;
sufficient curing of cementitious substrates; and
acceptable cleaning methods before and after product installation.
The specifier should also be aware different limitations may exist for different components of a product installation, such as for primer and contact adhesive applications. When multiple products are specified in an assembly, a thorough review of corresponding product literature is required to understand constraints for each product, as well as compatibility with adjacent materials. A technical representative familiar with the selected product(s) is another valuable resource often available to help provide a thorough understanding of acceptable conditions for product installation.
In the photo below, a fluid-applied WRB has prematurely deteriorated due to an inadequate drying period between application and exposure to rainwater. The top of the wall assembly was also found to be inadequately protected, allowing water to saturate the substrate behind the applied WRB, affecting its bond to the concrete masonry unit (CMU) substrate.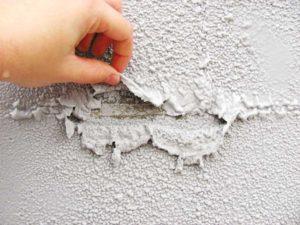 In the photo below, a self-adhering sheet membrane suffered widespread adhesive failure due to application while the surface temperature of the CMU substrate was below the manufacturer's recommended application threshold of 5 C (40 F). Although the contractor waited until the ambient temperature had risen to the minimum recommended application threshold (it had fallen below freezing the night before), the temperature of the CMU surface was still below the minimum temperature at the time of application.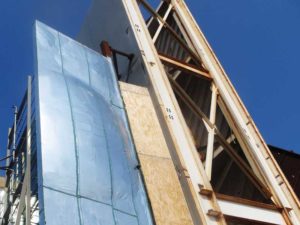 These two examples highlight just a few of the more common issues that can occur during implementation of the work. Not understanding the limitations of products can cause failures during or after installation, often with significant implications for cost and schedule.
The opinions expressed in Failures are based on the authors' experiences and do not necessarily reflect those of the CSI or The Construction Specifier.
Deborah Slaton is an architectural conservator and principal with Wiss, Janney, Elstner Associates, Inc. (WJE) in Northbrook, Illinois, specializing in historic preservation and materials conservation. She can be reached at dslaton@wje.com.
David S. Patterson, AIA, is an architect and senior principal with WJE's Princeton, New Jersey, office, specializing in investigation and repair of the building envelope. He can be e-mailed at dpatterson@wje.com.
Jeffrey N. Sutterlin is an architectural engineer and senior associate with WJE's Princeton office, specializing in investigation and repair of the building envelope. He can be contacted via e-mail at jsutterlin@wje.com.