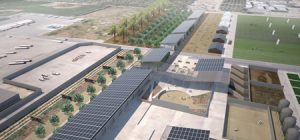 An agricultural educational facility has been designed by PJHM Architects for the Coachella Valley Unified School District in California. Intense climate mitigation and the revitalization of an agricultural community characterize the Agriculture + Natural Resources Academy (Ag+NRA).
PJHM has taken a collaborative approach to tailor the campus to the needs of an agriculturally based curriculum. This project also provides a joint-use space for local farms.
Surrounded by agricultural land consisting of date palm orchards and seasonal crop land, the campus houses one of the largest and technologically advanced agricultural programs in the state. Located in the Coachella Valley, the 8-ha (20-acre) site is 40 m (130 ft) below sea level. With temperatures reaching more than 49 C (120 F), a design challenge was managing the heat. The Ag+NRA implements multiple design strategies to mitigate this extreme environment.
The Ag+NRA includes east-west orientation, extensive use of shade, water harvesting, and thermal mass with night ventilation. The south façade is lined with citrus orchards and date palms, preventing the building from overheating during the extremely hot seasons. The gradually canted metal roof/thermal break, nearly 0.4 km (¼ mi) long, reaches only 12 m (40 ft) at its widest point, providing a situation for solar deflection, and gathers and multiplies the northwesterly winds flanking the site for passive downdraft ventilation.
Additionally, the structure provides daylighting opportunities along its north façade to help diminish the use of artificial lighting. The rooftop photovoltaic (PV) system, when fully optimized, will power the Ag+NRA and the adjacent high school campus.
To host large community gatherings and installations, the architect designed a semicircular 19-m2 (2000-sf) amphitheater in the heart of the campus and organized the school's indoor/outdoor learning spaces around it.