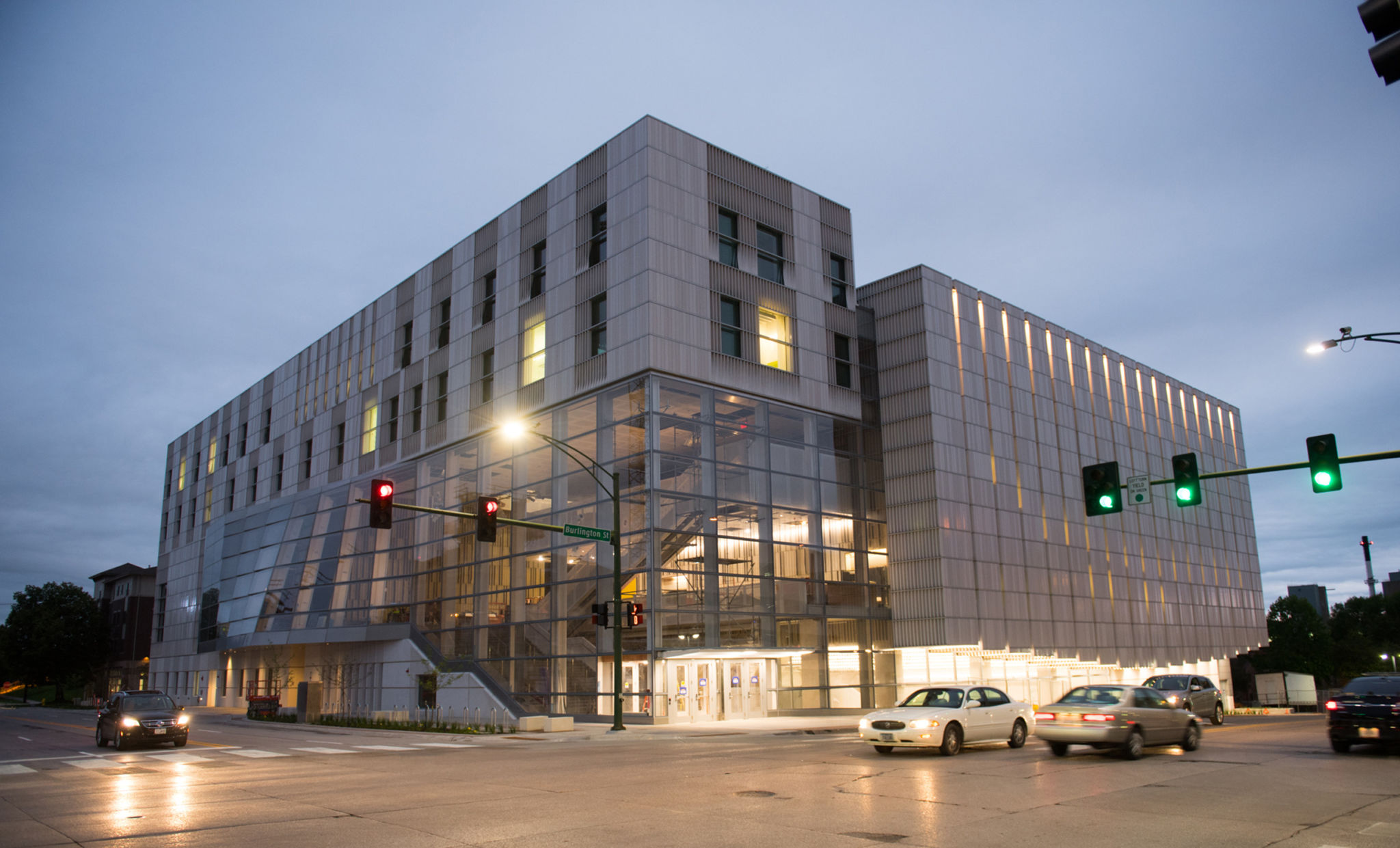 In October, the University of Iowa (UI) School of Music celebrated the opening of a new facility, replacing a former location damaged by the 2008 flood. The Voxman Music Building, a 17,651-m2 (190,000-sf), $152-million project, had a project team including Architectural Wall Systems (AWS) as the contractor, Mortenson Construction as UI's construction manager agent, and LMN Architects and Neumann Monson Architects as the designers.
This new space features 324 rooms serving various functions, including classrooms, teaching studios, offices, a rooftop terrace, a library, a 700-seat concert hall, and a 200-seat recital hall. Two aspects of the facility are particularly crucial to its success: acoustics and windows.
"Almost every room is acoustically isolated," says LMN partner and project designer Stephen Van Dyck, AIA, LEED AP. "This means that instead of the usual one wall, one floor between each room, there are two or three walls and two floors to separate most of the rooms and keep sound from transferring between them. We're also trying to keep the sound from passing from the outside into the building's interior. The windows are a big part of that equation."
This begins with the building's exterior-facing plane, which features electrochromic (EC) glass with wiring paths providing a connection to a user-controlled switch. The connection allows a direct current (DC) to be applied to the glass, lightening or darkening it according to the level of sunlight infiltration desired by students and faculty.
Where do acoustics come in? The EC glazing used in the building is configured to be tall and narrow, with some windows only 0.3 m (1 ft) wide and 12 m (40 ft) tall. This enhances the stiffness of the glass, reducing vibration and thereby improving the building's acoustic performance.
"Due to the acoustic challenges they can present, it's very rare to have large window views and a plentiful amount of natural light in performance and rehearsal spaces," says Van Dyck. "The glass has a critical part. We choose a low-iron glass for the transparency and specified low roller wave and horizontal orientation to minimize visual and acoustic distortion. On the shingled wall, we use very large panes of glass. They are not co-planar and diffuse sound at different rates."
The shingled wall to which Van Dyck refers is one of the building's most aesthetically distinct features. Nicknamed the 'warped wall,' it consists of layered glass and metal units seeming to ripple and to pour from Voxman's roof to its base. A total of 2136 m2 (23,000 sf) of unitized curtain wall was installed by AWS for this project, which also featured interlocking, preassembled window units glazed and sealed at the factory.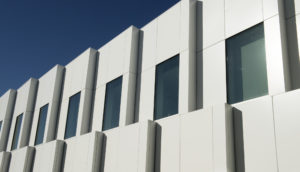 The facility's acoustic performance was also improved by the reduction of flanking noise, accomplished via three methods: adding glazing mass, incorporating a laminated interlayer (to improve damping), and increasing air space. Specifically, a 127-mm (5-in.) air space was added between inside and outside glass lites to reduce sound transmittance through the curtain wall, while the building's interior-facing plane features laminated insulating glass with a 76-mm (3-in.) air space.
"We conceived the project as a means of extending the public space inside the building, and we do that with glass," says Van Dyck. "We start beneath the concert hall and wrap the glass exterior around and up to the main entrance, continuing over the recital hall and reaching heights of 15 m (50 ft)."
Other factors contributed to the building's acoustics as well. Its rehearsal rooms and recital halls each have sound-isolating and acoustics-enhancing features that aid in achieving the specified sound transmission class (STC) rating of 55.
Testing was also completed to determine how the window system holds up under other stresses.
"The curtain wall system went through a rigorous performance mock-up test at a certified laboratory in Miami, Florida," says Lee Ebel, project manager at AWS. "The testing included air, water, dynamic, structural, seismic racking, and thermal cycling."
The project was targeting Gold in the Leadership in Energy and Environmental Design (LEED) program's New Construction category. To that end, it incorporates a number of energy-efficient and environmentally friendly features.
For instance, the window system implements clear anodize-finished aluminum framing members. These are made with recycled content, and are completely recyclable again at the end of their service life. The finish, thermal barriers, and windows were all supplied locally.
The Voxman Music Building was completed on time and on budget this summer, opening to students and faculty in August.