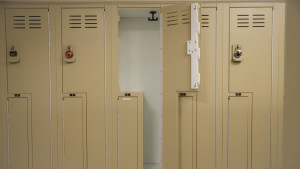 "The first thing we noticed was the lockers were so quiet," explains Grimm, an RN, nurse manager for Maternal Child Services. "The banging from the metal lockers could be heard outside of the lounge and into the halls, often creating a disruptive environment for mothers and their new arrivals. Noise is no longer a problem in the wing."
A recent ASTM test confirms this, showing that metal lockers are 6.4 decibels when closed, which is three times louder than the hospital HDPE lockers.
"In addition, the new lockers are much more hygienic than metal because bacteria cannot live on the surface for very long," said Grimm. "Crevices and rust found on metal lockers can harbor bacteria and viruses, but the HDPE lockers help prevent the spread of illnesses by being so easy to clean and wipe down. They even have a separate shelf for shoes, which helps to reduce the spread of bacteria and germs to scrubs, lab coats and other sanitary hospital attire."
According to Grimm, the engineering staff finds HDPE lockers provide a decrease in maintenance time and costs and the material does not chip or scratch.  The new lockers are Greenguard Gold Certified to meet the strictest standards for indoor air quality (IAQ).
"It is very important, especially in pediatrics, that the indoor air quality be safe." Grimm said.
She also acknowledged the new hospital's recognition of the environment by using materials that meet the highest green standards.
Engineered for strength and durability, HDPE material withstands the harshest daily use, while remaining virtually maintenance-free. The lockers are impact-, dent-, and graffiti-resistant, as well as impervious to moisture and naturally resistant to bacteria, mold, and mildew.
David Casal is the director of sales and marketing for Scranton Products. He leads an international team of sales and marketing professionals that work closely with the architectural and end user communities in selecting high-density polyethylene (HDPE) materials. Casal can be contacted by e-mail at dcasal@scrantonproducts.com.