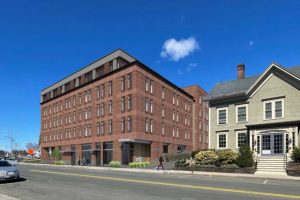 BKSK Architects has proposed a multifamily housing for 55-plus-aged occupants in the well-connected heart of downtown Northampton, Massachusetts, which will be based on a structure built completely from mass timber.
Inside, the building's timber structure will be partially exposed to reveal warm wood columns, beams, and ceilings, providing a key part of the interior aesthetic—and reducing the use of paints and artificial materials. The construction will also achieve Passive House standards by slashing heating and cooling costs with a reliance on rooftop solar panels and an exceptionally airtight building envelope.
The building, to span an area of 10,220 m2 (110,000 sf), titled 79 King Street, will allow baby boomer residents to live in a small, historical city while staying connected to nature. The site stands by the heart of downtown Northampton's eclectic food, shopping, and cultural scene, less than a half-mile stroll to the Amtrak station and to Smith College's campus. Out the rear door is the 11-mile (18-km) Norwottuck Rail Trail, accessible to bikers, skaters, and walkers, and nearby nature outings for birdwatching or fresh air include Connecticut River Greenway State Park and the Mass Audubon Arcadia Wildlife Sanctuary, respectively 1.5 miles (2.4 km) and 3 miles (4.8 km) from 79 King Street.
The development is a combined project of Live Give Play, a lifestyle-focused real estate developer dedicated to building contextually designed, environmentally responsible mixed-use buildings in college towns and other highly walkable urban areas, and Spiritos Properties, a longstanding real estate industry organization, committed to building mass-timber developments as well as promoting the adoption of mass timber building solutions in the design, construction, and real estate industries.
"We are committed to delivering a building that showcases best practices for the construction industry, which has struggled to meet the moment of impending climate crisis," says Jeff Spiritos of Spiritos Properties. "By building to a carbon-negative, net-zero ready design, we're proving how mass timber construction and Passive House certified standards are not only viable options for all multistory buildings including rental housing, but they are also its future."