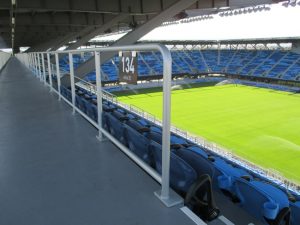 Timed to coincide with the 2021 kickoff of the Major League Soccer (MLS) season, the Banc of California Stadium in Los Angeles, utilized a number of safe standing solutions with architectural railing systems designed to elevate the fan experience for avid supporters of MLS and other sports.
The customizable systems allow fans to safely stand or stand and cheer on their favorite teams and can be integrated into new builds or existing venues to enhance function and versatility.
"Major League Soccer is one of the fastest-growing sports in the U.S., attracting a devoted and enthusiastic fan community with its own unique culture and match-day rituals," said Laura Rygielski Preston, president of the railing systems manufacturing company. "One of those traditions is having a dedicated section for the most avid supporters who love to stand and cheer throughout an entire match. Our new safe standing solutions are designed with these spectators in mind, but also offer flexibility to accommodate fans who may need or prefer to sit along with attendees of other types of sporting and special events."
Inspired by the popular standing supporter sections across European football stadiums, the engineering team adapted the concept for use in the United States, introducing the country's first safe-standing section with integrated seating at the Banc of California Stadium, home to the Los Angeles Football Club.
Standing rail system
The standing rail system utilizes a metal frame with top rail and bottom kick rail, creating a space for supporters to stand during events. The angled frame creates a comfortable lean rail for standing spectators, while also optimizing views and enhancing crowd control by allowing for easy access and movement within the aisles. Additionally, the system can be configured to accommodate a drink rail to create a more social gathering area.
Seating rail system
The seating rail system affords ample room for fans to stand, while also providing integrated seating in two flexible options.
Tip-up seats
This option features individual retractable, tip-up style seats with backrests integrated into the railing frame. The ultra-slim seating profile measures 330 mm (13 in.) when folded and 635 mm (25 in.) from back to seat edge when in use. The all-polymer seating units provide convenient comfort and lock into place when not in use to optimize standing room and traffic flow.
Bench seat
This option comes with fold-down bench seats mounted securely to the metal railing frame. Designed to accommodate several seated spectators, the slim bench profile allows for more than 457 mm (18 in.) of legroom when in use allowing ample room for standing spectators and easy movement within the section. The metal frame includes a built-in lean rail for added safety and comfort.
Made of commercial-grade aluminum, steel, and stainless steel, the safe standing solutions are available in multiple frame styles, finishes, and mounting options. Railing heights are customizable, and systems can be adapted to accommodate steep rakes.
"We are all eager for the return of live events," said Rygielski Preston. "With these versatile solutions, venues both new and old can welcome fans back to an entirely re-imagined and elevated experience."