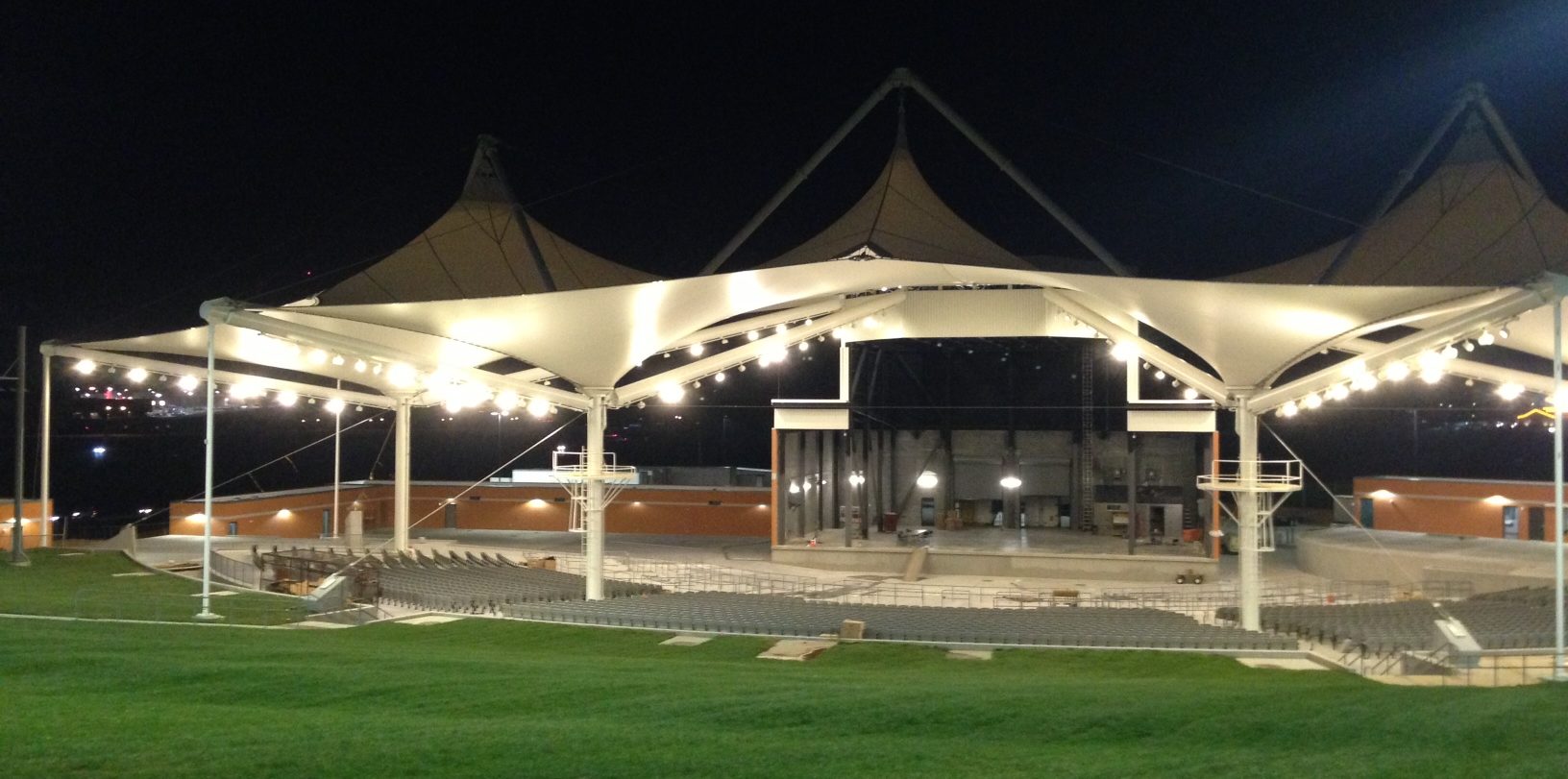 by Doug Radcliffe
Walton Arts Center (WAC) purchased the Arkansas Music Pavilion (AMP) in February 2011 with the goal of expanding the venue to serve a broader and more diverse audience. The AMP operated at the Washington County Fairgrounds after moving from the Northwest Arkansas (NWA) Mall in 2012. However, after seeing a 200 percent increase in ticket sales in 2012, it was clear a permanent site was required to meet the region's growing need for arts and entertainment. Further, the lack of a roof meant numerous event cancellations due to weather.
In 2013, the Walton Arts Center council approved plans to build a mid-sized, permanent outdoor amphitheater to attract headlining artists and bigger audiences to Northwest Arkansas. As part of a multi-campus expansion in the region, the new Pinnacle Hills venue serves as a major stop for touring concerts in the mid-south.
The new location, in the city of Rogers, has everything WAC was looking for in a permanent venue, including proximity to a major freeway, multiple access points, ample parking, and a supporting infrastructure. This improvement, as well as the 519-m2 (5590-sf) stage, upgraded technical capacities, an artist lounge, and production offices, is expected to attract bigger acts to the venue. The new AMP will also draw in larger crowds with its seating capacity of more than 6000 people, parking, upgraded concessions, and air-conditioned restrooms.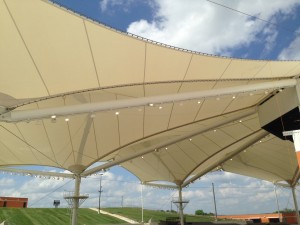 An orchestrated effort
Architecture firm CORE, Tatum-Smith Engineers, general contract consultant David Swain, and Crossland Construction worked to complete this project. A tent-like, weather-resistant covering for the stage was specified. The three-cone and four-inverted-cone-shaped structure is made of a fabric polytetrafluoroethylene (PTFE) fiberglass membrane, with steel supports. PTFE coats a woven fiberglass to form a durable, weather-resistant membrane.
Raising the roof
The AMP's three-cone shaped structure creates an open, inviting space. PTFE fiberglass membranes can be used to construct roofs, façades, freestanding buildings, skylights, or accent enclosures.
Fabric roof forms are curved between supporting elements in a manner reflective of the flow of tension forces within the membrane. With the exception of air-supported structures, these curvatures are anticlastic in nature. The curving forms of fabric roofs have dramatic appeal. Another attractive feature of tensioned fabric structures is the enormous range of spanning capability. The aesthetic features and the long-span ability of fabric are particularly appropriate for entertainment facilities like the AMP.
Fabric structures are not only visually appealing, but also environmentally responsible and economically competitive. PTFE fiberglass membrane is Energy Star and Cool Roof Rating Council (CRRC)-certified. PTFE fiberglass membranes reflect as much as 73 percent of the sun's energy, and certain grades of PTFE membrane can absorb 14 percent of the sun's energy while allowing 13 percent of natural daylight and seven percent of re-radiated energy (solar heat) to transmit through.
The lightweight membrane also provides a cost-effective solution requiring less structural steel to support the roof or façade, enabling long spans of column-free space. Additionally, the tensile membrane offers building owners reduced construction costs and maintenance costs compared to traditional building materials.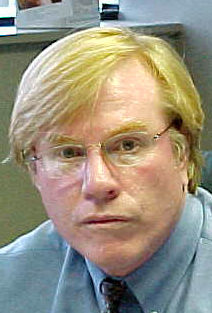 Doug Radcliffe has more than 28 years' experience in steel, glass, and membrane manufacturing, project management, engineering, and construction business. During his career, he has been an integral member of design-build teams for high-profile construction projects of all sizes. Radcliffe is a tensile architectural systems expert at Birdair. He can be reached at sales@birdair.com.