by Siva Davuluri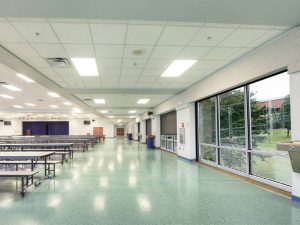 Architects have long turned to overhead coiling door manufacturers for closure solutions that provide safety, security, and peace of mind. A number of advancements in recent years, including specialty doors, grilles, and fire products with low profiles and reduced head room, have turned this product category into a collection of solutions blending form and function in exciting new ways.
Choosing the right door depends on the needs and requirements of the space. Factors to consider include performance, installation, and maintenance.
Performance needs
The first question design professionals should ask when specifying a rolling door or grille is, "How often will this product need to open and close?"
Although not every product is made for near constant use, there are high-performance rolling doors on the market that are specifically constructed and tested for use in high-cycle applications. Some even offer lifespans of up to one million cycles, making them well-suited for high-volume facilities.
While these products are out there, it is still important to evaluate the facility and determine the number of times the door or grille opens per day, week, month, and year. More is not always better if the extra cycles are unnecessary.
Mounting and installation options
While rolling doors and grilles feature similar mounting and installation systems, there are still important considerations for each. Rolling doors can be mounted on the face of the wall or between jambs. When opened, the door coils up onto the shaft, which requires headroom right above the opening. Meanwhile, grilles roll up into a head unit without compromising access to the backroom. This is perfect for an application with limited headroom. However, these head units can limit the amount of vertical clearance available for passenger vehicles entering and exiting the parking structure. Hence, manufacturers have developed high-performance compact grilles that not only coil in nearly 50 percent less room than other security grilles, but also provide busy parking facilities with high-speed performance. Compact grilles make compliance with the Americans with Disabilities Act (ADA) in the tightest of spaces possible.
Maintenance requirements
While installation is an isolated event, maintenance is an ongoing requirement for rolling doors. Compared to sectional doors, rolling doors are easier to install due to fewer parts, but they are also heavier. Specialized lifting equipment may be needed to complete the install. Rolling grilles also require regular maintenance and specialized lifting equipment, depending on the gauge and weight of the product.
Regardless of whether a door or grille is specified, it is important to think about access control during planned maintenance or in the event of emergencies—will the building's safety be compromised if the door is stuck in an open position? What about manual override options? Looking ahead and considering maintenance needs will not only help project teams determine the best door or grille for the facility, but also provide long-term value for the client.
No matter the application, architects have varied choices when it comes to designing visually pleasing closure solutions that provide optimal safety and security. Additionally, these options are applicable across several verticals, such as healthcare, education, office, transportation, government, and civic spaces.