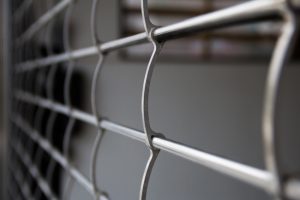 Architectural metal fabrics
Rolling security grilles prevent unauthorized access and discourage entry at building exterior openings, storefronts, or areas within facilities, such as pharmacies, dispensaries, and food counters. Used behind plate glass storefronts, they are also a deterrent to smash-and-grab crime—one of the leading causes of retail losses in the United States.
In addition to security benefits, they also provide visibility and airflow that are vital in parking lots and trash rooms. The openings in grilles allow car fumes and other undesirable odors to escape, thereby improving the health and well-being of occupants.
High-speed options on the market today operate three times faster than standard overhead coiling grilles. With opening speeds of up to 610 mm (24 in.) per second and closing at 4 m (12 ft) per second, high-speed options maximize productivity, smooth traffic flow, and reduce downtime in high-traffic applications.
Further, grilles can be used to enhance the look of a building. A variety of finish options including aluminum and stainless steel, and increasingly diverse curtain configurations such as decorative weaves and etched logos allow design professionals to create unique visual aesthetics while providing security for store owners and building occupants.
In a bid to raise the bar higher, manufacturers have turned to architectural metal fabric to create luxurious rolling grilles for high-end storefronts and hospitality applications. These new products combine the style and design of architectural metal fabric previously used for building façades with the functionality and safety of traditional rolling grilles. They can even be etched to show patterns, graphics, and logos. This adds a customized look without compromising strength or safety.
Additionally, metal mesh grilles can also be installed as a room or space divider, thus creating a rolling piece of art out of thin air.
Compact metal counter doors save money
While rolling metal security grilles are suitable for a variety of large-scale hospitality applications, design professionals often need specific solutions for smaller-scale environments in healthcare and institutional facilities.
When trying to reduce costs, hospitals, urgent care centers, and long-term care facilities look to create efficiencies via shared spaces. An option is to create multipurpose exam rooms that can be used for both medical and behavioral health patients. However, this comes with a variety of challenges as behavioral health rooms must meet stringent codes and standards surrounding impact-, tamper-, and ligature-resistant finishes.
One solution is to specify an exam room counter door covering sinks, cabinets, access to oxygen tanks, and other potentially dangerous equipment. By incorporating a fascia side motor above the ceiling and the coil above the medical cabinet in an exam room, these doors create a completely flat surface when fully extended.
Since all fasteners for the door are concealed and the bottom bar is flat, it eliminates potential ligature points. With the push of a button, practitioners and staff can utilize the same exam room for both medical and behavioral health patients back-to-back.
On a children's hospital, floors with in-patient rooms included laundry areas, snack stands, and other convenience features for visiting family members. Since parents rarely leave the hospital, these services are extremely beneficial. However, they also cause a lot of noise at night, disrupting patients' sleep in the process.
The only way to keep people from occupying these common areas at night was to lock them down. Since the openings were quite small, the architect ended up specifying exam room counter shutters instead of a traditional swing door. These counter shutters encompass the entire opening and do not have any acoustic properties.
The dual threat of fire and smoke
For decades, design professionals and building owners have relied on rolling steel, fire-rated doors to protect property, and more importantly, the lives of building occupants. These passive barriers work in tandem with active sprinkler systems to compartmentalize the spread of fire and smoke. Even though they are necessary components of commercial building design, they can sometimes be difficult to fit into a project's aesthetic intent. Their performance, however, has been upgraded to improve cost and the owner's overall satisfaction.
Another factor specifiers must consider is the size. Most standard Underwriters Laboratories (UL)-labeled fire doors are available up to 4 m (13.5 ft) wide x 4 m high. Oversized UL-labeled fire doors are available up to 18 m (60 ft) wide x 12 m (40 ft) high or 112 m2 (1200 sf).