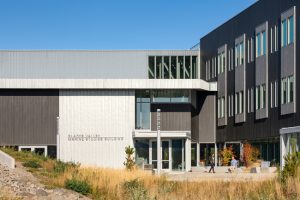 The Oregon State University's (OSU's) Gladys Valley Marine Studies Building (MSB) at the Hatfield Marine Science Center (HMSC) expands marine science research, education, outreach, and engagement for the region's coastal community. The 6689-m2 (72,000-sf) building combines modern architectural design, state-of-the-art engineering, and time-tested natural pre-patina blue-gray zinc roofing and wall cladding.
Located adjacent to Yaquina Bay in Newport, Oregon, the $61.7-million facility is part of OSU's Marine Studies Initiative (MSI) 10-year strategic plan for 2016 to 2025. This new interdisciplinary program involves all 12 OSU colleges with a goal of providing "access to the sea" for all of its students, faculty, and staff.
Currently, HMSC campus facilities accommodate more than 300 researchers and students, plus six state and federal agencies. Significantly expanding its existing capacity, the MSB added a three-story academic and research core connected to a two-story wing with community space, a 250-seat auditorium, and an innovation lab.
The first-of-its-kind on the West coast, MSB's design by Yost Grube Hall (YGH) Architecture fosters an environment for cross-disciplinary discovery, collaboration, and expression, with a focus on integrating safety, sustainability, and resiliency. The building is designed and built to meet the U.S. Green Building Council's (USGBC's) Leadership in Energy and Environmental Design (LEED) Silver certification, withstand a 9+ earthquake, survive an XXL tsunami event, and be repairable after a large (L) tsunami event.
Even in the severe marine environment, the pre-patina zinc can hold up to the harsh conditions, deliver a potential lifespan of up to 100 years or more, and at the end of its useful life on the building's exterior, it remains 100 percent recyclable.
"The design is an iconic expression of form and function," said Jack Barth, executive director of MSI. "The form clearly identifies the vertical evacuation (safety) mission of the building and efficiently provides premier spaces for innovation, academics, research, and community—all hallmarks of HMSC and MSI."
A ramp on the outside of MSB leads from the ground level to the roof of the three-story structure, which offers an emergency assembly site for more than 900 people. This taller wing houses the offices, research laboratories, and 'dry' and 'wet' classrooms. At 14-m (47-ft) high, the rooftop penthouses are clad entirely in the pre-patina zinc. The upper stories of MSB slightly overhang its pedestal base composition of glass and the same zinc material.
This attention to detail also can be viewed looking down from the ramp to MSB's two-story auditorium building. Carefully fabricated, the pre-patina zinc is installed on the roof, facia, and wall cladding. The zinc exterior wall presents a distinctive backdrop for the building's nameplate, welcoming students, staff, and visitors. The MSB's southern elevation nestles beneath the ramp and features two full stories of zinc wall cladding surrounding corner windows with sunset coastal views.
To meet MSB's multiple design goals, the sheet metal supplier provided approximately 4645 m2 (50,000 sf) of 0.07 mm (70 μm) of the pre-patina zinc material. Another manufacturing company fabricated the double-lock standing-seam wall cladding and roofing systems, as well as provided the documentation to support MSB's sustainable and performance requirements.
The longevity and sustainability of the zinc products support criteria for LEED and other green building programs. In contrast to some synthetic materials used in roofing and façade applications that can leach heavy metals into the soil or release them into the atmosphere, no such impurities are contained in the architectural grade zinc alloys used for this project.
In marine environments that are susceptible to fires, zinc also offers a noncombustible solution. Installed properly, zinc roofing systems will resist corrosion, air, and water infiltration, and withstand high winds. With respect to the Yaquina Bay area, the manufacturing company successfully tested the MSB's zinc panels and assemblies to meet ASTM E1592, Standard Test Method for Structural Performance of Sheet Metal Roof and Siding Systems by Uniform Static Air Pressure Difference, and Exposure D category for wind loads up to 201 kph (125 mph).