Permeable pavement helps Massachusetts wetlands breathe
by Samantha Ashenhurst | April 20, 2018 8:27 am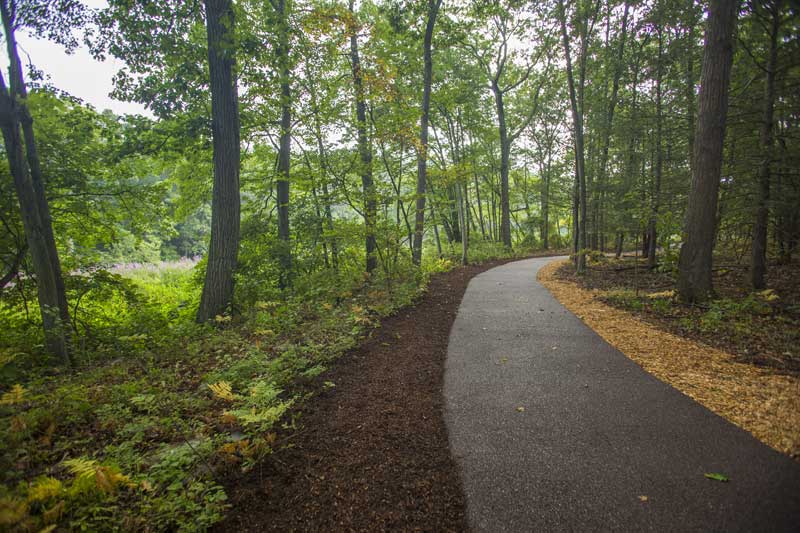 When planning the Wellesley Office Park Walking Path in Massachusetts, it was imperative for specifiers to find a material that would protect the state-owned ecologically sensitive area, located along the Charles River.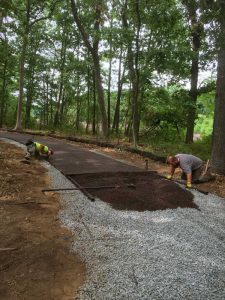 "The Wetlands Protection Committee[3], the local conservation commission in Wellesley, had to approve plans for the path," said Dan Driscoll, director with the state's Department of Conservation and Recreation[4]. "They required a pervious material that allows rainwater to drain through its surface to minimize runoff."
Additionally, as the path would be close to the Charles, the selected material required bolstered strength to hold up against potential flooding.
"The path is only 15 to 23 m (50 to 75 ft) from the river, and sections are in a flood zone," said Horace Aikman, senior associate with CRJA-IBI Group, the project's landscape architect. "In addition to permeability and walking surface comfort and safety, we needed a strong paving material that can hold up against periodic flooding."
Funded by the John Hancock Real Estate Finance Group[5], specifiers opted for a highly porous, durable, and flexible pour-in-place paving material. The 0.8-km (0.5-mi) path was installed in July 2016 by landscape company Land Escapes Design Studio and required 1858 m2 (20,000 sf) of the eco-responsible paving material.
"We installed two inches of the paving material on a base of six inches of ¾-inch crushed gravel," said Trevor Smith, lead designer. "The brown color selected for the project harmonizes the paved path with the natural landscape."
Comprised of 50 percent recycled rubber chips and 50 percent chipped granite aggregate, the material's composition is expected to allow stormwater to flow through at a tested rate of 3.2 gallons per second per square foot, leaving no puddles on the surface—even during heavy rains. Additionally, with its recycled rubber content, the pavement promises durable, frost-heave resistance, while also providing suitable traction to maximize user safety.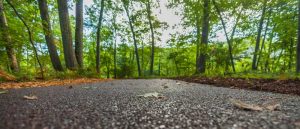 "If we want people to care about nature, they need opportunities and places to experience it," said Smith. "The challenge is giving people access to natural areas with minimal disruption. The Wellesley Office Park Walking Path accomplishes that. It turned what had been a beautiful but isolated section of land along the Charles River into an accessible natural area with little or no effect on the area's delicate hydrology."
Endnotes:
[Image]: https://www.constructionspecifier.com/wp-content/uploads/2018/04/01edit_01_PPave_WOPWP_BF-3.jpg
[Image]: https://www.constructionspecifier.com/wp-content/uploads/2018/04/03edit_03_PPave_WOPWP_CD_In.jpg
Wetlands Protection Committee: https://www.wellesleyma.gov/421/Wetlands-Protection-Committee
Department of Conservation and Recreation: https://www.mass.gov/orgs/department-of-conservation-recreation
John Hancock Real Estate Finance Group: http://www.jhancockrealestate.com/
[Image]: https://www.constructionspecifier.com/wp-content/uploads/2018/04/06edit_06_PPave_WOPWP_BF-Cl.jpg
Source URL: https://www.constructionspecifier.com/permeable-pavement-helps-massachusetts-wetlands-breathe/
---