Building barriers: A look at WRBs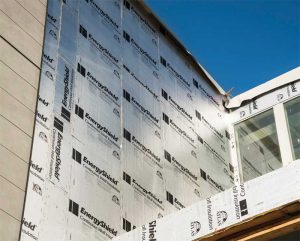 WRBs are critical components of exterior building envelopes and both the International Building Code (IBC) and International Residential Code (IRC) have required WRBs in most wall assemblies for decades to help prevent water from penetrating into the building's interior. Both the IBC and IRC define WRBs as not fewer than one layer of No. 15 asphalt felt complying with ASTM D226 (Standard Specification for Asphalt-Saturated Organic Felt Used in Roofing and Waterproofing) for Type 1 felt or other approved materials providing a continuous layer of protection behind the exterior veneer.
There are many WRB technologies available; however, not all are equal in performance and overall value. These materials—including plastic housewraps, liquid-applied barriers, certain types of sheathing, and rigid foam insulation—can serve as code-compliant substitutions for No. 15 asphalt felt. All have proven performance levels exceeding code required minimums in ASTM D226. Each offers unique features and benefits to the wall assembly as well as the architect and installer.
Choosing smarter building materials
While there are many WRB systems to choose from, most only fulfill a single job—resisting bulk water within the wall assembly. However, choosing a product which can provide added functionality can help simplify the wall assembly without sacrificing performance. These products can also help reduce installation time, as well as material and labor costs.
Polyiso continuous wall insulation is a perfect solution when expecting more from a single product. The thermally efficient rigid insulation boards consist of uniform closed cells created from a low impact chemical reaction of polymers and gas that is tightly pressed between two strong facers. The hydrophobic core resists moisture and air penetration achieving the highest insulation levels in a thin profile. Durable and chemical resistant surface options, foil, or coated glass facers, further enhance its thermal and moisture resistance.
The primary function of polyiso is thermal performance and provides one of the highest R-values on the market—up to R 6.5 in a 25.4 mm (1-in.) thick board. Its superior resistance to heat flow helps keep the wall assembly dry by maintaining the temperature above the dew point and mitigating condensation buildup inside the wall. Additionally, the higher R-value helps reduce strain on climate control mechanicals by keeping the conditioned air on the inside of a building, instead of allowing it to leak to the outside, thus providing long-term energy savings and occupant comfort year-round.
Polyiso is highly resistant to water as rigorous immersion tests have shown less than one percent water absorption per ASTM C209 (Standard Test Methods for Cellulosic Fiber Insulating Board). Its impervious closed-cell foam structure makes it an ideal choice as a moisture control layer in addition to its thermal benefit. When contractors properly install and seal polyiso insulation board with a compatible joint treatment product, polyiso is an approved and code-compliant WRB, showing resistance to water penetration as an installed system per International Code Council Evaluation Service (ICC-ES) AC71(Foam Plastic Sheathing Panels Used as Weather-resistive Barriers). In working as both a WRB and continuous insulation (ci), polyiso effectively eliminates the need for a separate moisture control layer, which saves time and money. By decreasing the number of products on a project, architects and contractors can reduce complexities and the chance for failures while improving overall performance and value.