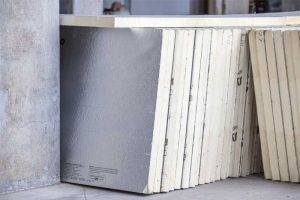 Testing to a higher standard
Building codes may require third-party materials' testing for consideration for use in wall applications. They recognize various WRB materials but not all are subject to such testing nor perform equally. For example, codes do not require materials like No. 15 felt and polymeric building wraps to undergo wall assembly water-resistance testing, such as in ASTM E331-Standard Test Method for Water Penetration of Exterior Windows, Skylights, Doors, and Curtain Walls by Uniform Static Air Pressure Difference, to understand and effectively compare actual installed performance. To demonstrate code compliance as a WRB system, manufacturers subject polyiso continuous wall insulation and respective joint treatments to the most stringent wall assembly water-resistance test requirements, while other WRB sheet materials only evaluate material water resistance without consideration for minimally lapped or unsealed seams.
The testing criteria for polyiso continuous wall insulation in ICC-ES AC71 for WRB system qualification includes testing as per ASTM E331, which exposes the installed assembly to a deluge of water under significant pressure differential. This is just one specific test standard called out as part of AC71 compliance for foam sheathing products. When using this test method for comparison, polyiso WRB systems withstand water leakage eight times longer than other WRB materials at more than double the pressure differential associated with wind-driven rain (Table 1, page 54).
The required testing for WRB materials also includes American Association of Textile Chemists and Colorists (AATCC) TM 127-Test Method for Water Resistance Hydrostatic Pressure, which imposes 548.6 mm (21.6 in.) of hydrostatic head pressure for five hours without exhibiting water leakage. Unlike housewraps, the test for a polyiso WRB system is conducted on top of a sealed, weathered joint which is a typical installation detail of primary concern. Other WRB materials are tested as a material-only sample without any code required consideration of installed laps or penetrations.
Providing exceptional resistance to water, polyiso offers multi-functional capabilities improving jobsite efficiencies, building performance, and long-term peace of mind.