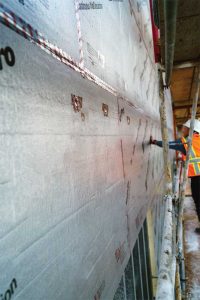 Not only does polyiso help the efficiency of a building's overall energy consumption, but it is also environmentally friendly in the production process. It was one of the first rigid foam insulations to be formulated using a blowing
agent without chlorofluorocarbons (CFCs), hydrochlorofluorocarbons (HCFCs), or hydrofluorocarbons (HFCs), and is manufactured with zero ozone depletion potential (ODP) and negligible global warming potential (GWP). Additionally, industry-leading polyiso manufacturers offer products with Underwriters Laboratories (UL) Greenguard Gold certification, which verifies those products meet or exceed the highest state and federal restrictions on volatile organic compound (VOC) emissions.
It is essential for architects and construction specifiers to review relevant codes and standards which apply to a project before selecting materials, including insulation and WRBs. As a high-performing, multi-functional product, polyiso continuous wall insulation can positively affect the overall function of any building, offering building owners and occupants greater comfort and peace of mind.
Author

Jen Frey is the senior product manager for Atlas Roofing Corporation's polyiso roof and wall insulation division. She has more than 15 years' experience in the building materials industry, representing brand leaders in high growth product categories, including roofing and building envelope. Frey has successfully launched innovative product solutions meeting customer needs and has been co-named in six patents.