by Don Allen, PE, LEED AP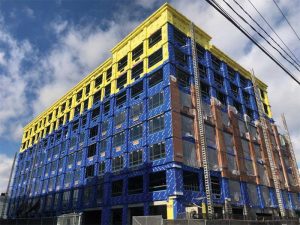 Panelized construction, although used for decades, has reached a new level of sophistication and use in recent years. Construction of wall, floor, and roof systems offsite has multiple advantages, including compressing the project schedules, reducing site labor and waste, improving consistency and quality control, and increasing safety for workers. Multiple materials can be pre-panelized to provide the best efficiencies and results.
To clarify, panelization is not modular construction. With the latter, entire sections of the building are constructed and finished, all the way down to the carpet, tile, vanities, and toilet paper holders. With panelized construction, the structural elements are assembled in (typically) two-dimensional wall, floor, or roof components, referred to as panels, which may or may not be finished. Then they are shipped and erected. Some panels have pre-installed windows, plumbing, and electrical rough-ins, and sheathed on one side, but not taped and finished. However, all will have the structural skeleton of the frame. Panels can be made of dimensional lumber, cross-laminated timber (CLT), cold-formed steel (CFS), structural steel, concrete, or a combination of these systems. Just about any finish that can be applied to a floor or wall surface can be used on the panels. Due to their dimensional stability and strength, this article will focus primarily on steel wall panels, with some discussion of steel floor and roof panels.
The decision to go with panelization must start early in the design process. For loadbearing projects, the first panels should already be in detailing when the earthwork begins for the building foundation. Shop drawings must be created, approved, and coordinated with other elements of the building, and, therefore, this process should ideally begin eight to 12 weeks before construction and panel fabrication starts. When the decision to use panels is made during design development, it enables the start of early detailing and coordination and minimizes conflicts. This does not mean an already designed project cannot be switched to a panelized job; it is just that the most efficiencies from panelization can be realized by deciding early in the process.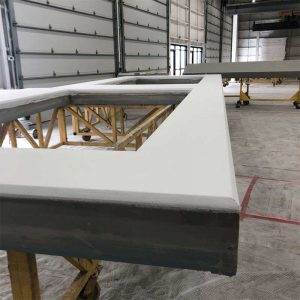 It is important to note that choosing panelization has little effect on the design of the building by the structural engineer. The only structural consideration that differs from traditional design will be for pre-finished curtain wall panels hung from slab edges or spandrel beams. For this condition, the structural engineer will need to coordinate where the dead load of the panels will be supported, since multistory panels often have all of their dead load supported on just one floor, with slip connectors on other levels. For loadbearing panels, whether they are floor, roof, or wall, there is little difference in the structural engineer's design or process. If exterior walls are loadbearing CFS, the design is typically delegated, whether or not the system is panelized.
There are three types of wall panels:
loadbearing, which carry the weight of the entire structure;
curtain wall, which support the exterior cladding and transfer wind loads, but can carry only their self-weight; and
nonstructural panels, which make up nonbearing interior partitions.
Nonstructural walls are typically not pre-panelized in commercial construction because they often do not provide as much efficiency over stick-built as loadbearing and curtain wall panels.  Shop fabrication is more efficient for the heavier structural panels used in loadbearing and curtain wall because cranes and shop equipment and welding machines/robots are centrally located rather than having to be moved around the jobsite to individual wall locations. With the thinner, lighter nonstructural framing, connections are made with light hand tools, so there is less efficiency with building in the shop. Also, it is easier to damage the lighter panels during moving and storage, and they have to fit within the structural framework since they are not supporting the building. For example, if a loadbearing panel is 3 mm (1/8 in.) too tall, then the deck or joists above will be installed 3 mm higher. If a nonstructural panel is 3 mm too tall, it either needs to be cut down to the right height or forced in place to fit below the structural elements of the building. For this reason, if nonstructural panelization is used, panels are made shorter than required, and slip connectors or tracks are employed to support the tops of these panels and bring them up to the full required height.