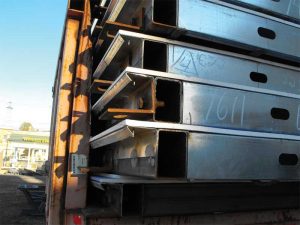 Load distribution members
When panels are manufactured, certain elements that can be helpful on the jobsite are often built into them. These include lifting points, guards across windows, tie-off locations for fall protection, and temporary guardrails at the tops of panels for use as fall protection during construction of the next floor. When concrete floors are used, pour stops may be included in the panels. Another common built-in feature is a load distribution member (LDM). The LDM obviates the requirement that concentrated loads from joists or trusses be directly over supporting studs. It helps distribute loads to adjacent framing members. This allows more flexibility in the structural design, and reduces the number of heavy built-up members in the wall panels. It also minimizes the need for field repairs when bearing elements do not align perfectly. When structural tubes are used for load distribution members, weld fill or another mechanism must be included below the tube and above each bearing stud to ensure loads are properly transferred to the stud flanges below.
Curtain wall panels can be made up to four stories tall—the limitations are typically not in the manufacture but in the shipping and lifting capacities of the trucks and cranes that get the panels from the shop to their final position on the building. In multistory construction, there will likely be both horizontal and vertical panel joints—connections of the panels to both the building and to adjacent panels must account for movement in the structure. Some connections to the structure are made with slip connections, to allow both horizontal (due to wind and seismic loading) and vertical (due to gravity loading) movement of the panels, while still resisting wind loads. Some innovative panel-to-panel connections use a male-female pipe or stud connection coupled with a washer plate to transfer lateral loads, while allowing vertical movement between the panels. These connections all occur behind the sealant and backer rod so they do not interfere with the barrier systems.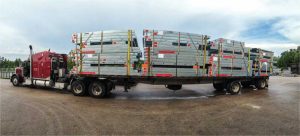 By their nature, loadbearing panels do not need to allow for vertical movement as gravity loads pass directly into the panels from the floor and roof systems. These panels must therefore include a complete load path, not only within the panels, but also in the panel-to-floor and panel-to-wall connections. Shear wall panels often include structural steel boundary elements, structural sheathing, or X brace strapping, and hold-down connectors to ensure loads are properly transferred. Vertical alignment of these elements, especially in shear walls, is critical to ensure field connections can be easily and properly made.
The contract between the panel manufacturer and the general contractor must include provisions for payments before panels are installed on the project. Since a great amount of time, labor, and materials have to go into each panel before it is shipped to the jobsite, the schedule of values must include payments based on the amount of completed panels rather than the amount of panels installed. Contracts should include some mechanism for verifying panels have been completed in the shop, so payments may be made to the fabricator even before installation.
Sequencing is another key element of both modular and panelized construction. Often, especially in tight urban jobsites with limited space, there is no room for storage onsite, so panels must be lifted directly from the truck to their final location on the job. This requires consideration of panel weight, crane size, reach, and availability, how the panels are loaded and stacked on the truck, lift points, and times when roadways are permitted to be blocked. Roadway restrictions must also be considered for the height, width, and length of panels, so they can safely be shipped from the shop to the site. Some municipalities require escort vehicles or other restrictions for large loads. With non-finished panels, sometimes several units may be stacked together to be lifted all at once onto the next level of the structure. Small panels that can be lifted by two or three workers may be bundled together on top of the stack and hand-set, while larger units require cranes or forklifts. By using this bundling method, less truck unloading time can be realized, to reduce blocking access to roadways or neighboring businesses. Panel design and installation teams have come up with some creative ways to streamline the process, including creating bundles with lift slots for forklifts rather than cranes and providing layouts on floorplans so staging areas can be created within the building footprint. Contractors and installers must be aware not all equipment is suitable for lifting and setting panels, and damage can occur if the wrong equipment or lifting technique is used. Forklifts should not be used to set panels unless the bundle or lifting points are specifically designed for forklifts.