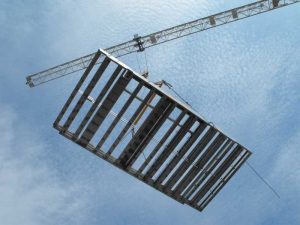 Specifications and resources
Both the American Institute of Steel Construction (AISC) and the American Iron and Steel Institute (AISI) have standard practice documents that should be referenced in project specifications. Section 7.13.2 of AISC 303, Code of Standard Practice for Steel Buildings and Bridges, addresses adjustments and clearances that must be considered when panels and other materials are installed on structural steel frames. The commentary on this section goes into even more detail on sequencing of panel installation to avoid unbalanced stresses. AISI S202, Code of Standard Practice for Cold-formed Steel Structural Framing, explicitly details panel construction and installation. Section I2 addresses responsibilities of the general contractor, as well as the wall panel detailer, manufacturer, and installer. Additional resources include technical notes from the Cold-formed Steel Engineers Institute (CFSEI), including W500-12, Construction Bracing for Walls. The Structural Building Components Association (SBCA) also has documentation for bracing wall panels in their bilingual document, Guide for Handling and Installing Cold-Formed Steel Wall Panels, and information on trusses and roof/floor system bracing in their Cold-formed Steel Building Component Safety Information (CFSBCSI).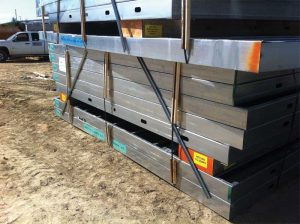 In addition to the timeframe benefits from having fabrication offsite, there are several positive environmental and construction waste impacts. Since CFS stud, track, and joist members are 100 percent recyclable, have minimum 25 percent recycled content, and are cut to length, there is little waste, both in the shop and onsite. With steel being easy to recover from construction demolition using large industrial magnets, the recycling rate for structural steel in construction is 98 percent. With panelized shop drawings prepared in advance, there are efficiencies in both time and materials in the fabrication of headers, built-up posts, pre-insulated components, and structural steel components that are built into the panel system. Connectors and components such as hold-downs, shear panels, and moment-resisting frames can be fabricated in the shop under controlled conditions, and shop inspections can be specified for some of them. This greatly reduces jobsite waste, makes quality control easier, and also increases the safety of both installers and inspectors.
Conclusion
Although not all projects lend themselves to panelization, many can benefit from the reduced timeframe, added safety, ease of quality control, and reduced waste from panelized construction. It is important architects and owners use panelizers with experience in this type of construction to address potential issues before they come up. One of the drawbacks of panelized construction is if one panel is made or installed improperly, it will affect the adjacent components in the field, and it is difficult to repair or adjust shop-fabricated units, especially if they are pre-finished or welded. An experienced panel fabrication and erection team can foresee clash and conflict issues and address them during the design or shop drawing phase. With this in mind, employing panelized construction can be a great way to compress construction time while simultaneously improving quality and reducing environmental impact and jobsite safety.
Don Allen, PE, LEED AP, is the director of engineering for Super Stud Building Products, Inc., a manufacturer of cold-formed metal framing products and accessories. Having worked since 1990 as an engineer of record, specialty engineer, and manufacturer's engineer, Allen has seen panelization grow from a novel side business of drywall companies to a major driver of mid-rise construction. Allen regularly teaches and writes on construction topics, including the "Steel: Doing It Right" course for the Association of the Wall and Ceiling Industry (AWCI). He can be reached at dallen@buysuperstud.com.