Red steel tubes rev up observation tower
January 11, 2016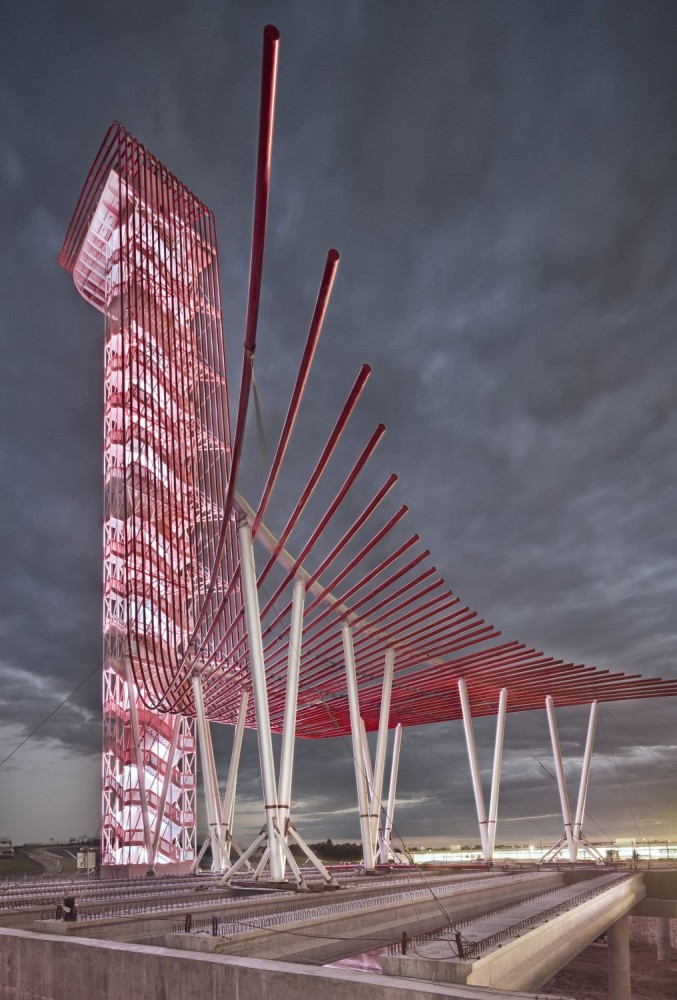 Visitors to the Circuit of the Americas Observation Tower and Austin360 Amphitheater are fully immersed in the experience of Formula 1 racing, thanks to red steel tubes evoking the glowing tail lights of a car left behind in the dark.
Located in Austin, Texas, the tower consists of a continuously welded double-helix stair wrapped in a filigree-like diagrid, enhancing the perception it is taller than its actual height of 76 m (250 ft). Its red steel tubes converge at the tower's base to form a 'veil' that sweeps up and over the central elevator core, doubling as an outrigger column for lateral load resistance. While code requirements require an enclosed shaft, the elevator core is gypsum and provides no structural support. The entire structural system is steel and is exterior to the shaft.
Located at an elevation of 70-m (230-ft), the viewing deck offers a panorama of the entire track, downtown Austin, and nearby Hill Country. A portion of the floor comprises structural laminated glass, allowing visitors to look straight down below their feet.
The tower also serves as a backdrop to the adjacent Austin360 Amphitheater. Featuring 6671 fixed seats and able to accommodate more than 14,000 people, it is the largest outdoor stage in central Texas.
The tower and amphitheater earned the 2015 Innovative Design in Engineering and Architecture with Structural Steel (IDEAS2) award from the American Institute of Steel Construction (AISC). For that same program, it was also a Merit award-winner in the category of 'Projects less than $15 Million,' making it one of only seven projects around the country to receive such an honor.
Each project is judged on its use of structural steel from both an architectural and structural engineering perspective with an emphasis on:
creative solutions to the design's program requirements;
applications of innovative design approaches in areas such as connections, gravity systems, lateral load-resisting systems, and fire and blast protection;
aesthetic and visual impact;
innovative use of architecturally exposed structural steel (AESS);
technical or architectural advances in the use of the steel; and
the use of innovative design and construction methods.
Endnotes:
[Image]: http://www.constructionspecifier.com/wp-content/uploads/2016/01/circuit-of-americas-1_Paul-Finkel.jpg
Source URL: https://www.constructionspecifier.com/red-tubes-rev-up-observation-tower/
---