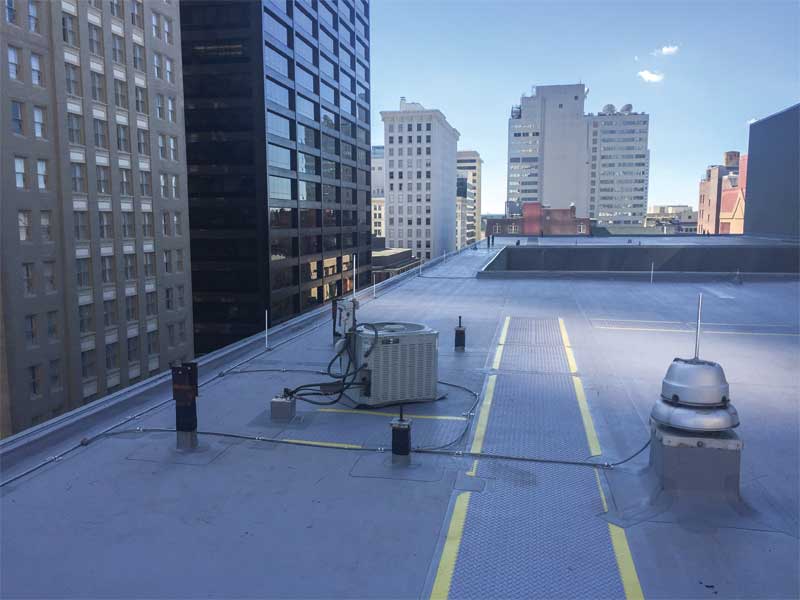 Planning and design
If a building does not already have LPS, the building owner or design professional can determine if one should be added by using criteria in Annex L ("Lightning Risk Assessment") of National Fire Protection Association (NFPA) 780, Standard for the Installation of Lightning Protection Systems. (The standard can be read online without cost here.) NFPA's simplified assessment takes just a few minutes using free online applications to answer questions about building size, height, surroundings, roofing and structural materials, value of contents, occupancy considerations, and whether a lightning strike could have mission-critical or environmental consequences. (For an example, click here.) Invaluable guidance can also be obtained by having a qualified lightning protection professional visit the site, survey project conditions, and gather information necessary to design the LPS. Areas beneath the roof should be surveyed in addition to the roof itself. Existing down conductors and ground electrodes should be located and their condition assessed. If the building has been modified or new equipment was brought in after the existing LPS was installed, it may be necessary to repair or update below-roof LPS components to ensure the building is adequately protected.
Additionally, other concerns should be discussed with project team members, including:
building owner and tenants (mission-critical operations—such as emergency management centers—may need continuous lightning protection throughout the reroofing);
roofing installer and general contractor (project scheduling, roof access, and other project coordination should be discussed);
other installers/subcontractors (LPS work will need to be coordinated with rooftop work such as installing HVAC units, antennas, lighting fixtures, parapet caps, security cameras, flagpoles, signage, special rooftop fabrications, and other products or systems; new equipment and systems below the roof may need to be bonded to the LPS);
architects, engineers, and other design professionals (discussing aesthetic issues related to the placement of exposed LPS components or whether there will be new additions, installation of solar or wind energy equipment, conversion of roofs to terraces or planted areas, or other significant changes to the building); and
roofing manufacturers (many companies have warranty, installation, or other requirements affecting LPS—for instance, the manufacturer may require an additional layer of material between roof-mounted LPS components and the primary roofing membrane).
The result of the planning phase is a set of installation drawings, which should be submitted and reviewed in accordance with the project's contract requirements. The LPS designer can be hired by the building owner, architect, electrical engineer, or roofer to prepare bid documents. On most projects, however, the design is delegated to the firm hired to do the installation. In either case, project specifications must clearly establish performance and reference standards for the work, as discussed later in this article. (A guide specification based on these standards can be accessed online via The Construction Specifier website.)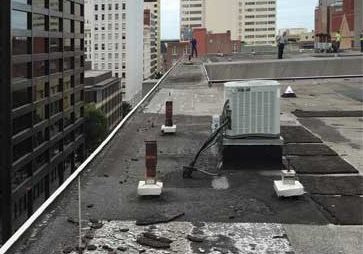 Installation considerations
The LPS installer is frequently among both the first trades on the job and one of the last off. At the front end, the installer needs to be onsite to take measurements and prepare a design, mark the locations of through-roof penetrations before they are covered with new roofing, and relocate or salvage LPS components needed later. The installer will return to install LPS components and to make connections as the project progresses, and to perform work required inside the structure or at grade. Then, before substantial completion, the installer returns again and makes sure the system has not been damaged during subsequent work; he or she is also there to take part in third-party inspections.
If existing LPS components must be removed or moved to accommodate reroofing, the work should be performed by the LPS installer whenever practical. Existing components may be reusable if they are in good condition, but it is more common to recycle them as scrap metal. This avoids the labor of reconditioning components and the risk of latent defects, while also ensuring the materials meet current standards.
In some reroofing projects, rooftop LPS components are connected to ground through down-conductor cables mounted on the building's exterior walls. In other cases, UL-listed through-structure penetration devices connect rooftop conductors to down conductors inside the building. Installation of penetrations should be coordinated with roofing installation to ensure the performance of the building envelope. It is imperative these through-roof penetration locations are identified and maintained damage-free during the reroofing.
To avoid penetrating roofing with mechanical fasteners, most rooftop LPS components are secured in place with adhesives acceptable to the roofing manufacturer.
If a project is simple and straightforward, it may be sufficient to reinstall air terminals at their original locations. In many situations, however, additional air terminals will be required to bring the project up to current standards and accommodate new construction and rooftop appurtenances. The location of air terminals is based on modeling a lightning strike as a 92-m (300-ft) diameter sphere rolling across the building. (To see an animation of this, watch this video.) Locations where the sphere touches the building require air terminals rising above the building's surface. These locations include roof corners, ends of ridges, spaced around the perimeter and within the field of the roof, and on rooftop equipment.