The specifier's responsibility
As the design of a lightning protection system can be delegated to qualified installers, there is no need for architects, engineers, and other construction specifiers to become subject matter experts (SMEs). Nevertheless, they should still understand lightning protection fundamentals so they can participate when decisions must be made about the interfaces between LPS and roofing or other architectural considerations. Educational resources are readily available. (Visit lightning.org/learn-more/industry-links and bit.ly/LPSresources. American Institute of Architects (AIA) Continuing Education System (CES)-registered continuing education programs are available at www.lightningsafetyalliance.com/education.html.)
Specifiers, moreover, have a responsibility to conduct a lightning risk assessment and discuss the results with their clients. Doing so is implicit in a design professional's obligation to protect health, safety, and welfare. It is also stated in professional practice documents such as American Institute of Architects (AIA) D200, Project Checklist, which requires architects to "obtain seasonal climate and microclimate data from the weather service," as part of site analysis. Just as a specifier would never design a roof drainage system without knowing regional precipitation, neither should she or he design a building without understanding regional lightning density and other risk factors.
EXPOSED DOWN CONDUCTORS

The visual impact of a lightning protection system (LPS) can be minimized with a modicum of care. In new construction, for example, down conductors are usually concealed inside the building envelope. However, this may not be practical on some reroofing projects.
During the reroofing of a building at Grissom Joint Air Reserve Base in Indiana, for example, existing down conductors were concealed within masonry walls and could not conveniently be accessed without disrupting ongoing activities. Project specifications also prohibited penetrations through the new metal roof. To overcome these limitations, the lightning protection installer mounted air terminals onto fascia around the building perimeter and used adhesive mounting for air terminals installed on the roof (A).
Conductors were placed in locations minimizing their visibility, such as snug against roof ribs, along inside corners of exterior walls, and adjacent to downspouts. Conductors on the roof were located on the less-visible back of the building. The conductors remain conspicuous, however, at transitions from the roof and vertical surfaces in order to provide the large radii required at bends in conductors. Aluminum LPS components, used for galvanic compatibility with the metal roof, are especially visible against the dark background; the cables can be painted if the contrast is not acceptable.
Copper components are used on the brick walls for color compatibility, and special UL-listed bi-metallic connectors are used to join the two materials. The down conductor connects to a copper-clad steel earth electrode (i.e. grounding rod) just above the grade (B). Through-wall penetrations (one is marked by a yellow tag), were made in order to bond the new LPS to mechanical, structural, and other systems inside the building (C).
 CONCEALED DOWN CONDUCTORS
Taking a different approach, down conductors were not allowed to be exposed at the Virginia Museum of Fine Arts in Richmond. The structure did not have a lightning protection system (LPS) until one was added as part of a recent reroofing. The architect and owner insisted no conductors be visible on the building's exterior to preserve the building's historic and institutional character. Most of the structure's interior was finished exhibit space, and interior chases were practically non-existent; no one looked forward to cutting into gallery walls or ceilings to install down conductors.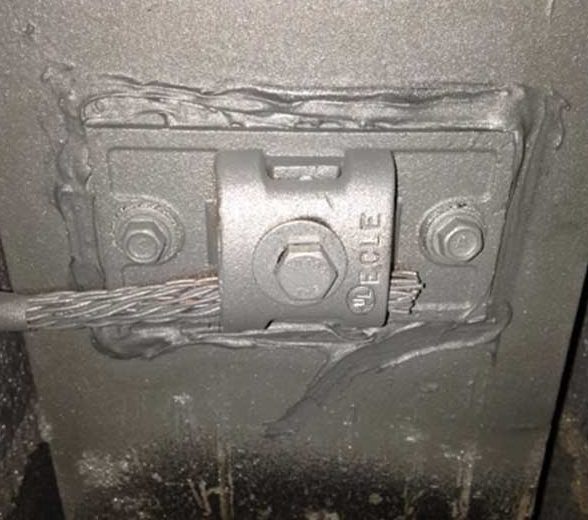 Luckily, most of the museum is steel-framed. The National Fire Protection Association (NFPA) allows structural steel members to be used as conductors if they are electrically continuous and at least 4.8 mm (3/16 in.) thick.* By using the steel as conductors, the installer avoided the need for cutting and patching sensitive areas. The only cuts were in basement areas where the installer had to break through concrete and masonry cladding that had been used to fireproof the steel. UL-listed connector plates were attached to column bases and clamped to cables leading to newly installed ground electrodes. Sealant was applied around the connectors, and the assemblies were painted to retard corrosion.
The first phase of the museum was built in the 1930s, with additions made through the years. The result has been a patchwork of roofing systems. Yet, the installer was able to avoid making new penetrations through the roof by utilizing existing openings such as abandoned vent pipes.
* See the article, "When Lightning Strikes," published in the October 2016 issue of Modern Steel Construction.
Jennifer A. Morgan, CSI, is an officer of East Coast Lightning Equipment Inc., which is a UL-listed manufacturer of lightning protection components. She also teaches continuing education programs for Lightning Safety Alliance. Morgan can be reached at www.ecle.biz.
Michael Chusid, RA, FCSI, CCS, is a frequent contributor to The Construction Specifier and a product innovation and marketing consultant to building product manufacturers. He can be reached at www.chusid.com.