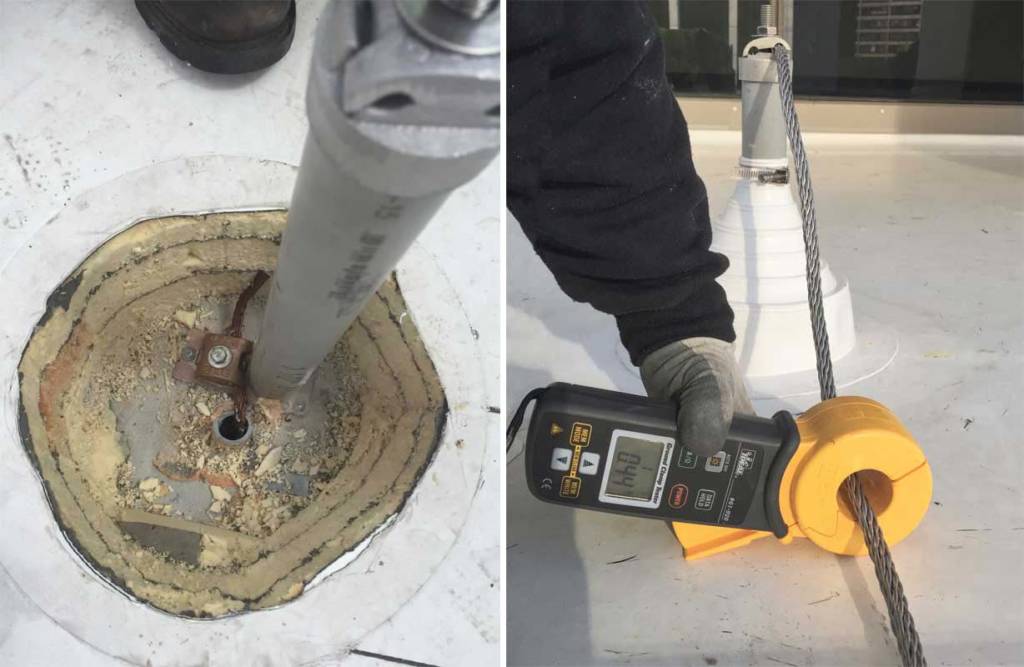 Standards and quality assurance
The following should be used to guard against damage to buildings and their contents, and injury to or death of occupants.
Standards
NFPA 780 is the basis for lightning protection design and installation in the United States. First published in 1904, it has been refined, vetted, and endorsed through the anvil of industrial, scientific, and governmental consensus-making. It is augmented by Lightning Protection Institute (LPI) 175, Standard of Practice for the Design-Installation-Inspection of Lightning Protection Systems, and UL 96A, Installation Requirements for Lightning Protection Systems.
Materials
LPS components must meet criteria in UL 96, Lightning Protection Components. Products listed for use in building electrical systems are not acceptable for lightning protection service.
Designers and installers
Qualified individuals are certified by LPI as a Master Installer, Master Installer/Designer, or Designer Inspector. Firms contracting for lightning protection services should employ individuals with these qualifications.
Despite earnest efforts, roofers, electricians, and other tradespeople seldom have training in or experience with LPS. This is emphasized by the National Roofing Contractors Association (NRCA) in its statement: "The installation, evaluation, and maintenance of LPS are beyond the expertise of most roofing contractors."
Project inspection and certification
Two inspection and certification programs are available that cover complete LPS systems from the roof into ground:
LPI Inspection Program (LPI-IP) Master Installation Certificate; and
UL Master Label Certificate.
Some building owners, however, will accept a more-limited inspection program for reroofing projects. Options include:
LPI-IP Limited Scope Inspection of just the reroofed or modified portions of the buildin, which verifies visible LPS components appear to comply with material and installation standards;
UL Reconditioned Master Installation Certificate, which is used when systems previously receiving a Master Installation Certificate have been changed or repaired; and
UL Letter of Findings, which is used where a Master Label certificate is not possible or cannot be verified.
These inspections are especially important because few jurisdictions include LPS in the scope of the local building inspector's review—a third-party inspection helps make certain the lightning protection work was properly executed and performed by qualified installers. Further, the cost of an inspection or certification may be offset by discounted premiums for property insurance.
Unsubstantiated claims
NFPA and related standards are based on rigorous scientific research, testing with real lightning, and more than 200 years of proven performance. Some product manufacturers, however, claim their 'early streamer emission air terminals' are effective beyond the radius allowed by the rolling sphere technique. Other manufacturers claim their 'dissipation array systems' can prevent lightning altogether. It is important to be aware these claims of exaggerated performance are not substantiated. In fact, courts, governmental agencies, and scientific committees have rejected their claims. (For an elaboration of the authors' concerns about unsubstantiated claims for these products, see "Not all Lightning Protection Created Equal" in the September 2016 issue of Electrical Business.)
VEGETATED ROOFING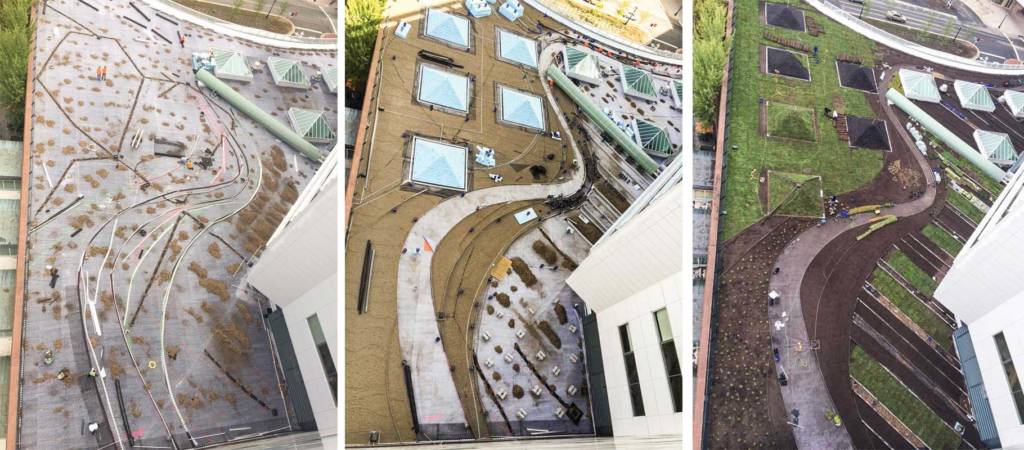 Lightning conductors were placed on top of a new waterproofing membrane; their locations and installation had to be coordinated with irrigation, drainage, and landscaping features. Much of the roof was in the zone of protection provided by the lightning protection system (LPS) on the taller portions of the building. Still, some of the pyramidal skylights and landscaping features required air terminals. Air terminals also surmount the glass parapet at the front of the building. Metal handrails along the left side of the roof are made electrically continuous and are used as "strike termination devices"—an alternative to air terminals. An Underwriters Laboratories (UL) 96A, Standard for Lightning Protection Components, exemption to NFPA 780 required the metal to be at least 3 mm (1/8 in.) thick. The 460-mm (18-in.) tall air terminals used on the pyramids exceed the minimum required 254-mm (10-in.) height because the design team felt the extra height balanced the visual mass of the pyramids.