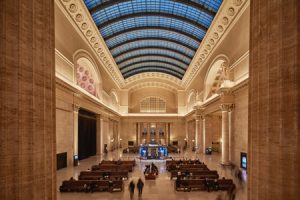 A major renovation campaign for the historic Chicago Union Station has culminated with the restoration of the Great Hall. This $22-million project, which took more than three years to complete, is the latest in a series of major redesign and restoration work that started in 2010.
The 1925 Great Hall suffered water leakage and deterioration due to flaws in its original design, and was in need of substantial repairs.
The design team renovated the station's iconic, 67-m (219-ft) long skylight. To restore the cast-iron skylight assembly while maintaining its historic appearance, the Goettsch Partners team, led by Leonard Koroski, FAIA, LEED AP, designed an energy-efficient, modern skylight above the original structure. Supported 2 m (5 ft) above the restored cast-iron skylight, the new one, made of steel and 858 panes of clear, high-efficiency glass, protects the landmark building while brightening the interiors.
"Essential to our vision for this project was preserving the historic design features of the building while making necessary improvements and repairs to stabilize this landmark for the long term," said Koroski.
The architectural team directed the methodical removal of paint layers to reveal the original coloration of the ornate plasterwork. Other work included structural improvements, new plumbing, plaster repair, and restored ornamentation.
The team installed a new elevator and restored 24 ceiling chandeliers and two figural sculptures by noted artist Henry Hering, also unveiled in 1925. Historic reproduction light fixtures added 27 light sources to improve interior lighting.