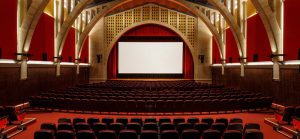 The American Legion Hollywood Post 43 in Los Angeles, California, is a multipurpose space and clubhouse built in 1929. Due to its prominent location and membership, it has been closely linked to the movie and entertainment world. With a renovation and retrofit, the historic building has been converted into a state-of-the-art movie theater for events such as special screenings, premieres, and other happenings.
The building is a Los Angeles Historic-Cultural Monument with a tile-clad tower and broad front stairs, and forecourt featuring a historic cannon. A new group of younger veterans has taken the initiative to revive the building and to bring it to its full potential.
The resulting space is a blend of the historic architectural character of the 650-m2 (7000-sf) assembly hall and its contemporary technology, while being reminiscent of old Hollywood movie venues. The environment was designed to feel luxurious and fitting for a special event, in addition to fulfilling its practical purpose of providing superior sound and pictures. By removing sideways risers and reshaping the floor, a total of 480 seats, some of them removable to maintain a dance floor, was achieved in a newly curved continental arrangement.
The acoustic environment was adjusted to a new lower reverberation time with the use of surface treatments, and to deliver a powerful audio system.
The architectural and interior design, although utilizing contemporary methods, is sympathetic to the historic nature of the concrete architecture of the original hall. The design builds on and reinforces the building's architecture while providing technical and acoustic improvements.
The existing concrete of the hall was stripped to its natural state. It is complemented by perforated wood panels, patterned for acoustic purposes with pixelated and abstracted images from classic war movies.
The deep red fabric panels, seats and carpet, and the gold concrete grilles add a more refined touch to the raw concrete and steel elements and allude to the Golden Age of movie palaces.
Other building elements in need of improvement were the dilapidated heating and cooling system, the general layout of the hall, as well as issues related to building codes and accessibility requirements. Reversing the airflow and building a large air supply plenum in the cabaret room below the theater improved the climate control and allowed for a new ceiling design in the basement space used for dining events.