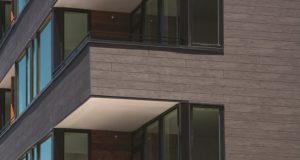 In the Eastlake neighborhood in Seattle, Washington, the Shelton Eastlake Apartment Complex was built to create more housing in a land-strapped space. Horizontal flush siding was used on the exterior walls to add character to the building and blend in with the neighborhood.
Eastlake community is known for its mix of traditional, European-style homes and idyllic houseboats. To ensure the Shelton Eastlake Apartment Complex was a departure from mundane structures and visually tied in with neighboring buildings, the developers hired locally based Public47 Architects to create a progressive 61-unit residence that paid homage to its surroundings from the outside in.
The developers wanted a mix of brick and another high quality façade on the exterior to set the tone for this modern-meets-traditional structure. The challenge was finding a siding material that was contemporary enough to attract design-forward city dwellers, while also seamlessly integrating with the brick aesthetic.
The design team used natural fiber core sidings, a contemporary form of exterior cladding material. It is a high pressure laminate made from up to 70 percent natural fibers, impregnated with thermosetting resins. The product comes in several colors designed for a distinctive look.
The project team installed 836 m2 (9000 sf) of horizontal flush siding on the exterior walls of the apartment complex. The siding's slate ebony color created a warm look that blended seamlessly with the brick. The siding panels also provided a durable, color stable, and impact-resistant form that is low maintenance.