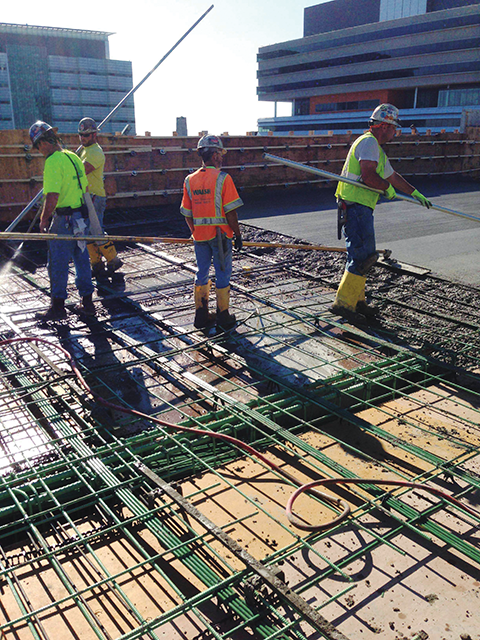 by Bruce A. Suprenant, PE, PhD, 
and Frank Salzano, PE
As a safety requirement, all exterior concrete surfaces must have a slip-resistant surface. The most common method for this is specifying a 'broom finish.' But, is that all there is to it? Specifications must also satisfy owner requirements for appearance, flatness, texture, as well as drainage.
These requirements vary from project to project because of the wide variety of exterior concrete surfaces with a broom finish, including:

parking garages;

parking lots;

miscellaneous site paving;

plaza decks;

balconies;

topping slabs and overlays;

ramps and stairs; and

sidewalks and driveways.
Contractors can achieve many different specified broom finish characteristics, but the most important issue often affecting achievability is the size effect. With smaller concrete placements, more consistent brooming results can be expected. As the concrete placement size increases—from a 1.2 x 30.5-m (4 x 100-ft) sidewalk to a large-scale parking garage placement of 930 m2 (10,000 sf), for example—it becomes more difficult to produce a consistent appearance, flatness, texture, and drainage. What is possible to produce on a 1.2-m (4-ft) wide sidewalk surface is impossible for a large-scale parking garage surface.
Specifiers must recognize this inherent difficulty with different-sized concrete placements and owners must realize that while the larger parking garage placements cost less and shorten the schedule, they will not have the same appearance, flatness, texture, and drainage as a sidewalk. If the owner elects to place narrow strips for the parking garage slab to achieve a more consistent result, the trade-off is increased cost and a longer schedule.
The size effect
Specifiers sometimes create their own reference sample, usually about 0.3 to 0.6 m x 0.3 to 0.6 m (1 to 2 ft x 1 to 2 ft), to show the contractor the texture and appearance specified for the project. Although these sample panels exhibit a consistent texture and appearance, they give the contractor little beneficial information. The contractor does not know the concrete mixture proportions, setting time, or bleeding rate and duration. The finishing tools and procedures used to obtain the sample texture and appearance are also unknown. The sample's small size makes it easy to obtain a consistent result.
However, the size of these samples makes them inappropriate for comparison with concrete surfaces produced on a jobsite, even including a 3 x 3-m (10 x 10-ft) mockup panel. A small sample panel should not be used in specifying a desired finish. If a reference sample is desired, one should choose a broom-finished surface matching the project's scope of work. If it is a parking garage project, for instance, a satisfactory as-built broom-finished surface for another parking garage should be chosen as a sample. A sidewalk panel bounded by contraction joints, conversely, should not be selected to represent the expected broomed-surface finish for this garage.
Specifiers sometimes require a 3 x 3-m (10 x 10-ft) mockup demonstrating typical joints, surface finish, texture, tolerances, and standard of workmanship produced by the contractor's methods. This is a better reference than a small sample panel, but is still not indicative of what can be achieved for a large-scale concrete placement in a parking garage. For instance, this mockup usually contains only one truckload of concrete and thus does not represent batch-to-batch variations in setting time or bleeding rates and duration that contractors must contend with. Additionally, the weather—temperature, wind, sun, relative humidity (RH), rain, or snow—will have little effect on a mockup as it is easy to protect a concrete placement of this size from the elements.
Most importantly, one broom pass can be used to texture the surface while the finisher stands on the perimeter of the mockup. The results of brooming in one pass while standing on the placement perimeter differ dramatically from those for large-scale concrete placements.
Unfortunately, the appearance, flatness, texture, and drainage characteristics of a well-built sidewalk create an unreasonable expectation that the same results can be achieved on large-scale concrete placements, but this is untrue. A sidewalk has nearly the same ease-of-placement benefits as a mockup. Further, it is easier to control a short-handled broom used on a 1.2-m (4-ft) wide sidewalk than it is to control a broom with a 6-m (20-ft) long handle used on large placements.