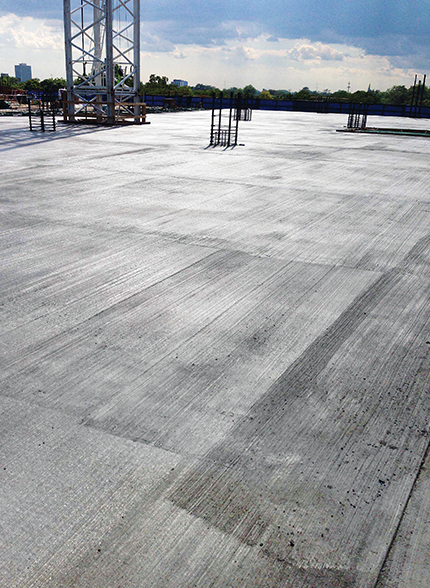 The main differences in providing a broom finish for a large-scale concrete placement as opposed to a sample, mockup, or sidewalk are:

multiple end-to-end broom passes are needed;

broom handles up to 7.6 m (25 ft) long are used, making it more difficult to control the broom—a short broom handle gives the finisher the ability to vary the pressure and angle at the broom bristle to produce a more consistent texture across concrete surfaces that may vary in stiffness; it is difficult, if not impossible, to vary bristle pressure and angle with longer broom handles;

batch-to-batch variations in the many truckloads of concrete make it more difficult to produce a consistent broom texture due to the varying properties (e.g. slump, setting time, bleeding) of the concrete textured by a single broom pass;

weather effects on large-scale concrete placements with different truckloads of concrete cause varying degrees of surface stiffness, making it difficult to produce a consistent texture; and

visibility is limited when finishers are standing 6 m or more away from the start of the broom pass—this can be controlled with the ability to see where and how to place the broom for a 1.2-m wide sidewalk.
The differences in the size effect are shown in the photos above, which compare the finishers brooming a 1.2-m wide sidewalk and a large-scale concrete placement for a parking garage.
Due to the size effect, specifiers, architects, and owners must have realistic, but different, expectations for sidewalks and large-scale concrete placements. While a sample panel and a mockup both provide an indication of the texture desired, these are not useful for evaluating how uniform or consistent the texture will be on a large-scale concrete placement.
Broom specification requirements
Typical broom specification clauses from MasterSpec and American Concrete Institute (ACI) specifications or guides are as follows:
MasterFormat Section 03 30 00–Cast-in-place Concrete:
Immediately after float finishing, slightly roughen trafficked surface by brooming with fiber-bristle broom perpendicular to main traffic route. Coordinate required final finish with the architect before application.
MasterFormat Section 32 13 13–Concrete Paving:
(A) Medium-to-fine-textured Broom Finish: Draw a soft-bristle broom across float-finished concrete, perpendicular to line of traffic, to provide a uniform, fine-line texture. (B) Medium-to-coarse-textured Broom Finish: Provide a coarse finish by striating float-finished concrete surface 1⁄16 to 1⁄8 inch deep with a stiff-bristled broom, perpendicular to line of traffic.
ACI 301-10, Specifications for Structural Concrete:
Immediately after concrete has received a floated finish, give the concrete surface a coarse transverse scored texture by drawing a broom or burlap belt across the surface.
ACI 330.1-03, Specification for Unreinforced Concrete Parking Lots:
Broom concrete surface with a steel or fiber broom to produce corrugations between 1⁄16 and 1⁄8 in. deep. Broom perpendicular to nearest edge of pavement. Broom all areas of a panel in the same direction. Use the same type and manufacture of broom for all paved surfaces to provide a consistent appearance.
ACI 362.1R-12, Guide for the Design and Construction of Durable Parking Structures:
Deep broom finishes are not recommended. A light to medium broomed or float swirl finish should be applied to driving and parking surfaces except where an alternate finish is required to install joint materials.