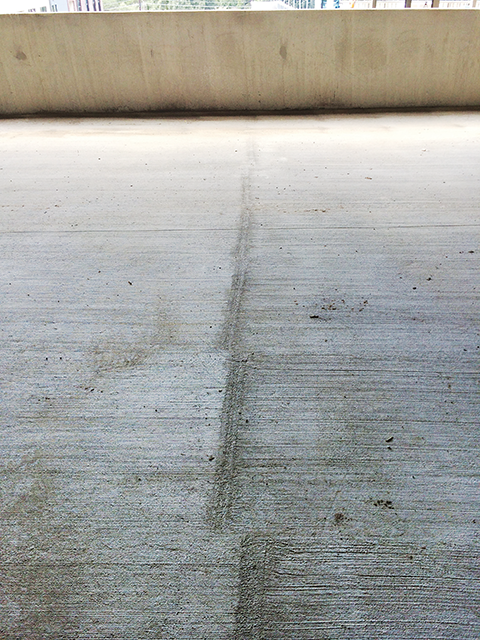 Avoiding escape clauses
Out of the five specification provisions cited, one requires a "uniform fine-line texture" and another requires a "consistent appearance" for a broomed surface. Yet, another clause requires the contractor to "co-ordinate" the final finish with the architect. Unfortunately, the words "uniform," "consistent," or even "co-ordinate" are often interpreted to mean "to the satisfaction of the architect."
CSI, ACI, and Federal Highway Administration (FHWA) caution specifiers not to use the phrase "to the satisfaction of the architect." FHWA states these are "escape clauses" that do not convey a measureable standard and should not be used in specifications. The terms "uniform" and "consistent" do not describe measurable standards, but are subject to interpretation by the specifier or architect, and thus could be considered escape clauses.
As mentioned, two of the five cited specification clauses require a 2 to 3-mm (1⁄16 to 1⁄8-in.) depth of the broom striations. Measuring the striation depth for a broomed surface is uncommon, and it is unclear as to how this would be done. In the absence of any data, the authors also cannot determine if the 2 to 3-mm range describes variations that can realistically be achieved on a large-scale concrete placement.
At first it might seem simple—a broom finish is a broom finish. However, the five specification clauses cited contained six different variations in describing the broom finish:

slightly roughened surface;

fine-line texture;

coarse finish;

coarse-scored texture;

deep finish; and

light-to-medium finish.
The inconsistency in defining a broom finish makes it difficult for the contractor to decide what is being specified and how to bid the specified broom finish.
Finishing techniques
Two differing finishing techniques used for exterior concrete surfaces include:

bullfloat and broom; and

bullfloat, wait, power float with float pan, fresno, and broom.
For pavements in cold climates, some specifiers prefer the bullfloat and broom technique because they believe using fewer finishing steps reduces the probability of altering the air-void system that helps prevent damage to the surface caused by freezing and thawing. Other specifiers believe a flatter surface can be obtained with the use of float pans. However, because the power floating leaves a grainy or granular floated surface, a fresno is sometimes used to smooth the surface before brooming.
A highway straightedge is sometimes considered useful on exterior concrete surfaces to improve the surface flatness and reduce any water ponding on the pavement after a rain. A straightedge, however, might affect the air-void system in the surface concrete and thus reduce the surface durability. Further, when slopes are set with wet screeds instead of hard forms, the scraping action of the straightedge can decrease the elevation of the high wet screed and increase the elevation of the low wet screed. This loss of elevation control means the slab will not drain as well. Thus, use of the straightedge to improve flatness may decrease freeze-thaw resistance and have a harmful affect on drainage. While a few specifiers require use of a straightedge for finishing, it is not specified for most exterior broomed surfaces.
Exterior surface flatness
There are two methods for specifying floor flatness for exterior concrete surfaces: the gap under a 3-m (10-ft) straightedge and the F-number system. The oldest method of measuring floor flatness is with a 3-m straightedge.This method measures only floor flatness and not floor levelness. It is generally a less satisfactory way of measuring interior floor flatness than the F-number system. Nevertheless, straightedge requirements are still found in some project specifications for exterior concrete surfaces. The F-number system measures both floor flatness and levelness.
When non-residential floor installations exceed 900 m2 (about 10,000 sf) in total project area, ACI 301, Specifications for Structural Concrete, requires the floor flatness and levelness to be measured using the F-number system. This specification, however, addresses only surface requirements for a trowel finish, so the need for using F-numbers based on floor size would appear to be for interior concrete only.
ACI 302.1R-04, Guide for Concrete Floor and Slab Construction, includes a more detailed discussion on the use of F-numbers and the straightedge measurements. This document also recommends appropriate F-numbers for typical floor uses, including a composite overall floor flatness of FF 20, and a composite overall floor levelness of FL 15 for parking structure slabs.