by Jared Brewe, PhD, PE, SE, Elizabeth Bales, and Matthew Johnson, PE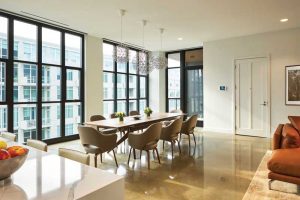 Increasingly, owners and architects are using exposed concrete slabs to provide an urban/industrial aesthetic in commercial and residential applications, while, in many cases, providing a medium for hydronic piping. Architecturally exposed concrete applications usually require some level of grinding and polishing to expose aggregates and achieve the desired finish. Frequently, architecturally exposed concrete slabs are achieved using topping slabs that allow greater flatness control, tighter tolerances, and various trades to complete work without disturbing final appearance.
Both structural and non-structural topping slabs can provide protection, increased durability, and/or improved strength/stiffness in addition to enhanced aesthetics. Considerations for topping slabs include flatness, levelness, placement, aggregate exposure, and stain or color. Further, multi-level residential applications can limit placement and finishing abilities because of tight spaces and/or vertical obstructions such as piping/conduit/HVAC shafts, and it typically happens on multiple concurrent levels where finish work may be occurring below placement and wet-curing.
For the purposes of this article, a topping slab is traditional concrete—Portland cement, coarse aggregate, fine aggregate, and water; certain additives may be included depending on application and ambient conditions at the time of placement to control cracking or to aid curing. This article does not address concrete-like finishes, including epoxies and resins.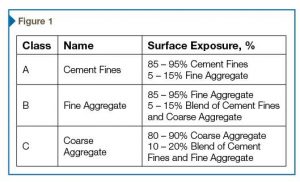 Managing expectations
For architecturally exposed slabs, particularly those where the owner or architect wishes to grind and/or polish to achieve a desired finish, there are additional considerations to traditional topping slabs typically intended only for protection, strength, and/or levelness. Early in the project, the entire team needs to establish consistent expectations for the final appearance. While the owner or designer may envision a specific finish, such as mirror-like gloss, no joints, and limited aggregate exposure, these expectations and requirements need to be specifically conveyed to the constructors so they can properly plan and budget. Decision-makers need to be aware of the additional costs of polished concrete finishes. Specific requirements to articulate include the extent of aggregate exposure and gloss levels. Designers also need to consider how concrete shrinkage will be accommodated and mitigated to achieve the architectural intent.
The Concrete Polishing Council (CPC) of the American Society of Concrete Contractors (ASCC) defines polished concrete as "the act of changing a concrete floor surface, with or without surface exposure of aggregate, to achieve a specified level of appearance."
CPC established industry classifications for aggregate exposure and gloss for consistent application and expectations. These classifications, along with expectations for cracking, made up the aesthetic considerations for the authors' topping slab.
Aggregate exposure
In November 2017, CPC published a new polished concrete aggregate exposure chart. The CPC chart includes the class definitions shown in Figure 1 and Figure 2. CPC cautions the surface exposure depends on the concrete mix design and placing and finishing operations. Aggregate exposure is a subjective visual evaluation best achieved when all parties can review an existing polished surface or mockup and develop a consistent expectation of aggregate exposure.
Gloss levels
Similar to the surface exposure chart, CPC also provides definitions for gloss levels, as shown in Figure 3. The distinctness-of-image (DOI) gloss represents the sharpness of reflection in a polished surface, sometimes called image clarity, and is measured by an image clarity meter in accordance with ASTM D5767, Standard Test Method for Instrumental Measurement of Distinctness-of-image (DOI) Gloss of Coated Surfaces. Polished surfaces should also be evaluated for haze, cloudiness, or milky appearance of reflection in a polished surface, with an index less than 10 measured by a glossmeter, that is in accordance with ASTM D4039, Standard Test Method for Reflection Haze of High-gloss Surfaces.