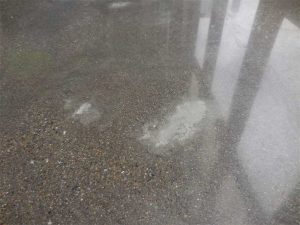 Slab protection during construction
For residential, office, and other project types primarily intended for occupancy, installation of interior partition walls and finishes is more economical after the topping slab is installed and the initial steps of polishing are performed. As subsequent construction activities could potentially damage a partially polished surface, protection of the surface is needed. While it is not within the designer's role to specify the methods of protection, they should include requirements that any partially polished concrete slab is protected. For industrial polished slabs or other applications where aesthetics is less crucial, this step is not needed.
Coordination and execution
Just as the owners/designers and the constructors need to coordinate and manage final aesthetic expectations, the project design team needs to coordinate and manage roles and responsibility for a topping slab.
Who specifies what?
From the authors' experience, topping slab responsibility is often blurred between design disciplines, contractors, and subcontractors and they do not receive the attention they need. The architect is typically concerned with the final surface appearance and specification of the amount of aggregate exposure and gloss, but less worried about material and execution requirements. The structural engineer's scope only includes structural elements, and not non-structural finishes like polished topping slabs. The mechanical, electrical, plumbing (MEP) engineer who specifies the radiant systems, if applicable, does not have the requisite knowledge or expertise to specify either the finish or the materials and execution. For projects planning to incorporate a polished concrete topping slab, the architect and engineers should clearly communicate design responsibility early in the project and work to develop a completed specification for the contractor to execute.
Should mockups be used?
Mockups are needed to bring all decision-making parties together to determine and evaluate common acceptance criteria for the final appearance of the polished concrete. Further, when project constraints dictate use of a bonded concrete topping slab, installation of reinforcement or radiant tubing, through-topping penetrations, or use of sawcut or tooled joints, each of these elements should be incorporated into a project-specific mockup for the design team, architect, and engineer to work with the contractor to establish appropriate methods. Ideally, this slab would incorporate materials planned for use in the project and would be polished and retained during the project for future reference.
Conclusion
Topping slabs are not new to the construction industry, but their use as an aesthetic element and as a medium to house hydronic heating and cooling is new and increasing. Allied trades in the commercial and the residential market do not necessarily have the experience of the trades in the industrial market. Additionally, the equipment typically used in industrial applications is not sized to achieve the same finish result where there are more vertical interruptions such as piping, conduit, and HVAC. Accordingly, a topping slab will be at a premium rate until the industry expands education to non-industrial trades and traditional commercial and residential construction trades have access to project-specific equipment.