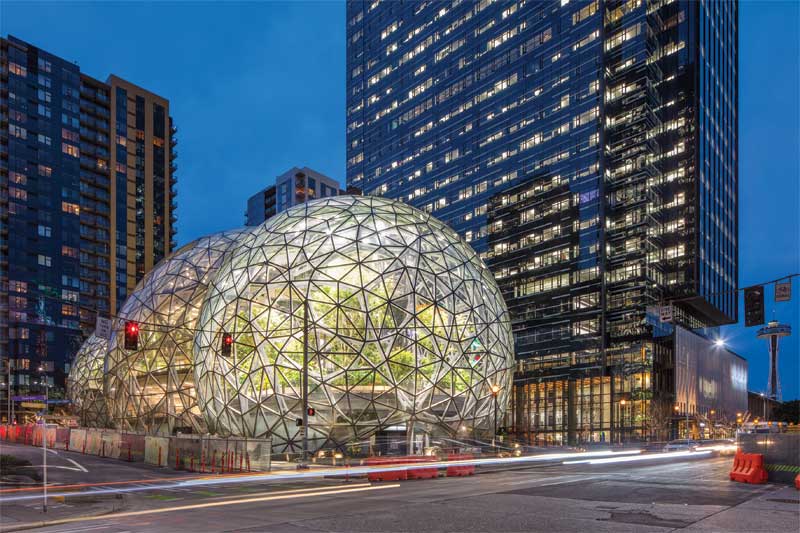 by Caleb Parker
Coating specification can be a complicated component of the building materials process. This is largely due to the high variability of exposure conditions and the accompanying deteriorative effects. Ultraviolet (UV) light degradation, heat, and humidity are among the leading causes of corrosion on structural and decorative steel and can result in unsightly staining from rust as well as a reduced service life. Rehabilitating steel after corrosion occurs can be expensive, adding downtime, labor, and material costs to a project's bottom line.
Architectural coatings are specifically formulated to protect steel from the effects of UV light, humidity, and moisture intrusion, with the added benefits of ultra-durable color and gloss retention, user-friendly application, and low volatile organic compound (VOC) content.
These were some of the considerations that led to the architectural coating specifications for three glass-enclosed, sphere-shaped centerpieces of a multi-billion-dollar office complex in downtown Seattle. Designed by NBBJ, the site is a component of the headquarters for Amazon—the world's largest online retailer.
Spanning three blocks in the city's Denny Regrade neighborhood, the spheres are situated in the heart of the 306,580-m2 (3.3 million-sf) project and flanked by three 37-story high-rise towers and two mid-rise office buildings. In a space previously occupied by surface parking lots, the complex includes ground-level retail and restaurants, a dog park, sheltered pedestrian arcades, accessibility for bicycle commuters, and public art. (For more information, read "Amazon in the Regrade" at www.nbbj.com/work/amazon.)
The spheres serve as a workplace for Amazon employees, with the 6040-m2 (65,000-sf) interior designed to put its occupants at ease and help them think more creatively. The space houses a waterfall, tens of thousands of plants and trees, and a conference room enclosed by greenery.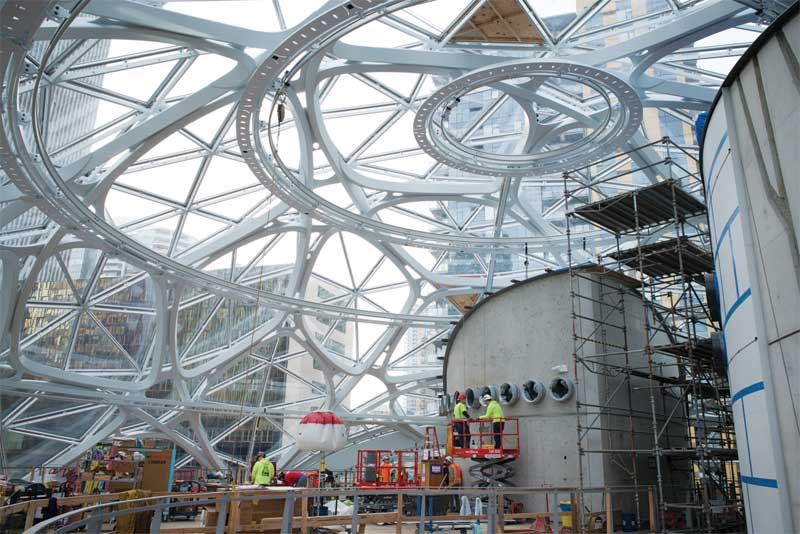 Coating selection
The original coating specification for the complex structural domes called for a standard urethane topcoat, but this was later revised to a longer-lasting fluoropolymer coating system. This change was, in part, due to the tropical-like climate necessary for the hundreds of plant species growing inside
the spheres. The project required a coating system capable of withstanding a particularly humid environment.
"What [the designers] are doing inside is unbelievable," says Seattle-based coating consultant Scott McConnell. "As soon as the building is closed at night, the humidity is increased to nearly 85 percent, then it drops down to 60 percent during business hours when the building is exposed to full sunlight. That is a major reason why we recommended a coating system with long-lasting corrosion protection."
Architects at NBBJ worked with McConnell and coating consultants from Front Inc., to issue a revised coating specification for the steel Catalans. The new specification consisted of a shop-applied zinc-rich aromatic urethane primer and two field-applied coatings—a water-based epoxy and a fluoropolymer finish coat.
In addition to its low VOC, fast-curing, and rapid-handling properties, the epoxy intermediate coat was selected for the project because of the substance's durability and corrosion resistance on architectural and industrial structural steel. Meanwhile, the fluoropolymer finish coating was specified for its durability, desirable appearance, and user-friendly application properties. For continuity, the same coating system was applied to the exterior metal of Amazon's adjacent office building and to sculptures in the surrounding plaza.
"The change in coating systems moved the project from the short-term life cycle of a traditional aliphatic urethane coating to a fluoropolymer finish that included corrosion benefits, color and gloss longevity, and low VOC content," McConnell says.