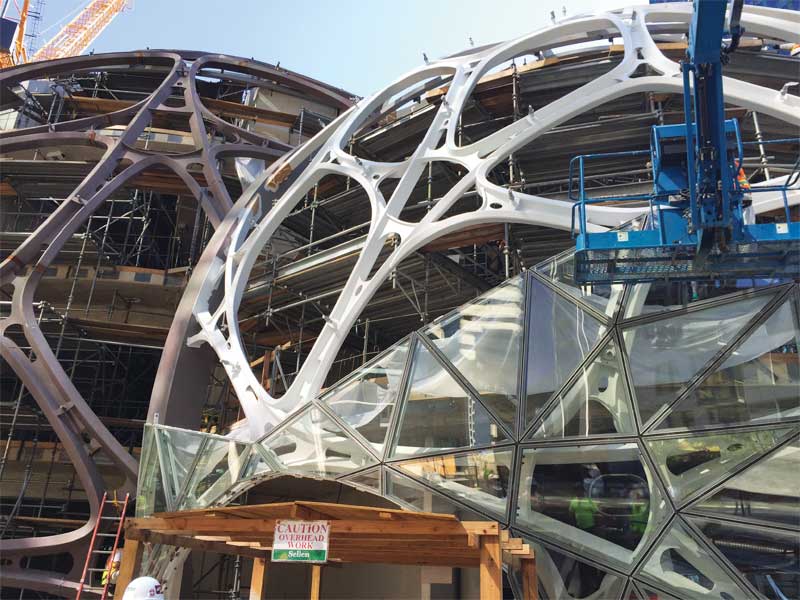 Application process
The zinc-rich aromatic urethane primer was pre-applied by the steel fabricator, then the frames were shipped to the site and assembled. Once onsite, the weld seams were cleaned and touched up with a low-VOC, zinc-rich urethane. Applicators completed the coating system with an intermediate layer of a hybrid water-based epoxy before adding the fluoropolymer finish coat to ensure outstanding color and gloss retention. The field-applied intermediate and finish coatings are compliant with the U.S. Green Building Council's (USGBC's) Leadership in Energy and Environmental Design (LEED) program. Each component also meets the VOC content limits of South Coast Air Quality Management District (SCAQMD) 1113, Architectural Coatings, which helps the project earn credit toward LEED Gold certification. (For more information, read "Low-emitting Materials" in LEED BD+C: New Construction v4.)
In addition to its durability and its aesthetic properties, the fluoropolymer finish coating was formulated with fluoroethylene vinyl ether (FEVE) resins, which are ambient air-cured for user-friendly application with brush, roller, or spray equipment. As the FEVE-based fluoropolymer is ambient-cured, it can be applied in the field after erection and welding, unlike other force-cured fluoropolymer technologies. Additional advantages can include versatility, with specifiers able to select from a wide range of colors, and resistance to graffiti.
"The coatings were brush and roller-applied in the field, which helped the applicator to complete the job with an army of construction workers and tradesmen on the jobsite," McConnell says. "From shop priming to field finishes, the coating system was flawless."
Conclusion
With its highly unusual exposure conditions vital to sustaining thousands of interior plants and trees, the spherical centerpiece of Seattle's brand-new Amazon headquarters required durable, corrosion-resistant, structural steel coatings with the added benefits of color stability and sustainability. Consultation with coatings experts led the project's design team to a long-lasting coating system that achieved the required performance criteria, including resistance to UV light and humidity, color and gloss retention, ease of application, and low VOC content.
Caleb Parker is an inside sales manager for Tnemec Company, where he provides coating assistance to various customers and independent sales representatives in the western region of the United States, as well as various international locations. Parker is a NACE coating inspector (Level III certified) and has associations with various organizations in the industry, including the American Water Works Association (AWWA), Water Environment Federation (WEF), and Society for Protective Coatings (SSPC). He has nearly a decade of experience in assisting with the specification and application of high-performance coatings and linings. Parker can be reached via e-mail at parker@tnemec.com.