What is in the new document?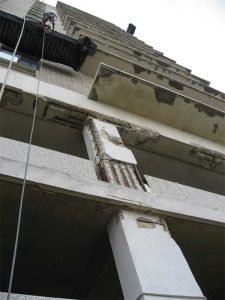 As a companion to ACI 562-16, ACI 563-18 provides an 'on ramp' for designers and engineers to prepare their work in accordance with code documents. ACI 562 was the first material-specific set of requirements for repair materials and the first ACI code specifically addressing the repair of reinforced concrete. It offers specific criteria for assessment of varying levels of damage, deterioration, or faulty construction, along with information on designing the necessary repairs.
ACI 563-18 provides best-practice information on many of the contingencies associated with concrete repair while still harmonizing with the basics of concrete construction laid out in standards for new builds (notably, ACI 301-16, Specifications for Structural Concrete). For example, details on materials, mixing, typical reinforcement methods, and installation processes remain fundamentally the same.
One section of the new standard, titled "General Requirements," discusses broad construction requirements for all repair work. It offers a clear delineation of responsibilities along with documentation requirements, preventing surprises in procurement and execution of repair work. Inspection, testing, and quality control (QC) procedures are outlined, with accountability assigned to owners' testing agencies and/or to contractors. Items to be considered before repair work can be deemed acceptable include dimensional tolerances and appearance.
The section "Shoring and Bracing" focuses on any member(s) to be repaired and addresses sequencing of repair work as the structure is unloaded and reloaded. Specialty engineers are to design all shoring and bracing to maintain stability of the structure during construction, taking into consideration pre-existing unsafe structural conditions as well as load and deflection requirements during repair. Limitations are imposed on concrete or reinforcement removal prior to shoring. The location, spacing, placement, and sequencing of shoring are to minimize impact on building occupants and operations. When repairs involve altering forces in prestressed reinforcement, the change in forces must be considered in the design of bracing and shoring, as it is the bracing that maintains the equivalent of the prestressed force on structural members until the reinforcement can be reimposed.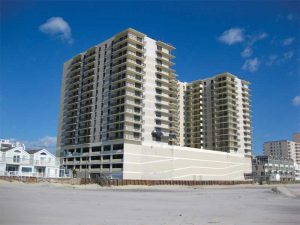 ACI 563-18 also includes a section addressing concrete removal and preparation of the concrete substrate for repair, with the overarching goal of minimizing damage to the existing structure and producing concrete surface profiles that are free of debris and optimal for bonding. Minimization of damage includes reducing bruising of concrete substrates within or adjacent to the work area. A bruised surface is one weakened by interconnected microcracks in substrates caused by use of high-impact, mechanical methods for concrete removal and surface preparation. The fracture layer typically extends to a depth of 3 to 10 mm (1/8 to 3/8 in.) and, if not removed, frequently results in lower bond strengths compared to surfaces prepared with non-impact methods.
This section also outlines parameters for common concrete removal equipment and methods, including concrete breakers, hydro-demolition, scarifying, scabbling (i.e. removing a thin layer of concrete), and milling/rotomilling. Similarly, it lays out standards for equipment and methods used to prepare and clean concrete surfaces (as well as reinforcement surfaces), including abrasives, compressed air, high- and ultra high-pressure water jetting, low-pressure water cleaning, and vacuum approaches. All equipment must be operated so as to not damage rebar, other embedded items, or adjacent concrete.
Execution of concrete removal must fall within the specification's requirements for configuring and maintaining the geometry of the removal area, including maximizing the use of right angles, avoiding re-entrant corners, and obtaining uniformity of depth. Assessments performed onsite are critical at this stage of a repair project. Contractors must often perform inspections to identify cracked, delaminated, spalled, disintegrated, and otherwise unsound concrete for removal. They must also conduct site assessments of reinforcement corrosion and use their findings to inform concrete removal work. Before new repair materials are applied to a given area, it must also be verified to be free of any bond-inhibiting materials such as dirt or concrete slurry and have a surface profile suitable for repair materials and coatings.