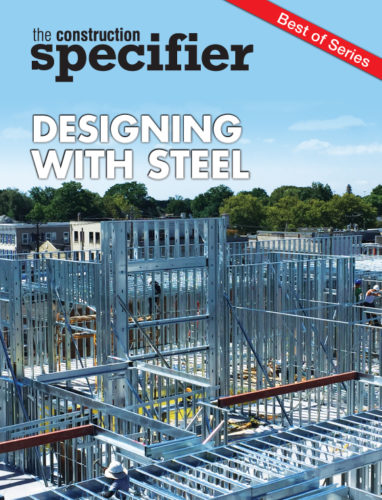 Specifying high-performance coatings for structural steel framing, decking, or curtain walls can be a tall order when the application surface is located hundreds of feet above ground level. The specified coatings must protect the structural integrity of these hard-to-reach steel exposures against corrosion, while increasing longevity, enhancing aesthetic appeal, reducing maintenance, and conforming to environmental regulations.
Architects and specifiers must carefully evaluate coating systems under actual service conditions for corrosion resistance, color retention, protection against ultraviolet (UV) light degradation, and color compatibility. These were important considerations in the selection of field-applied coatings used during the renovation of the Jacob K. Javits Convention Center in New York City, as well as shop-applied coatings for the new Anaheim Regional Transportation Intermodal Center (ARTIC) in California.
Coatings selected for such high-profile projects should be products that will extend the lifecycle of the substrate and limit the need for repairs and recoating in the near future. Coatings applied in high, hard-to-reach areas are often subjected to extensive testing in the lab and in the field, to ensure their capabilities are legitimized prior to their application. When specifying coatings for architectural projects, considerations are often far more than aesthetic—rather, they are concerns of longevity and performance based on a coating's background and test data.
An article in our newest sponsored e-book examines those two projects. It appears along with a trio of other articles from the pages of The Construction Specifier in "Designing with Steel," a free, downloadable resource. To get your copy in either pdf or digital edition, visit https://www.constructionspecifier.com/ebook/marinoware-designing-with-steel-e-book.