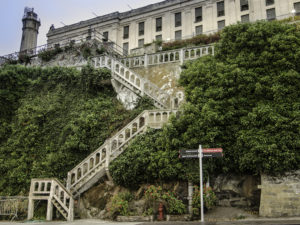 As part of a 12-week field school conducted by the Concrete Preservation Institute (CPI) and National Park Service, seven CPI participants (including college students and military veterans) completed a restoration project on Alcatraz Island this fall.
CPI, which was a summer field school when it was formed in 2010, is a non-profit organization. Through projects involving the preservation of national landmarks, it provides training in concrete restoration to active members of the military and veterans. College students, military spouses and dependents, and those over the age of 18 may also be accepted if space allows. CPI also offers placement assistance—of the nearly 80 participants who have so far used this service, all have achieved integration into academia or work.
For this year's fall session, the field school—which runs three times each year—required participants to plan and conduct a staircase restoration beneath the island's main cell house. Participants were able to draw on the guidance of CPI management, instructors, and professionals as they worked to circumvent the island's many inherent challenges.
Despite its status as a National Historic Landmark, the 9-ha (22-acre) Alcatraz must withstand stresses from a variety of sources. Both the climate conditions of the island (including driving wind, sun, and chloride exposure) and its 1.3 million annual visitors contribute to structural deterioration.
The island's buildings are also fairly dissimilar to one another, as most were constructed in different eras, by different crews, and with different materials. That being said, the facility's long and eventful past also plays a positive role, providing CPI participants with historical learning opportunities in addition to their education in concrete restoration.
Feedback from field school participants was positive.
"If you are looking for something unique and valuable to do, something to branch out into the concrete industry, this is an excellent program," says military veteran participant Matthew Brittin.