by Sadia Badhon
The global COVID-19 pandemic has changed almost all aspects of life and facilities. Airports have especially been affected.
In an exclusive interview with The Construction Specifier, Luis Vidal, president and founding partner of international architecture practice luis vidal + architects, spoke about how airport design will change following the pandemic.
Vidal has worked on more than 30 airport design projects worldwide, including the award-winning Queen's Terminal at London Heathrow –Terminal 2, the new Pittsburgh International Terminal, the future transformation of Denver International's Jepessen Terminal, the Boston Logan International Airport's Terminal E modernization, and Phase 1 of the future Terminal F at Dallas-Fort Worth.
Vidal believes future airport design must "answer in real-time to society's changing demands" and balance the "feeling of freedom of movement with the fear of uncertainty."
How can airport design answer to society's changing demands in real-time?
Vidal: Airports often reflect what is going on in the world and, in fact, they manifest our greatest challenges—from providing for accessibility to protecting against terrorism and responding to climate change. Now, amid a pandemic, architecture and design must do even more: They must balance the feeling of freedom of movement with the fear of uncertainty. They must also contribute to the survival of a vital industry that generates international activity, wealth, and cultural exchange.
How can airport design manage uncertainty and ensure security when the threat we are facing is global and invisible, and directly impacting our hyperconnected way of life? How can infection transmission be avoided in spaces/buildings that "move" a great amount of people? The solution lies in "flexibility," maximizing an airport's square footage to include and implement the new visible and invisible security actions while ensuring social distancing and disinfection protocols. Space will be key. What we imagined as a possibility is now an imperative in this new reality. To achieve this, architects, governments, and society will need to collaborate. Architecture cannot, and must not, act alone; it is a discipline at the service of society and must form alliances with other fields.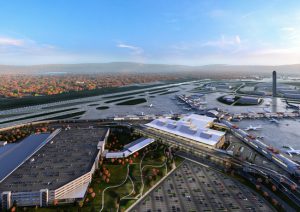 How soon do you see new tech applications being implemented? Do you foresee any privacy concerns?
Vidal: To reduce physical contact and avoid congregations, certain processes that, until now, occurred within the airport, will soon be completed in advance. With mobile apps, travelers will be able to do their check-in at home, in the hotel, or on the way to the airport and luggage will have an electronic labeling system. Temperature control tests will be implemented at airport entrances or in the parking areas, which will turn into registration and customer service areas. This will input another control measure prior to airport entry.
Materials are going to change, too. The use of new photocatalytic devices based on antibacterial, antiviral, and "auto-cleaning" material, such as titanium dioxide, silver, or copper, in high-use areas will become the norm. Contact-heavy elements of the space—think elevator buttons, door handles, railings, etc.—will be redesigned and rearranged to adapt to the new, "contactless" reality.
The airport of the future is being designed now. What we imagined as a possibility is an imperative in this new reality. Technology will no doubt play a main role. However, it will have consequences in different areas, namely privacy.
Also, social norms around personal space are rapidly changing, as is the demand for new technological advances to ensure public safety. We will see the birth of new technologies utilizing artificial intelligence (AI) and big data to process information, as well as to reduce our reliance on high-touch areas like elevator buttons.
What types of AI technologies will be implemented, and how will they function?
Vidal: New airport technology will be partially about what we cannot see: the gathering of data and the ultimate reuse of that information. While many airports currently use thermal imaging, those applications will become more "silent" and less visible. To gauge body temperature upon departure and return, it should be done in a comforting and ultimately "inviting" surrounding, and will be monitored on efficient, digital applications operating in real-time.
To that end, electronic identification and sanitary "passports" will be electronically read without passengers rummaging through bags and pockets. Ever-changing AI tools and the use of enormous data sets will effectively equip airport security with the ability to screen passports electronically, via facial recognition, a technology that has long sought its entrance into high-traffic public infrastructure. Think of it this way: a passenger's face or iris will essentially grant entry across borders, and will be verified onsite, within the terminal.
Digital screening, backed by complex and highly technical algorithms, is currently being used to gauge wait times in security lines. These data repositories may also be used to help monitor social distancing guidelines and help with contact tracing. There is no doubt technology will play a larger role in the travel experience.